'SNL's The Californians' Origin Story Is Amaze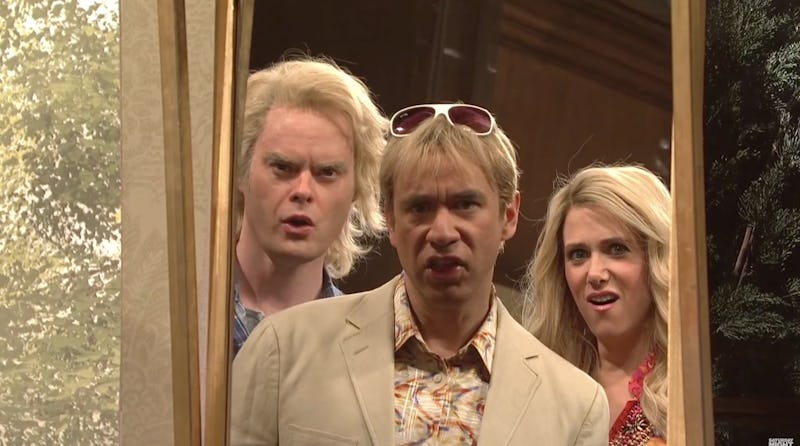 If you've ever watched "The Californians," Saturday Night Live's recurring sketch and soap opera parody, you'll know that, even when they're not making much sense and are basically making up words, Fred Armisen and Bill Hader are amazing. But little did I know until now that the origin of SNL's "The Californians" came from a bit of casual banter at a table-read. According to Bill Hader, who spoke on the topic at his appearance on Late Night With Seth Myers, usually on their weeks off, the Saturday Night Live cast would go to L.A. to take the sort of meetings that are par for the course when you're working in the entertainment industry.
When they came back for the table read, according to Hader, Saturday Night Live creator/producer Lorne Michaels would generally be late, giving the cast time to do what all employees do when their bosses aren't around: goof off. Fred Armisen would develop a bit where other Saturday Night Live comedians would ask him how he got back to his hotel in L.A. and he'd rattle off road names in a heavy Californian accent. He pitched this as a soap opera to SNL, and the rest was history. Well, almost. Watch the video to hear about how Armisen added a little surprise the first time they performed the sketch live:
I'm a big fan of 30 Rock, which was written and created by Tina Fey, who worked on Saturday Night Live as a writer for many years and who eventually became the show's first ever female head writer. I'd honestly always kind of assumed that the series, which focuses on the head writer of a fictional sketch show The Girlie Show, gave a relatively realistic look into how sketches were created on Saturday Night Live — which has led me to make the brazen assumption that the truly hilarious Saturday Night Live sketches aren't necessarily funny because of great comedians, but the great writers behind them.
But, according to this, while the writers may be part of the magic, the comedians are just as likely to create their own material. Which all goes to show that these guys aren't just funny because they're using other people's wit. They're genuinely, belly-laugh-inducing funny all the damn time. Honestly? I'd assumed comedy was like any other job, and that, in your time off, maybe you'd relax a little and give being not-funny a go. But, hey. I guess I'm not a superstar SNL-level comedian (I mean, obviously), because it sounds like these guys are just exuding humor at every opportunity.
So, the next time you enjoy your favorite parody soap-opera, take stock. These guys aren't just professionally hilarious, but hilarious through and through.
Images: Broadway Video; Late Night With Seth Myers; Saturday Night Live/Youtube (2)