9 Smart Microwave Accessories To Use Again & Again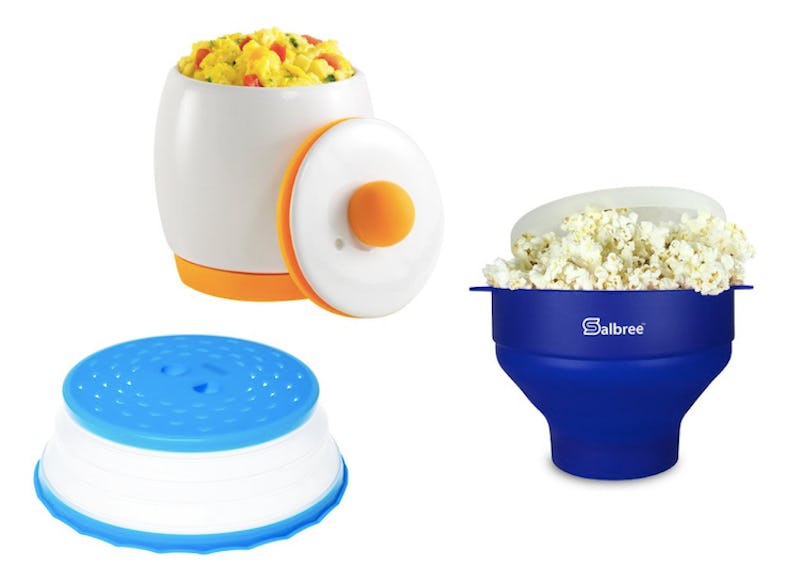 Oh, life in your 20s — a time potentially characterized by a shared sleep schedule with a roommate, everything you own being crammed into tiny living situations, and a way stronger acquaintance with your microwave than you're comfortable admitting. The best microwave products and accessories can help you make just about anything, whether it's because you're living in a dorm room, you don't have a stove, or you're all about the immediate results. Either way, creative kitchen products that are borderline genius can save you some serious time and effort, especially ones made specifically for this appliance.
Most people tend to reserve the microwave for things like leftovers and defrosting frozen food. That's pretty much what I do now that I live in an actual house again. That being said, if you're one of those people whose favorite kitchen invention is hands down the one that requires the least skill, you'll be thrilled to know that you can cook just about anything in the microwave. You just need the right tools, and you'll be making scrambled eggs like a boss, popping popcorn like nobody's business, and cooking crispy and mess-free grilled cheese like a professional chef. (Granted, a professional chef that's well qualified in pushing buttons on a keypad, but a chef just the same.)
Get Eggs On The Go In One Minute
Egg-Tastic Microwave Egg Cooker , $5, Amazon
For a hassle-free breakfast in the morning, there's this Egg-Tastic microwave egg cooker. It allows you to cook great scrambled or poached eggs in as little as one minute, and because you can scramble them right in the cooker, it's one less dish you need to wash. The non-stick design makes it easy to clean, and the lid makes for a portable container that you can bring with you when you head to work.
Make Healthy Popcorn From Loose Kernels
Salbree Collapsible Silicone Microwave Popcorn Popper , $17, Amazon
This awesome Salbree collapsible silicone microwave popcorn popper allows you to cook fresh popcorn from home without bags or hassle. While you can always add your favorite oil, it's not required, and it's got convenient built-in handles to ensure that you don't burn yourself. Best of all, it's easy to store because it's collapsible and it's easy to clean because you can just throw it in the dishwasher.
These Small Silicon Holders Are Great For The Microwave
Kitch N' Wear Silicon Pot Holders , $8, Amazon
These sleek and effective Kitch N' Wear silicon pot holders are ideal for getting hot plates out of the microwave. Because they fit right over your fingertips, they're non-bulky and allow for tons of control. They can also withstand heat up to 500 degrees fahrenheit, and they come in a whole bunch of cool colors that fit your style.
Cook An Entire Breakfast In The Microwave
Microwave Cookware Set , $20, Amazon
Cover all your microwavable bases with this microwave cookware set. It's got all the essentials, so that you can easily cook fried eggs, bacon, omelets, and potatoes perfectly every single time. Each piece is specifically designed to hold air in or effectively ventilate depending on the type of food, and everything is non-stick silicone and dishwasher-safe for effortless clean-up.
Get Crispy Grilled Cheeses And Delicious Pizza
Toaster Bags , $6, Amazon
For a mess- and hassle-free way to cook things like pizza and grilled cheese, you've got these toaster bags. They ensure that your food comes out crispy and evenly cooked, and they also help to contain the mess, so no more cleaning crumbs and melted cheese off your microwave.
Prevent Splatters And Keep Food Moist
Handy Gourmet Collapsible Microwave Shield , $9, Amazon
Say goodbye to plastic wrap for reheating leftovers. This collapsible microwave shield stops things from splattering all over the microwave, it's raised so it can be used on plates or bowls, it's got just the right amount of ventilation to keep food moist, and it collapses when you're done for easy storage.
Boil Water For Multiple Cups Of Tea
Progressive Microwave Whistling Tea Kettle , $12, Amazon
You can make a single cup of tea in the microwave, but if you're boiling water, you're forced to use the stove. Until now. This Progressive microwave whistling tea kettle boils up to 25 ounces of water in no time at all, and it whistles when it's done. The handle always stays cool to the touch, and the whole thing is dishwasher safe.
Cook Everything From Bacon To Pizza
Nordic Ware Microwave 2 Meat Grill , $11, Amazon
This double-sided Nordic Ware microwave 2 meat grill has a flat side for heating up things like pizza, tortillas, and bagels, and a ribbed side for cooking sausage and bacon. It fits in just about any microwave, is ridiculously easy to clean, and ensures that food comes out crispy and well-cooked every time.
This Handy Tool Has So Many Different Functions
Home-X Micro Mate , $9, Amazon
This epic Home-X 'micro mate' has tons of really handy uses. Turn the handles down and use it as a two-tiered tray to microwave two plates at once. Turn the handles up and use it as a carrying tray to avoid burning yourself. Place it over your food as an anti-splatter guard, or keep things hotter for longer. Whatever you do with it, your microwave game is vastly improved.
Images: Amazon (9)
Bustle may receive a portion of sales from products purchased from this article, which was created independently from Bustle's editorial and sales departments.