Use Glossier's Serums For All Of Your Skin Needs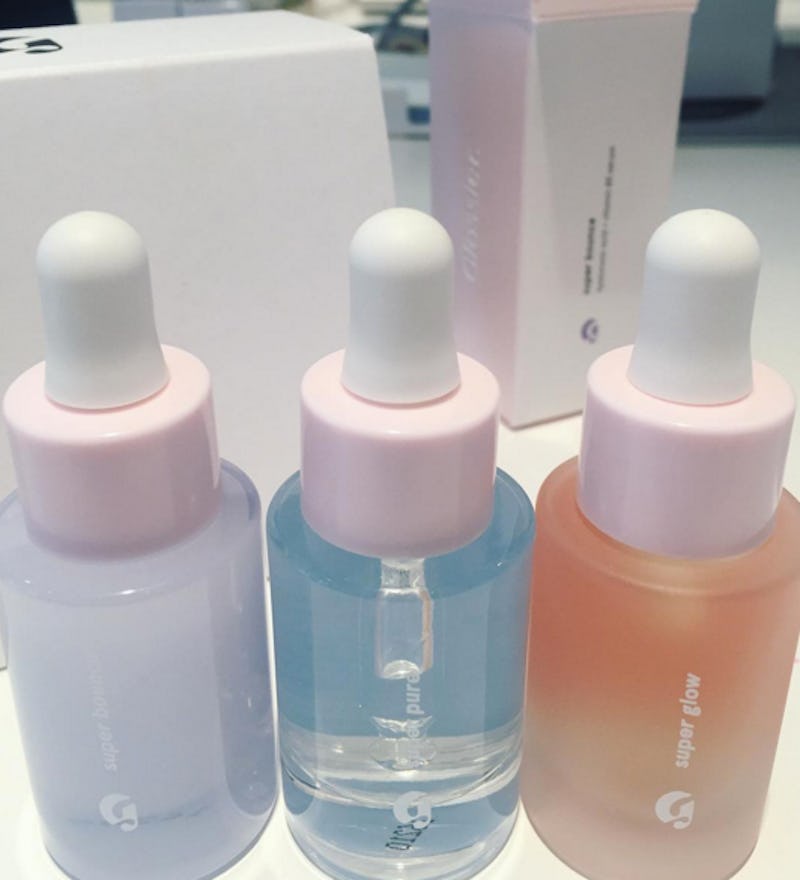 This brand is all about putting skincare first and makeup second, and that's probably why it feels so darn good to use their products. Knowing that their Perfecting Skin Tint is super moisturizing and lightweight makes me way more willing to slather it on my face every day. Who am I kidding? That's what I live for. Now that they've added new items into the mix, you need to find out how to use the Glossier Super Serums so you can have the absolute most perfect beauty routine, well, ever.
According to the website, Glossier recommends using three to four drops of these serums once daily. You are allowed to layer all three of the different serums in one day, but still, only apply them once. The skincare power is strong here. So, just like with their makeup policy, less really is more. The brand also suggests washing your face and applying the serum before using your moisturizer.
The Super Pack, $65, Glossier
You'll get different effects with each of the serums because Glossier wants to stress the fact that you're "not just a skin type." Sometimes your skin may be dry, stressed and irritated or just plain dull. And when that happens, well these Supers are here to save the day!
There's no going wrong with these on your top shelf.
A healthy dose of Glossier keeps the skin concerns at bay.
Their pretty much super heroes for the skin. Yeah, basically.
Super Bounce Serum, $28, Glossier
This serum will help dry, dehydrated skin bounce back to life. It's also a great base for your makeup, due to the silky smooth finish you'll have after each use.
Super Pure Serum, $28, Glossier
If you've been dealing with a lot, eating junk food to survive and on top of it all it's that time of the month, then this serum will be your BFF. Stressed out skin, meet your match!
Super Glow, $28, Glossier
Whenever you need a little extra boost, this serum will be the perfect pick-me-up. Think of it as a morning cup of coffee for the face. It'll give your skin the energy it needs to glow from within!
The Super Pack, $65, Glossier
Save $19 when you purchase all three as a bundle. These babies work together to give you a well-balanced skincare routine.
Is it just me or does it seem like the Supers really need their own theme song?
Images: glossier/Instagram (1); Courtesy Glossier (4)