Jake T. Austin Is Dating A Fan Of His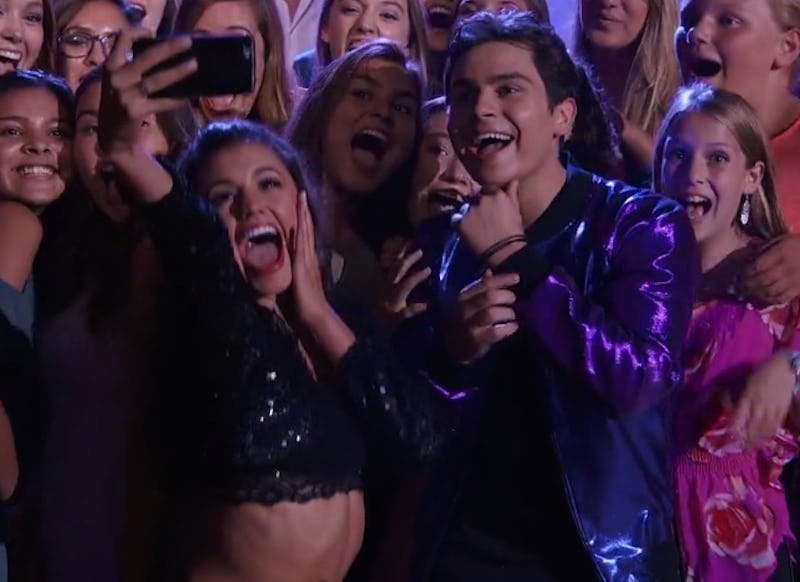 In the age of modern technology and communication, it is easy for fans to connect with their favorite celebrities. Before Twitter and Instagram, fangirls would wait hours outside movie premieres and concerts in hopes of getting their celebrity crushes to look their way. This is no longer the case. Now, with a simple tweet or Instagram post, a devotee can catch their favorite star's eye. Most celebrities talk with fans on a daily basis using social media. Still, the dreams of fans who want to date their favorite famous people are for the most part just that: dreams. But, Dancing With The Stars contestant Jake T. Austin's girlfriend did start out as just an admirer of his, according to the New York Daily News. Her name is Danielle Ceasar, and she single handedly brings hope to fangirls everywhere.
Austin is not new to the spotlight. He's been an actor since he was a kid and rose to the highest level of kid fame on the Disney Channel. He played the youngest brother on the hit show Wizards of Waverly Place. Austin then went on to star in the ABC Family show The Fosters. So he is used to having fan attention, and Ceasar reportedly tweeted at him for years, according to the Daily News, before she met him at an autograph signing and captured his heart.
Earlier this year, Austin posted the above Instagram pic to announce their relationship, and, since then, he has not been shy about showing off his lady on social media. Ceasar on the other hand has made her social media accounts private since they began dating. With countless fangirls on Twitter every day hoping to do what Ceasar did with their own fav stars, the Internet freaked out when they announced their love, according to Just Jared. But, Austin doesn't think much of their unique meeting. "We're young and having fun just getting to know each other. It doesn't matter how you meet someone — on set, in a coffee shop, at school, or in the business," he told the Daily News in an email statement from his rep. "Sometimes you connect with people at the right moment and you just click."
Austin is currently back in the spotlight as he dances his way to a mirror ball trophy on Dancing with the Stars. While him and his partner Jenna Johnson have great chemistry, it is clear that his girlfriend has his heart.
Image: ABC