10 Stylish Sports Bras That Actually Have Pockets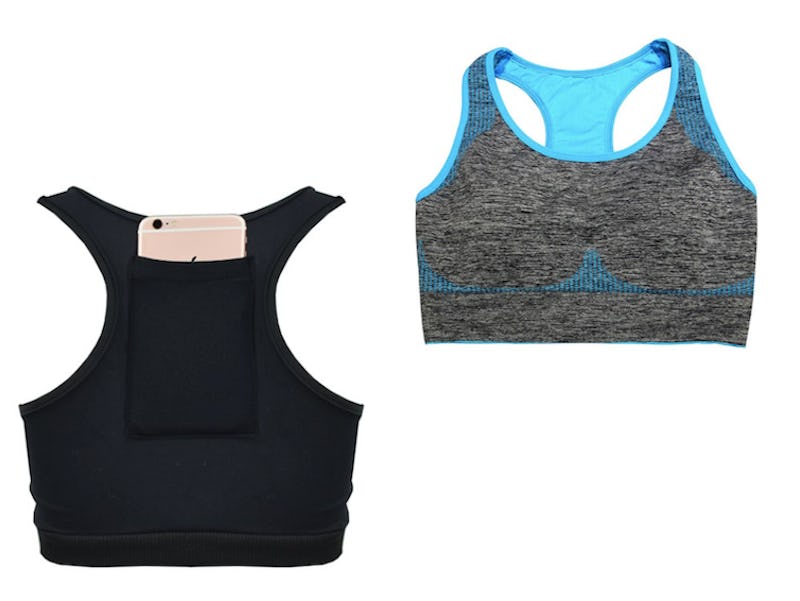 I'm all about the hands-free workout. I can't stand wearing a fanny pack if I'm going to be running, and I'm just not a fan of leaving stuff in a locker room. That's where sports bras with pockets come into play. They make life so much easier when I actually decide to head to the gym or on a run (which I'll admit, isn't that frequently).
Bras with pockets are here to save the day for anyone who wants to keep things simple and safe. Store your phone, store your keys, and store your gym membership card without worrying about leaving it somewhere again. With companies like Swoob (where the bras have not one, but three interior pockets) and The North Face offering women bras with pockets, the idea that you may lose something, or misplace something, or even worse — have something stolen — is pushed out your mind.
This gives you the chance to have a much better and more satisfying workout. Simply turn on your jams, stash your phone into your sports bra's pocket (what an amazing idea — I always drop my phone, so I find this to be absolutely mind blowing), and get pumped up about being active.
Sports Bra With Zippered Pocket, $60, Amazon
This bra offers really great support, but it's also super practical. It has two large zippered pockets that can fit your cell phone, and the pockets feature EMF blocking silver mesh on the skin side to protect you from any possible radiation. Plus, there is a headphone port that goes right into the pocket, so you don't have to worry about annoying cords.
ASICS Abby Pocket Bra, $23, Amazon
Buyers love this pretty stylish sports bra that has a keyhole back. One reviewer said they use it every time they run, as they can place their iPhone 6 within the pocket and run with no problems. They said, "The phone stays put and doesn't bounce. I pair it with bluetooth headphones and I have no annoying cords or uncomfortable fanny packs or arm straps to deal with it."
New Balance The Fabulous Framer, $20, Amazon
There are so many great things about this bra. For one thing, it's actually made out of recycled yarn. It also features Lighting Dry material to get rid of moisture, in addition to breathable mesh panels. There's even a pocket sewn right into the lining of this supportive bra, which allows you to keep your valuables close to you while you workout.
Swoob Luana Cross Strap Pocket Bra, $15, Amazon
The criss-crossed strap bra is a great option for hikes, power walks, yoga, and more. Leave your gym bag at home, and fill your pockets instead. This bra features three interior pockets that are not only big enough to stow your phone, keys, and credit cards, but they're also water-resistant. This means sweat won't damage your belongings.
Steve Madden Racerback Bra, $34, Amazon
I hate worrying about my keys when I go on a run. And I don't want to have to rock my fanny pack just to reassure myself that I won't lose them. This bra eliminates those fears, and lets you workout the way you want. The hidden side pocket is perfect for storing your keys, and keeping them safe while you train.
ACHICGIRL Back Pockets Active Running Bra, $16, Amazon
If you're like me, then you don't like to run with things in your hands. This bra lets you go hands free, and it still gives you the ability to rock out and listen to music. Simply put on your favorite playlist, plug in your headphone,s and slip your phone into the back pocket of the bra. It's snug enough to keep it safe while you get your jog on.
Swoob Hummingbird Seamless Travel Pocket Bra , $25, Amazon
I always wear a sports bra on long haul flights. It's just way more comfortable than dealing with underwire and hooks. This bra is the perfect airport/travel accessory, as you can store your cash, ID, and any other important documents in the front interior pocket. Quickly access the things you need most at the airport, instead of spending time digging through your bag.
North Face Stow-N-Go III-SS Bra, $40, Amazon
If you're into high impact exercising, stash some energy gels into your pocket the next time you workout. This super supportive bra with body-mapped ventilation has a small pocket in the center of the chest perfect for storing chapstick or energy gels to give you a pick-me-up mid workout.
Along Seamless Wirefree Racerback Bra, $11, Amazon
This bra screams comfort. It's wire-free, clip-free, and super stretchy. It comes with removable pads, and it's made with a moisture-wicking fabric that will ensure you stay cool and dry during your workout. Store your chapstick or keys in the inside pocket while you train.
Swoob Piranha Cross-Strap Pocket Bra, $35, Amazon
Do you see a trend here? Swoob has a ton of great bras that come with interior pockets. They are making life so much easier for active women everywhere. Store your phone, gym membership card, and whatever else you can think of in the pockets, and never worry about leaving something behind again. This bra includes removable padding for full coverage and is great for several different activities.
Images: Amazon (10)
Bustle may receive a portion of sales from products purchased from this article, which was created independently from Bustle's editorial and sales departments.