5 Feminist Messages From 'Love Warrior'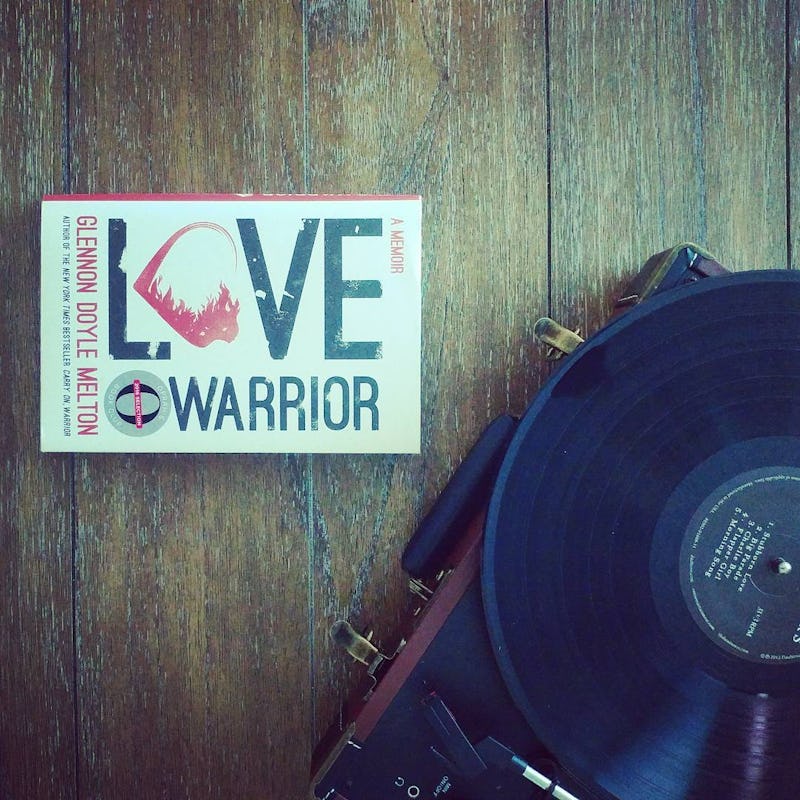 Glennon Doyle Melton has already racked up an impressive warrior-gal resume, and her just-published memoir, Love Warrior , is only the latest addition to a bio that includes recovering from both an eating disorder and substance addiction; founding Momastery.com, an online community built around sharing authentic experiences of motherhood and womanhood; writing the New York Times bestselling memoir on family, friendship, and feminism: Carry On, Warrior; and creating the nonprofit organization Together Rising, which supports families in crisis. Published in early September by Flatiron Books, Love Warrior tells the story of one woman's journey through heartbreak and healing in the wake of her marriage's crumbling. And yes, if you're a follower of GDM then you already know the marriage at the center of this memoir on falling, rising, and rebuilding a relationship did in fact end while the memoir was on its way to bookstore shelves. As any writer will tell you, life goes on after books end.
But the fact that Melton and her former-spouse ultimately divorced doesn't really detract from the essential message of this memoir — in my readerly opinion, anyway. Because at its core, this memoir isn't really about Melton rebuilding her relationship with her husband; it's about Melton rebuilding her relationship with herself. It's about one woman letting go of the gendered messages she's been surrounded by her entire life, and communing with her fullest, most authentic self. Married or not.
Here are five feminist messages from Glennon Doyle Melton's new memoir, Love Warrior .
Love Warrior, $16, Amazon
1. "Every girl must decide whether to be true to herself or true to the world."
Most of the feminist messages in Love Warrior come when Melton is talking to her daughters — which is kinda the perfect place for them. In the first pages of this memoir Melton's young daughter has an early experience with body-shaming — grappling with the realization that she is "bigger than the other girls" and already familiar with the near-constant bombardment of commercial messaging that says: when it comes to women's bodies, bigger is never better (no matter how many curvaceous Kardashian butt-pics might be populating Instagram). And the formerly-bulimic Momma who is still navigating these treacherous body image waters herself doesn't have a perfect answer — there is no perfect answer. But what she doesn't say is: "you're not big," an assurance that while seemingly helpful only serves to reinforce body-shaming in the long run. Instead she unpacks her daughter's concern for readers, explaining that life in a female body often requires one of two choices: being true to oneself or being true to the world. Melton makes it clear she's learning to choose herself — and she's raising her daughters to do the same.
2. "I will stop deeming myself unworthy of invitations and trust the inviter. I will test out the ridiculous, nonsensical possibility that somehow, in some way I can't yet see, I will rise to meet this call."
One thing I found utterly refreshing about Love Warrior is the fact that for Melton, motherhood is a feminist act. It's an empowering, feminist choice — and as a member of a generation for whom mothering and feminism are still in many ways posed in opposition to one another (at least in my experience) this act of Melton's to rise to the occasion of birthing and raising her unexpected child with strength, empowerment, and celebration is just totally badass.
3. "I learned that making decisions is never about doing the right thing or the wrong thing. It's about doing the precise thing. The precise thing is always incredibly personal and often makes no sense to anyone else."
Any reader of Melton's knows that the writer comes from a Christian background — a faith that, like many religions, isn't exactly known for its support of free-thinking women. But Melton fans will also know that the memoirist's faith is of her own making. When her marriage begins to fall apart, in the wake of her husband's infidelity, Melton turns to her church community for support; only to find that same community puts the establishment of marriage over Melton's own well-being. But Miz Glennon isn't having that, and she's off to establish a code of ethics of her own — one that advocates for the unique, precise power of women as individuals, and that models strength and independence for her daughters. You go, girl.
4. "Women who are concerned with being pretty think about what they look like, but women who are concerned with being beautiful think about what they are looking at."
As another lesson in girl power and body image, courtesy of Melton's daughters, this line is what really brings the memoir full-circle. Here, in the last pages of Love Warrior, Melton has finally arrived at an answer to her daughter's angst at the beginning of the book — the beautiful woman is the one who faces life head-on, who finds what she loves and does it, who isn't afraid to dance inside her own body. Have we heard this message before? Sure. But is it awesome that we keep hearing it over and over again, from different women, living their own precise lives, in their own unique bodies? Definitely.
5. "Am I going to be a lady or am I going to be fully human?"
In my mind, this is the essential thesis statement of Love Warrior. GDM — honest and authentic, a woman willing to put her questions on the table alongside her answers, one who shares the mess of her life alongside the epiphanies — definitely chooses the fullness of her humanness. By reading the words she's offered you, you'll no doubt feel inspired to do the same.
Images: ecemiller/Instagram; giphy(5)