10 Recipes For Celebrating National Guacamole Day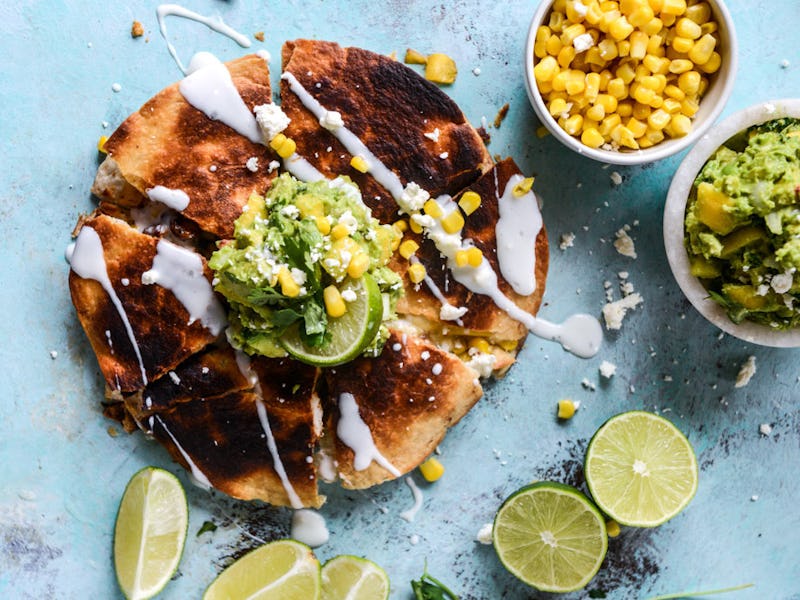 The American people have voted, and I am ready to announce a winner — in a matter so universally agreed upon that no special interest group could stop its celebration, voters have chosen a candidate so obvious not even an extra financial burden could hold the nation back from selecting to vote green. That's right, all 50 states in this union are green states today, because today the United States is celebrating National Guacamole Day. And if you're looking for inspiration for how to observe this all-important food celebration, you've come to the right place.
You may have been operating under the misconception that Thanksgiving was the most important foodie celebration in the latter half of the calendar year, but you would have been mistaken, because everyone — and I do mean everyone — loves guacamole. This country loves guacamole so much that we will agree to pay extra to have some on just about anything without so much as a second thought. Guacamole is so popular in the USA that Beyoncé herself is an enthusiastic member of the guacamole fandom. Foodie culture has recently popularized something called "avocado toast" that is literally just guacamole on bread.
When I got pneumonia last year, do you know what my boyfriend made me to eat? Soup? Of course not! He made me guacamole, and that's probably the only reason I lived to tell the tale. Because guac cures all things, guac is worth an extra dollar, and how you elect to consume your guac is an expression of who you are as a person. Check out these 10 creative recipes to decide how you will celebrate National Guacamole Day.
1. Honey Glazed Chicken Quesadillas With Peach Guacamole
I would very much like to eat this immediately. This recipe from How Sweet Eats looks like the perfect intersection of spicy and sweet, crunchy and smooth, and best of all, it's topped with as much guacamole as your body can handle.
2. Kale Guacamole
If you're looking to up your vegetable intake but you can't stop (won't stop) eating guac, look no further than this super-green vitamin-rich interpretation of the king of dips from Cookie + Kate. This recipe is great for anyone with a high-powered food processor with the chops to blend up the fibrous kale.
3. Guacamole Breakfast Sandwich
Oh, my bad, did I forget to mention that some of these recipes are NSFW on account of being literal food porn? This tower of power from Damn Delicious has everything you need to start your day off on the right foot.
4. Piña Colada Guacamole
This is not a drill. This is guacamole with actual rum in it — rum and coconut creme and pineapple and a whole lot of yum. Head over to Closet Cooking to bring this fantasy to life in your kitchen.
5. Sriracha Guacamole Hot Dogs
Yes, you read that correctly, the Sriracha is in the guacamole in this recipe, and I imagine it makes the hot dog atop which it is perched taste that much more delicious. Find the devilishly simple recipe for this one at Damn Delicious.
6. Festive Pomegranate Guacamole
It is almost October, and if you're one of those people who starts the holiday season as soon as it's too cold for pool days, you might elect to make this festive wintery guac recipe with bright popping pomegranate seeds. Cookie + Kate advises that this recipe is also amazing with feta cheese sprinkled on top.
7. Smoky Guacamole
Smoked paprika makes this guacamole recipe a huge hit. There's a restaurant near my neighborhood that makes their guacamole this way and serves it with spicy chips, and I'm totally obsessed. Tori Avey has you covered on the recipe.
8. Esquites Guacamole
Esquites is the off-the-cob version of Elotes — the Mexican street snack made from grilled corn on the cob covered in crumbly cotija cheese. If you're ever in L.A., you might be so lucky to happen upon someone serving up Elotes from a flat top on the side of the road, but for those of you without the world famous Corn Man right down the street, you can make your own charred corn snack as a complement to the creamy backdrop of smashed avocados. Check out Closet Cooking for the details.
9. Blue Cheese Guacamole-Stuffed Mushrooms
This hor d'oeuvre from Half Baked Harvest falls neatly into the category of dishes I like to call Cackalaxican food. It's basically a mashup of Mexican food and Southern soul food. Stuffing mushrooms with blue cheese guac and then dousing them in buffalo sauce is a great example of this kind of meeting of culinary minds.
10. Bacon-Wrapped Guacamole Stuffed Chicken
This recipe has maximized the happy adjectives. Closet Cooking always does though.
Happy National Guacamole Day, everybody.
Images: How Sweet Eats; Cookie + Kate (2); Damn Delicious (2); Closet Cooking (3); Tori Avey; Half Baked Harvest