'Game of Thrones' Might Break Emmys Records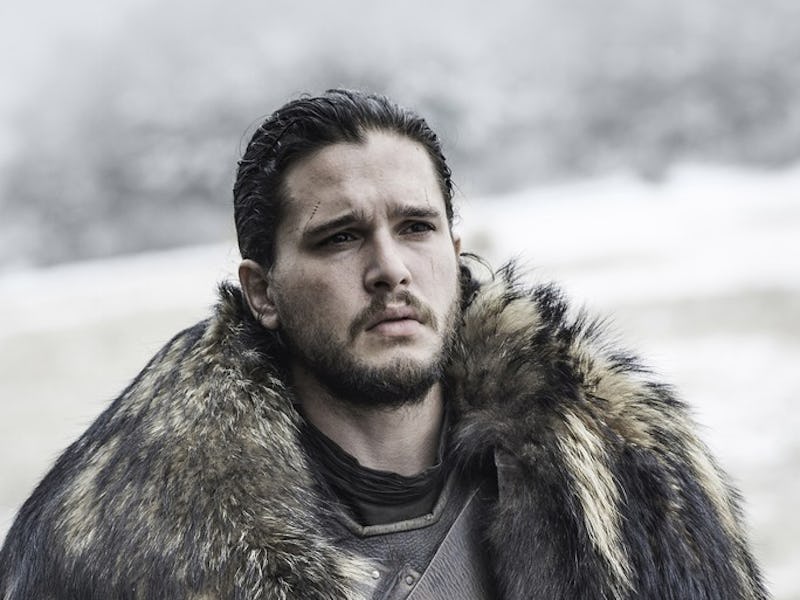 The 2016 Emmy Awards are this Sunday, and it looks like it's about to be a big year for Game of Thrones. If it can overcome Frasier's 37 total Emmy awards, Game of Thrones will break the Emmys record for the most total wins by a series. The HBO show already has 35 Emmys, including the nine it received at the Creative Arts Emmys earlier in September, and experts predict that it will win more than that at Sunday's ceremony. And even if it somehow doesn't break the record this year, it seems very likely that the popular show will be able to squeeze out at least another two wins in its final two seasons.
If so, it certainly won't be the first time that Game of Thrones has broken a record. The fantasy drama has surpassed all expectations and produced massive numbers of fans over the course of its run so far. As a show that's huge in scope and in viewership, it makes sense that it's leaving most other TV shows in the dust and is poised to become the most awarded show in Emmys history. Fans will have to wait until Sunday night to see if that comes true, but here are 13 records that Game of Thrones has already broken in its six seasons.
It Has HBO's Largest Number Of Gross Viewers
In 2014, it surpassed The Sopranos by boasting an average of 18.4 million viewers per episode, according to EW.
The Season 5 Premiere Beat The Largest TV Drama Simulcast Record
The series was broadcast to 173 countries simultaneously, Business Insider reports, and boy did they tune in. Maisie Williams, who plays Arya Stark, accepted the Guinness World Record for this prize.
Its Season 6 Trailer Was The Most Watched In HBO's History
Move over, Sex and the City. The most recent season's trailer was watched 30 million times in less than 24 hours, reports Variety.
It's The Most Pirated Show On Pirate Bay
For better or for worse, Game of Thrones has frequently made headlines for its many illegal downloads. It's even been added to the Guinness Book of World Records for this "accomplishment."
The Season 6 Finale Had The Highest Overnight Audience For Subscription TV
Enough people (legally) tuned in to the show's most recent episode that it was able to break its own record, reports TV Tonight.
One Of Its Actors Broke A 1000-Year-Old Weightlifting Record
This isn't technically a Game of Thrones win, but the fact that Hafthór Björnsson, the actor who plays the Mountain, lifted a 1400-lb. tree stump, breaking a record set 1000 years ago, had to be included.
It Staged The Biggest TV Battle Ever — Sort Of
The Battle of the Bastards required 600 crew members, 500 extras, 70 horses, 25 stuntmen, four camera crews, and 25 shooting days. While it didn't officially become the biggest TV battle scene ever, it wins the honorary title, reports PerezHilton.
It's Won The Most Emmys In A Single Year
Another promising Emmys record; the show's fifth season took home the largest amount of awards for a show in a single year.
It's The Most Awarded Drama In Emmys History
While audiences will have to wait until Sunday's show to see if it's the most awarded overall series, GoT recently earned the title of most awarded drama, according to Vanity Fair.
It Was The Most Googled Show In 2014
And it's likely that the search numbers haven't gone down that much, considering the show's continuing popularity.
It Might Have The Biggest Cast On Television
While this isn't official, showrunner David Benioff claimed that the show has the largest number of characters on television, according to EW.
It's Broken HBO DVD Sales Records
The fact that the DVD box sets sold more early units than any of HBO's other shows, according to EW, is especially amazing if you consider how unpopular DVDs are in this day and age.
It's Broken Records In the UK
The British network that airs Game of Thrones, Sky UK, reported that the Season 5 finale was its most viewed program ever.
It's very likely that Game of Thrones is about to break another record, but if not, it already has plenty under its belt. And hey, maybe it's time for another show to get a shot — but let's be real, that's probably not going to happen.
Image: HBO, Giphy (13)