Ashley Tisdale's Illuminate Brushes Look Essential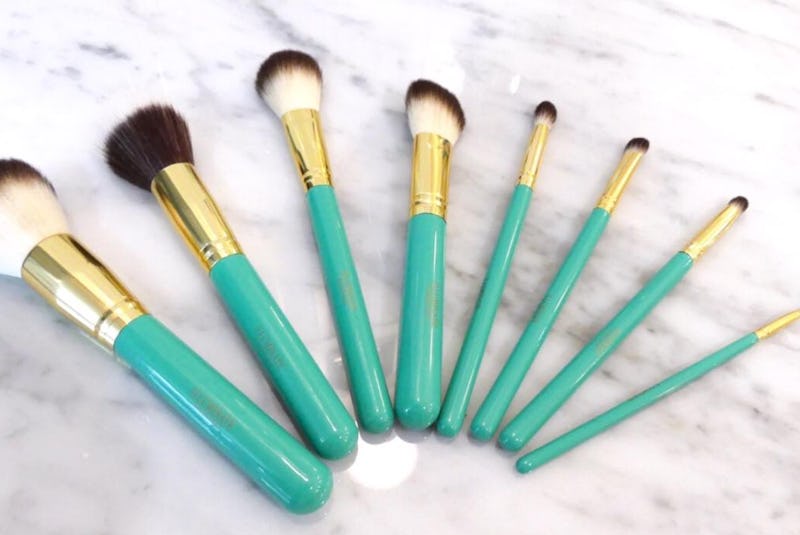 Mornings can be rough, especially when the temperatures drop or you've had a late night. Getting out of a warm, cozy, comfy bed presents a challenge. Ashley Tisdale's Illuminate Cosmetics line wants to help you face the day — literally. The singer, actor, and lifestyle guru's Illuminate Cosmetics has created a makeup brush set that is coming soon. The brand, which is now sold in stores at select Tilly's locations, hasn't shared the exact launch date of the brushes, other than to say later this month. But Illuminate has been teasing the tools via Instagram posts. They look heavenly, with both brown and brown and white ombre bristles. The handles are glossy and sea foam green. But what's in the Illuminate Cosmetics brush collection?
Oh, just everything your morning routine needs to help kickstart your day. Judging from the photos that the brand has shared on its official 'Gram, there are eight pieces in the set. It looks like four face-focused brushes for powder, bronzer, blush, and/or foundation. There appears to be four eyeshadow brushes, with small, tapered heads. One of those could also be designed for concealer. But if you are like me, you interchange concealer and eyeshadow brushes.
View the Illuminate brushes below. They will brighten up your counter and your morning.
The exact brush functions have yet to be revealed. They may be stamped on the handle, but I can't quite tell due to the lighting and glare. The functions were not revealed in the caption. But your eyes can do most of that work for you regarding these magic wands.
I see an angled eyeliner brush, a smudger, a crease brush, and a shadow buffer/blender. In this pic, brushes 3 and 7, from the top down, look like they could serve two purposes — face or eyes.
Fans were asking questions about what's in the set, especially since a fan brush was previously posted. The brand confirmed that particular brush won't be available in the launch and that the brushes pictured in the eight piece set are the only ones coming out. Other shopping info was included in their response, which I've screen shotted.
Also, these responses from the brand confirm that they will be released in September. Pricing is TBD but affordable, so that's good news.
Here is the fan brush which isn't being released at this time. It did't escape the view of eagle-eyed fans.
Tisdale has already incorporated the brushes into her routine. Will you?
Images: Illuminate Cosmetics/Instagram (3); Ashley Tisdale/Instagram (1)