16 'Stranger Things' Items Only True Fans Will Get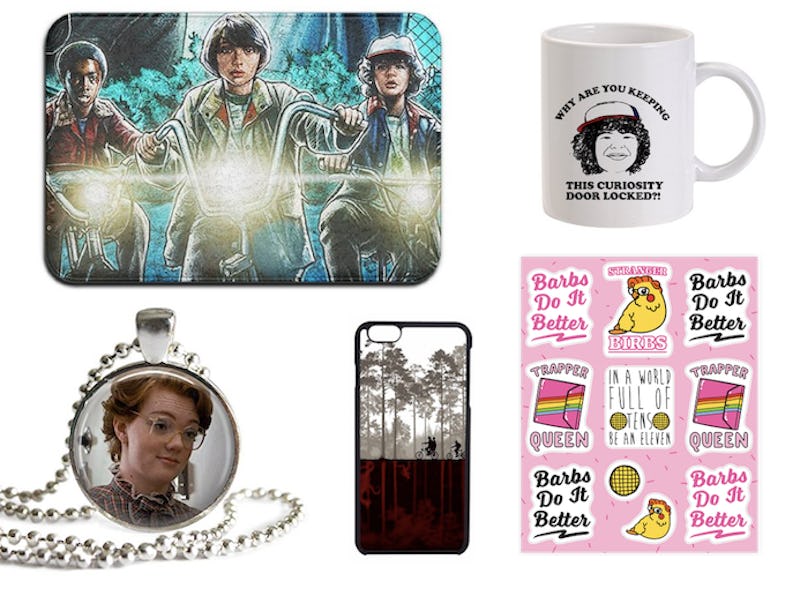 Television isn't really my go-to unwinding activity. My friends perpetually recommend shows to me and get really mad when, six months later, I'm roughly three episodes in. That's why, come Christmas, they all know to get me Stranger Things items that only true fans will appreciate — because I finished that entire thing in two days, and that's record-breaking for me. I'm obsessed. Put frankly, it's hands down one of the greatest shows I've seen in a long, long time, and if you or someone you know happens to agree, it's time to stock up on your Stranger Things gifts.
If you're not familiar with the cinematic television genius that is Stranger Things, allow me to give you a quick overview: this Netflix original series came out earlier this summer, and it became an instant cult favorite, gathering more viewers than House of Cards, Narcos, and Daredevil. The show follows a group of friends who lose one of their best buddies to a dark alternate dimension and team up with the result of governmental experiments — a girl with superpowers. Basically, it's like Stand By Me meets The Goonies meets X-Men, and it's amazing. So are all these things that everyone who's in love with Stranger Things will appreciate.
Join The Hawkins AV Club
Hawkins Middle School AV Club T-Shirt (S-XXXL) , $17-$20, Amazon
Desperate to become one of the gang? You and I both. This pre-shrunk cotton Hawkins Middle School AV Club T-shirt makes you feel like one of your favorite nerds in Mr. Clarke's band of radio enthusiasts.
Greet The Morning With A Hopper-Level 'Screw Off'
Mornings Are For Coffee And Contemplation Mug , $15, Amazon
If you're on the same level as Chief Hopper when you get out of bed in the morning (the one that includes a 'screw off' demeanor and very little productivity), you'll love this "Mornings Are For Coffee And Contemplation" mug.
Show Your Support For El's Dream Business
Stranger Things Eleven's Homestyle Waffles Women's Hoodie (S-XXXL) , $45-$50, Amazon
Fluffy, warm, and nostalgic? You just might adore Eleven's homestyle waffles hoodie more than El loves her Eggos, but don't shoplift from any grocery stores to get it.
These Stickers For Any Member Of Team Barb
Stranger Barbs Parody Stickers, $8, LookHuman
If you're on team Barb (as everyone in their right might should be), these Stranger Barbs parody stickers are just in time for the new semester. Each comes with ten stickers that you can use on your books, laptop, car, or wherever else you want to show off your Barb support.
Who Knew The Demogorgon Could Look This Stylish?
Stranger Things Mini Skirt (XXS-XXL), $35, Redbubble
"Badass" is just about the only word to describe this Stranger Things miniskirt, which has a really cool design, a comfortable stretchy material, and a great length.
Show Off The Darker Themes
Stranger Things Eleven Painting , $45, Amazon
This epic Stranger Things Eleven painting is handmade and can be printed on various different kinds of paper or canvases, depending on your preference. Not only is it eye-catching, but it displays some of the darker themes of the show in a creative design.
Be A Barb In A World Full Of Nancies
Stranger Things Barb Pendant Necklace , $16, Amazon
Because nothing says "be a Barb in a world full of Nancies" quite like this Stranger Things Barb pendant necklace. It's handmade with a bezel setting and a glass dome design.
Keep Your Laptop Cushioned Amongst The Love Of Mike And Eleven
Eggos Laptop Sleeve, $31, Redbubble
For those who ship Eleven and Mike harder than they ship their own relationships, there's this Eggos laptop sleeve. It comes in three different sizes, and protects your laptop with a cushion design and a reliable zipper.
Freshen Up Your Space With '80s Nostalgia
Bicycle Pillow Case, $28, Redbubble
This adorable Bicycle pillow case really has the nostalgic '80s theme going on. You can get it in three different sizes, and you can opt to get just the case or the included pillow.
Keep Any Phone Safe With This Epic Case
Stranger Things Phone Case , $6, Amazon
The coolest thing about this Stranger Things phone case isn't that it showcases the real world and the Upside-Down in an epic abstract design, but that you can get it for ten different kinds of smartphones — and with full access to all functions.
Decorate Your Laptop With A Conversation-Prompting Sleeve
Stranger Things Laptop Skin, $28, Redbubble
I'm all about this Stranger Things laptop skin, and so are reviewers. They say that it's really high quality and intrigues everyone who sees it, and you can get it for eight different sizes and models of laptop.
For Anyone Who Loves Beer And El
El Monogrammed Frosted Beer Glass , $27, Amazon
A gift for the beer-and-El lover in your life, this El frosted beer glass is microwave- and dishwasher-safe, thick, and frosted to keep your beverage cold, and it has an awesome design printed on the front.
Party Like It's 1980-Something
Stronger Drinks Shot Glass , $10, Amazon
Ain't no party like an Upside-Down party. This 'Stronger Drinks' shot glass uses the logo carved in a permanent, professional engraving that's sure to encourage the best decisions.
Show The World Just How Much You Love These Nerds
Stranger Things Doormat , $23, Amazon
Use this Stranger Things doormat as a welcome mat or next to your bathtub to show the world just how much you love Mike, Dustin, and Lucas. It's made from a microfiber memory foam that dries quickly and won't slip.
Carry Around All Your Stranger Things Memorabilia
Stranger Things Drawstring Backpack , $18, Amazon
Whether it's for sports, books, hiking, or housing the rest of your fan material, this Stranger Things drawstring backpack is a great way to do it. It's spacious, durable, and comfortable, no matter what you're carrying around.
Keep That Curiosity Door Wide Open
Dustin Curiosity Mug , $15, Amazon
Because he's potentially the smoothest talker in the whole series, Dustin deserves his own mug. This 'Curiosity' mug is an awesome way to remind yourself on a daily basis that no question should remain unanswered.
Images: Amazon (11); Redbubble (4); LookHuman (1)
Bustle may receive a portion of sales from products purchased from this article, which was created independently from Bustle's editorial and sales departments.