How To Wear Graphic Tees Like A Celebrity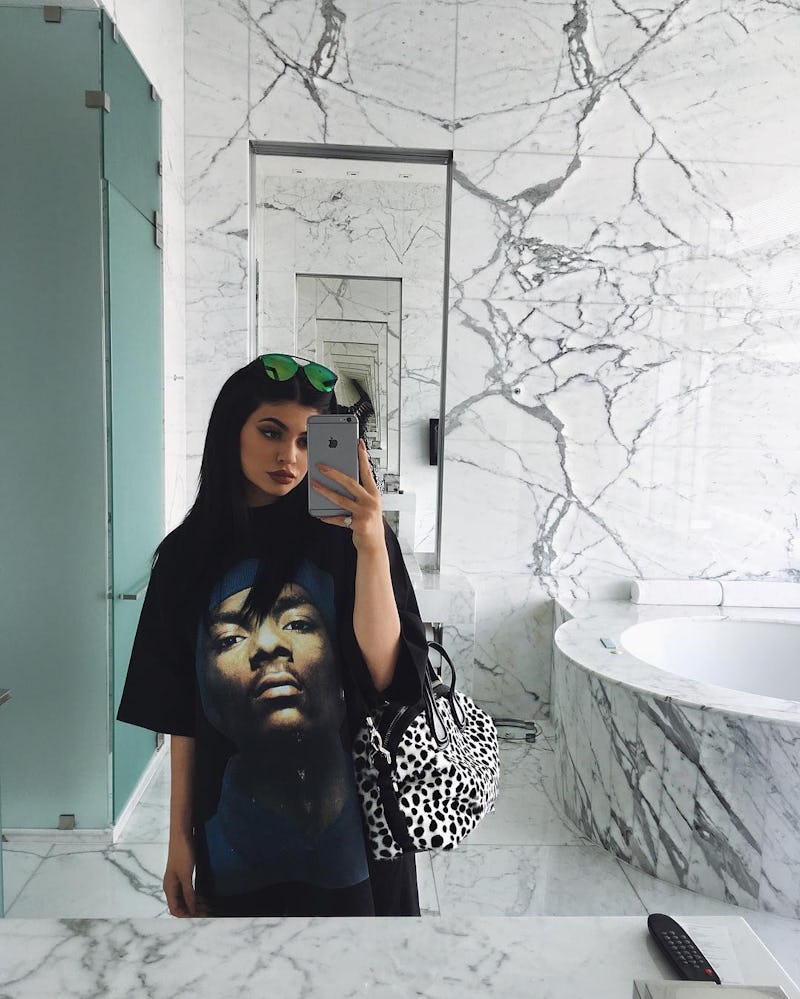 After a summer of epic concert world tours (Beyonce! Bieber! BadgalRiRI!) I'm willing to bet you have a lot of tour merch laying around collecting dust. Not that I blame you — I know from experience it is pretty impossible to resist buying a $60 "Life of Pablo" shirt after you've heard Kanye perform "Famous" live in front of thousands screaming fans — but it does become kind of overwhelming when you get home and realize you have no idea what you're going to do with a shirt with Kanye West's face on it. Fear not: There are plenty of new ways you can wear a graphic tee and still look fashionable.
Thankfully, tour merch is no longer reserved for the gym or the bedroom — rocker-inspired t-shirts are making a comback in a big way. Editors, models, and street style stars all rocked them (literally) during New York Fashion Week, and celebrities have taken to Instagram to show off how they've gotten creative in showing off their love for their favorite musicians (or their stylists' favorite musicians).
Take a look at how seven of my favorite celebrities styled their rocker tee's for a little inspiration of your own. The most important thing? Find an artist you love and own you love for it — it's not worth it to pretend to love a musician just because other people will think it's cool. If you believe in what you're endorsing, you'll look cool no matter what.
1. Snip It Low
Leave it to Kylie to give us the sexiest looking rocker tee we've ever seen. Pair an oversized, cut-up t-shirt like Jenner's with a pair of leather pants, a choker and heeled booties for an easy look you can wear out at night. Feel free to cut the slit from the neckline as much — or as little — as you'd like.
2. Wear It Big
Just because it's fall doesn't mean you need to store your denim cutoffs just yet. Kendall Jenner pairs her oversized Snoop Dogg (or are we calling him Snoop Lion now?) T-shirt with teeny jean shorts and over the knee boots — a perfect, casual look for transitioning into cooler weather.
3. Dress It Up
Leave it to Queen Bey to make a Led Zepplin t-shirt look like formalwear. To dress up your band tee, tuck it into a sexy skirt (the slit definitely helps in that department) and a pair of strappy stillettos. Cuff the sleeves to give the outfit a more finished look. It's the perfect combination of "I just threw on the first thing I could find, but still look super hot."
4. Add A Lip
Black t-shirt + black lipstick = the fiercest, yet easiest look you have ever attempted, care of Jourdan Dunn.
5. Cut & Tie
This DIY tee gives me epic flashbacks to girls camp circa 2002. To get Key's tattered look, take a pair of scissors and cut strips from the bottom of the shirt to just above where it hits your bellybutton. Tie a know at the end of each strip, and throw the whole thing in the wash for extra distressing.
6. Make It A Crop
Cut, rip, and voila. Your rocker tee is now a crop top a la Gigi Hadid.
7. Pretend It's A Dress
Kim Kardashian West never fails to turn an article of clothing that would make the rest of us look like we were ready for bed into something extra sexy. To get Kim's style, buy your rocker tee extra big (or have it gifted to you by your world-famous rapper husband like Kim did) and wear it sans pants with a pair of strappy shoes. Just don't stand too close to any subway grates or air conditioning vents.
If you missed out on all of the this summer's biggest tours, don't worry — a lot of the merch is still available online. And if you're more if a vintage "I'm with the band" kind of girl, check out some old-school inspired tees here.
The Beatles Sgt. Pepper Lonely Hearts Club Band Logo T-shirt, $16.72, HotTopic.com
Photos:KylieJenner/Instagram; Courtesy of Hot Topic