ABH's New Glow Kit Is Highlighting #Goals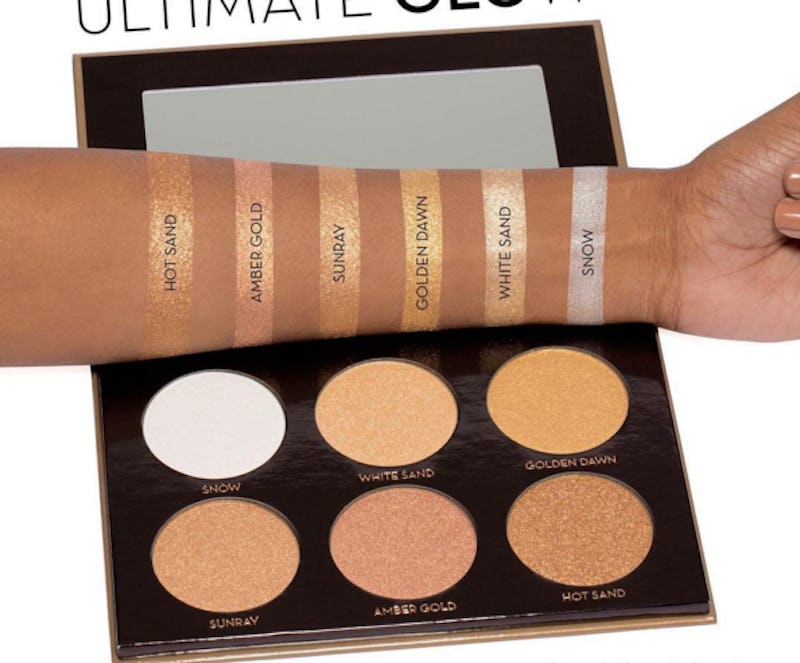 When it comes to highlighters, ABH has pretty much got it down pat. With a plethora of shimmery options including the Moonchild, Sweet, and Sun Dipped kits, the brand has got all the tools you need to nail the perfect glow. Now, the cosmetics label is taking your highlighting game to the next level. When does the new Anastasia Beverly Hills Ultimate Glow Kit launch? You might be wondering. Get ready for some serious sheen.
If you haven't been downloaded on the new kit yet, let me break it down for you. Ultimate Glow is comprised of six highlighter shades, each with a unique color base reflected in its specific name. "Snow," is a pearly white hue, "Golden Dawn" is a super yellow-ish gold, "Hot Sand," is a coppery color, "White Sand," is more of a shimmery nude, "Sunray," is your run-of-the-mill gold, and finally, "Amber Gold" has more of a rosy tint. All six shades have a sparkly element, giving your that extra radiance.
So, when can you get your hands on this gorgeous new pack of highlighters? Luckily, you won't have to wait much longer. According to the brand's Instagram, the Ultimate Glow Kit will be available for purchase in October.
Unfortunately, ABH has not yet confirmed a specific launch date, but at least we know it will be sometime in October.
The limited-edition kit is part of the brand's Holiday 2016 offering, and it's definitely at the top of my wish list.
One word: obsession,
Is it October yet?!
Image: AnastasiaBeverlyHills/Instagram