15 Plus Size Halloween Leggings For Feeling Spooky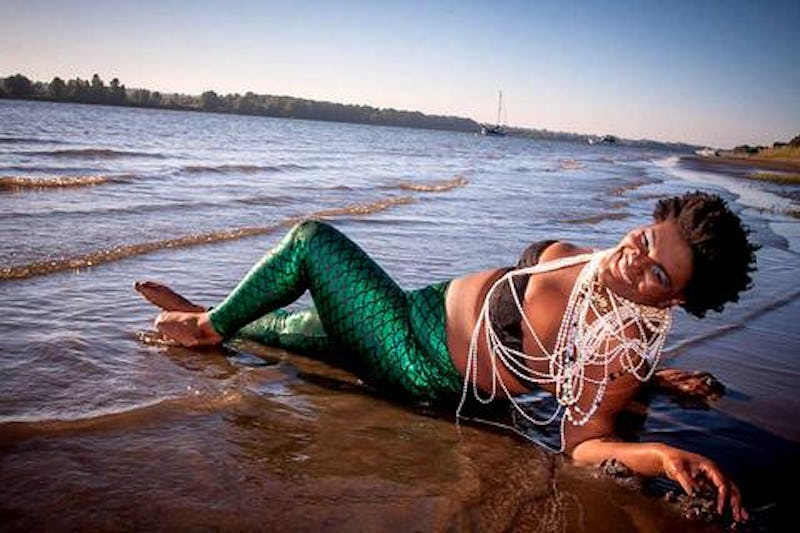 With summer officially over on Sept. 22, the arrival of fall means that Halloween is just around the corner. If you're a plus size babe who spends all year waiting for this holiday, you'll want to represent it in style. Unfortunately, finding specialty items like plus size Halloween leggings can be tricky. In fact, even finding regular plus size leggings that fit well and don't cost the earth is hard.
Unfortunately, there's no way to know if that will change any time soon, leaving plus size women to search tirelessly to find the things they want, with the hopes of eventually finding an amazing piece. The same applies for Halloween leggings: They are out there waiting for your perfect plus size body to inhabit them and impress everyone who catches a glimpse of your legs while you bob for apples.
Some of these plus size Halloween leggings are kitschy and on-theme AF, while others are a bit more abstract and require the creatively-minded plus size person to figure out how to style them into a costume. Whichever category you fit into, these plus size options could potentially help transform your holiday look and make it all the more festive — Halloween is all about tricks, but these leggings are a real treat.
1. Hellraiser
Plus Size Flame Leggings (Available through size 3XL), $27, onlyleggings.com
Strike the fear of hell into others with these amazing flame print leggings. Perfect for an edgy look all year round, but particularly apt for the Halloween season. Perhaps you could even use them for a devilish costume?
2. 'Twas The Nightmare Before Christmas
Nightmare Before Christmas Leggings (Plus Size 0-5), $36, Hot Topic
Many people's favorite Halloween film is The Nightmare Before Christmas (and if you're particularly emo, it's probably your favorite Christmas film, too.) These leggings will see you through from Oct. 1 to the new year in comfy, spooky, and festive style
3. Minnie Mouse
Minnie Mouse Leggings (One Size Fits Most Up To 20), $20, Party City
For those of us that don't want to go straight up spooky for Halloween, but definitely still love to dress up. Get on that classic Disney character level with these super sweet Minnie Mouse leggings.
4. Black Velvet
Velvet Leggings In Black (XS-4X), $30, Mod Cloth
Not strictly a Halloween pair of leggings, but they're more seasonal than most. Definitely the perfect pick for those who don't want too outlandish a look — and when Halloween is over, you can still wear them and look amazing.
5. More Rock 'N' Roll
Multi Skull Print Leggings (Brand Sizes 00-6), $23, Torrid
Blink and you'll miss it, but these leggings are actually covered in a super cool skull motif, and boast some serious tarot card vibes that would make these perfect for a witchy costume.
6. Mermaid Magic
Mermaid Leggings (1X-5X), $57, Chubby Cartwheels
A good Halloween outfit doesn't have to just be skulls, fire and brimstone. Take your mermaid costume to the net level with these amazing scaled leggings, available in extended sizes.
7. Suicide Squad
Harley Quinn Leggings (XS-3X), $28, Etsy
She's been around forever, but Harley Quinn is still very much now. Channel your inner Harley with these awesome black and red plus size leggings.
8. Skin And Bones
Skeleton Printed Leggings (0X-4X), $33, Hot Topic
Get that bony leg look in seconds with these skeleton print leggings. You could use these as the foundation of a skeleton costume, or pair them with a chambray top for a casual Halloween-themed look.
9. Super Slits
Slashed Leggings (1X-3X), $5, Charlotte Russe
Pretend you're the last survivor of a horror film and your outfit is totally torn and slashed up from running away from the movie villain. It's conceptual, but it's a definite look.
10. Spooky Spiderwebs
Spider girl Leggings (One Size Fits Most Up To 20), $20, Party City
Because it wouldn't be a Halloween themed clothing roundup without at least one item that celebrated the spiderweb.
11. Inside Out
Anatomical Muscle Leggings (3XL only), $27, Only Leggings
These leggings are just the right amount of creepy to be cool. Who doesn't want to look like they've been skinned alive? Combined with a cool makeup look, this costume could be a hit.
12. More Skulls
Black Skull Rose And Wings Leggings (0X-5X), $24, Hot Topic
Because there's no such thing as too many skulls on Halloween. Paired with wings and roses, these leggings couldn't be kitschier if they tried.
13. Teenage Turtles
Teenage Mutant Ninja Turtles Leggings (One Size Fits Most Up To 20), $20, Party City
These leggings would be killer enough on their own, but the knee pad motif just takes them to the next level. If you're a TMNT fan, you need these leggings regardless of Halloween — in fact, you could even be a TMNT for Halloween.
14. Bat Out Of Hell
Spooky Bat Leggings (One Size Plus), $22, World of Leggings
These leggings cleverly hide a million bats as a cool, gray camo print. Definitely one of the more subtle Halloween themed leggings on this list, and could work to create a conceptual costume that you could call "vampire army."
15. Dark And Stormy
Blue Ligtening Storm Leggings (One Size Plus), $22, Only Leggings
Who says you can't dress like the weather on Halloween? These leggings would be the perfect basis for a weather-themed costume (think human tornado), and they're actually pretty cool for all year round.
If you're truly dedicated to the spooky lifestyle, you might want to nab every pair of plus size Halloween leggings on this list. If you're just being forced into a Halloween themed outfit day at your work or local bar, one of these pairs could suit your needs perfectly. Whether you've been counting down the days to this year's Halloween or not, these Halloween leggings are awesome plus size options for the holiday.
Images: Courtesy Brands