10 Products To Help You Survive Your Period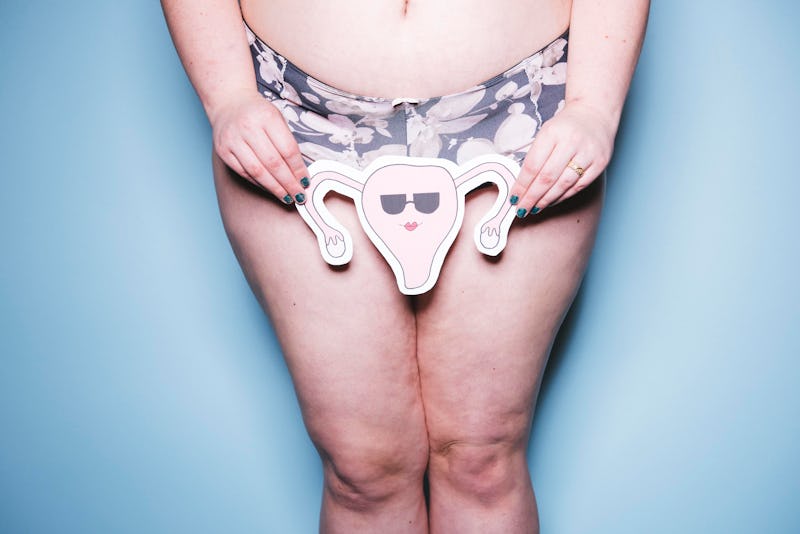 If I could rewrite the syllabus for my eighth grade health class, I'd include an entire chapter on products to make periods and PMS symptoms easier. Frankly, I don't think that glossing over the biological egg drop and handing out a few pads is doing anyone any good, and that's why every girl needs an ultimate period survival kit. Don't get me wrong: I really love living the female life, and I'm of the belief that it's one of the best times in history to be a woman. That being said, once a month, being a woman gets that much harder, and it's good to know how to stop cramps, ease PMS symptoms, and deal with your period when that time rolls around.
I used to get my period anywhere from every two months to every seven months. The cramps were brutal, the not-knowing was unbearable, and the PMS could hit at any time. It wasn't until I started working on my thyroid through natural health and nutrition that my period evened out — now I get it every month on the dot — and I realized how much natural products and alternative solutions have helped make my period go way more smoothly. Come the start of my PMS symptoms, I'm always equipped with some magnesium to stop cramps and an all-natural pimple corrector to fix acne, so I don't have to put everything on hold.
1. Consider Trying Out A Menstrual Cup
LENA Menstrual Cup , $24, Amazon
If you haven't already looked into menstrual cups, it's something to consider. I switched after finding out that the majority of my cramps were being caused by the chemicals in tampons, and the LENA menstrual cup is a great option. It's durable, leak-free, safe, and comfortable. It also comes in two sizes and allows for a natural flow without blockage.
2. Replenish Your Magnesium To Ease Cramps
Magnesium Oil , $20, Amazon
This little tip changed the way I experience my period: when you're menstruating, you lose key nutrients and minerals through the blood, and replenishing your magnesium levels could seriously calm cramps and relax your muscles. This magnesium oil is a good alternative to supplements because it's totally natural, comes from the Dead Sea, and your body absorbs as much as it needs.
3. Deep-Permeating Heat With Natural Ingredients
Essencell Menstrual Cramp Relief Patches , $18, Amazon
These Essencell menstrual cramp relief patches use all-natural ingredients to give you a deep-permeating heat that starts the second you open up the package without any medication. They're a great way to stop cramps because they're non-irritating, convenient, and easy to use anywhere.
4. Target Stress, Tension, And Cramps
Nature Creation Basic Herb Pack Heating Pad , $25, Amazon
For those painful days where you just want to lie in bed and binge-watch dog videos, Nature Creation's basic herb pack heating pad makes an awesome companion. It targets stress, tension, and cramps with eleven different herbs that can be put in the microwave or the freezer, and it fills the air with a relaxing aroma that helps you to chill out and wind down.
5. Stop Those Lower Chin Breakouts
BeeFriendly Acne Spot Treatment , $18, Amazon
Ah, the inevitable menstrual cycle chin pimple — a cherry on top of a great month. This BeeFriendly acne spot treatment targets breakouts with natural and organic ingredients like witch hazel, which shrinks pimples and soothes skin almost immediately. That's why people are saying stuff like, "This stuff is amazing. It smells good and doesn't irritate your face."
6. Resist The Urge To Call In Sick
HoMedics Shiatsu and Vibration Massage Pillow , $43, Amazon
Nothing quite like the thought of a massage at your desk to stop you from calling in sick to work. This HoMedics shiatsu and vibration massage pillow is portable and delivers a circular 3D kneading motion to your back, shoulders, stomach — anywhere you need to reduce tension and pain. It also heats up and vibrates, so it's amazing for anything from cramps to lower back pain.
7. Protect Your Favorite Underwear From Unexpected Stains With This Eco-Friendly Solution
Bamboo Mama Reusable Menstrual Cloths , $26, Amazon
I cannot stand the wet and bunchy feeling that comes with pads. These Bamboo Mama reusable menstrual cloths work wonders as a leak protection backup or all on their own, as they're made with soft and absorbent bamboo. They clip beneath your underwear for a no-slide fit, and they're easy to wash and totally stain-free.
8. Soothe PMS Symptoms With Essential Oils
Soften Women's Blend Essential Oils , $23, Amazon
Made with a great blend of eight powerful essential oils, this essential oil blend is an awesome way to combat the symptoms of PMS, including cramps, exhaustion, discomfort, and agitation. It's pure, natural, and premium grade, and reviewers are saying things like, "Miracle!" and "Ok. I think I'm in love."
9. Be Prepared For Leaks, Or Ditch Your Feminine Hygiene Products Altogether
Whether you're tired of pads and tampons or you're just looking for a little extra leak protection, these period undies have the potential to revolutionize your period. They're made from a soft, comfortable, and stretchy material that's leak-proof on the inside, so you can wear them during your heaviest days without worry. Best of all, they're actually a cute and simple design.
10. Let Yourself Have A Really Great Cry
Poems That Make Grown Women Cry , $21, Amazon
I know it sounds cliché, but my PMS symptoms come at me with a vengeance until I let myself have a really solid cry. Tears are your body's release valve for stress and anxiety, and letting yourself cry actually releases the hormones and toxins that build up when you're stressed. Poems That Make Grown Women Cry is an awesome anthology that features some of the best poems from the eighth century through today that are filled with emotion, passion, and enough beauty to move you to tears.
Images: Andrew Zaeh/Bustle; Amazon (10)
Bustle may receive a portion of sales from products purchased from this article, which was created independently from Bustle's editorial and sales departments.