11 Weird But Genius Items To Help With Chores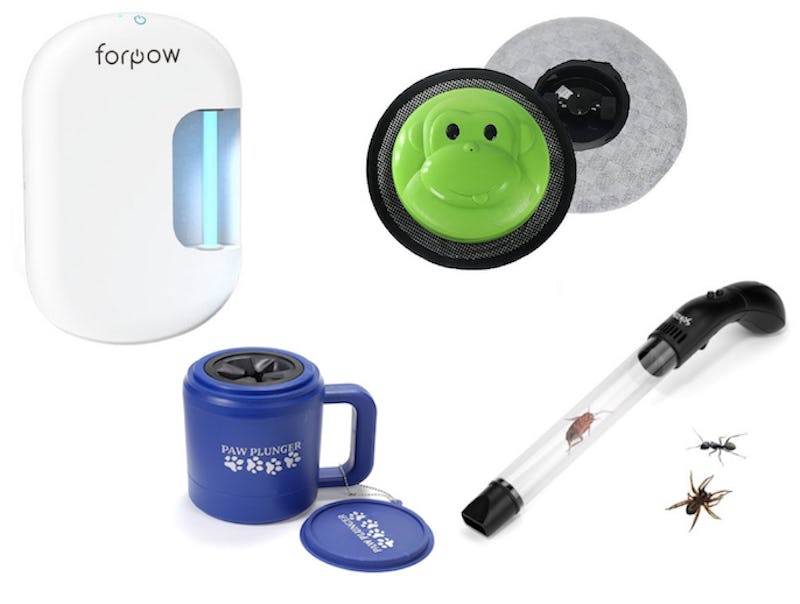 My mother is the queen of bizarre and clever gadgets that make household chores easier, so really, I never even stood a chance. Instead of taking me shopping for clothes or bags or makeup, we'd go to department stores to check out the newest and best cleaning inventions. This is the same woman who needed organizational containers for her organizational containers. I don't want to say that she looked forward to her day off so she could clean, but part of me genuinely thinks that she looked forward to her day off so she could clean.
Any inventions that make life easier and help you do your chores faster are worth the investment in my book, and now that I'm an adult with actual responsibilities, this appreciation has deepened tenfold. As much as I'd love to get down on my hands and knees and scrub the bathroom floor after spending an hour cooking some dinner for myself post work-day (pro-tip: that was sarcasm), saving a few minutes on an around-the-house job means a few minutes spent watching Netflix instead. If you, like me, are looking to spend less time adulting when you get off of work, check out these weird gadgets that make chores easier.
1. Clean Your Floor With A Monkey Face
SoftBase Smart Robotic Mop Sweeper, $36, Amazon
A self-vacuuming floor robot? Okay. A self-vacuuming floor robot with a monkey face on it? Why. Either way, this SoftBase Smart robotic mop sweeper comes at a great price, and roams around your floor capturing things like dust, hair, and fur. It also works on rechargeable batteries, so it's cordless and makes sense economically.
2. Dust Your Tech With A Wad Of Goo
Cyber Clean Home and Office, $8, Amazon
This Cyber Clean Home and Office is essentially a tub of neon-colored goo. That being said, it's made from a high-tech formula that gets rid of 99 percent of germs, and because it's a wad of mush, it's great for getting into the tightest gaps, like when you're cleaning or dusting keyboards, speakers, cameras, bags, couches, and phones.
3. Cut Down On Prep Time With This Weird Crank Thing
ANMER Settled Base Vegetable Prepper, $20, Amazon
A bit like a whimsical torture device, this ANMER settled base vegetable prepper might look bizarre on your countertop, but it's actually a fast and easy way to prep vegetables, fruits, and cheese. It comes with three blades, so you can slice, shred, and strip, and it's really easy to disassemble and clean. That means that your prep-time for salads, pizza, vegetable noodles, and desserts are seriously cut down.
4. Zap Away Germs In Your Toilet Like You're Cyclops
Forpow UV Sterilizer Light, $60, Amazon
If you fit into the oddly specific niche of people who A). Hate cleaning the toilet, and B). Want to feel like you're in a sci-fi movie, this Forpow UV sterilizer light is for you. It takes a grand total of six minutes to zap the entire area with a UV light, which sterilizes 99 percent of germs with absolutely no effort. It's also rechargeable and functions as an air purifier, too.
5. Clean Your Dog's Paws With This Traveling Coffee Mug Thing
Paw Plunger, $20, Amazon
Take the preventative route by getting to your dogs before they track mud all throughout the house. This Paw Plunger removes dirt and mud from your pet's paws using gentle bristles, and it comes in your choice of four different colors and three different sizes to suit any dog or style.
6. Like Condoms For Your Leftovers
Viva Values Reusable Silicone Food Huggers, $15, Amazon
Like cute little condoms for your fruits and containers, these Viva Values reusable silicone food huggers eliminate the need for plastic wrap and the soul-crushing chore that is finding a jar cap that fits. They're made from a durable material that's food-safe and stretches over anything you need to cover, and they're dust-proof and easy to clean.
7. Make Dishwashing A One-Handed Breeze
Full Circle Bubble Up Ceramic Soap Dispenser, $11, Amazon
Why has no one thought of this before? Load soap into the bottom of this spring-loaded dish, smack the brush downward, and you've got a great-quality dishwashing brush that's coated with soap and ready to go. It's made from awesome materials, like bamboo and ceramic, and reviewers say it's so much more effective and hygienic than gross sponges.
8. Suck Up Crumbs And Dust With This Cow
Mini Tabletop Cow Vacuum, $13, Amazon
A few crumbs, some nail clippings, or some keyboard dust isn't really reason enough to lug out the vacuum, so reach for this mini tabletop cow vacuum, instead. It's surprisingly powerful and operates on two batteries, so you can keep it in your desk and clean up small messes in a pinch.
9. Organize Your Week Like You're Still In Kindergarten
Magnetic Refrigerator Chalkboard Chore Chart, $25, Amazon
Time to revert back to those kindergarten cleaning habits. When it comes to household chores, staying organized is half the battle, because when you can clearly see what needs to be done, it's not so intimidating anymore. This magnetic refrigerator chalkboard chore chart goes right on your fridge and allows for ample room to write every chore that needs to get done that week. It also comes with a Marvy Uchida Bistro marker, and reviewers say, "Super fun way to keep track of house chores - big enough to fit a lot of information onto, but not so big that it gets in the way."
10. Pick Up Leaves Godzilla-Style
Gardex Leaf Scoops, $9, Amazon
Fall's coming, guys. Get prepared with these Gardex Leaf Scoops, which simultaneously make you feel like Godzilla and help you effortlessly load leaves into garbage bags — a feat that sounds easy enough, but if you've ever actually tried it using nothing but a rake and your hands, is actually a nightmare. Reviewers love them because they're durable, light, and make the whole raking process infinitely easier.
11. Guilty Conscience? Stop Trying To Catch That Spider With A Cup
Sokos Humane Pest Control Vacuum, $17, Amazon
While cleaning the house, it's pretty inevitable that you're going to find a spider bro or two. This Sokos Humane Pest Control Vacuum lets you remove flies, spiders, crickets, or ants without hurting them. It's got an LED light and a gentle suction that allows you to capture bugs at a safe distance, and then release them outside.
Images: Amazon (11)
Bustle may receive a portion of sales from products purchased from this article, which was created independently from Bustle's editorial and sales departments.