The Shade + Light Contour Refills Are Affordable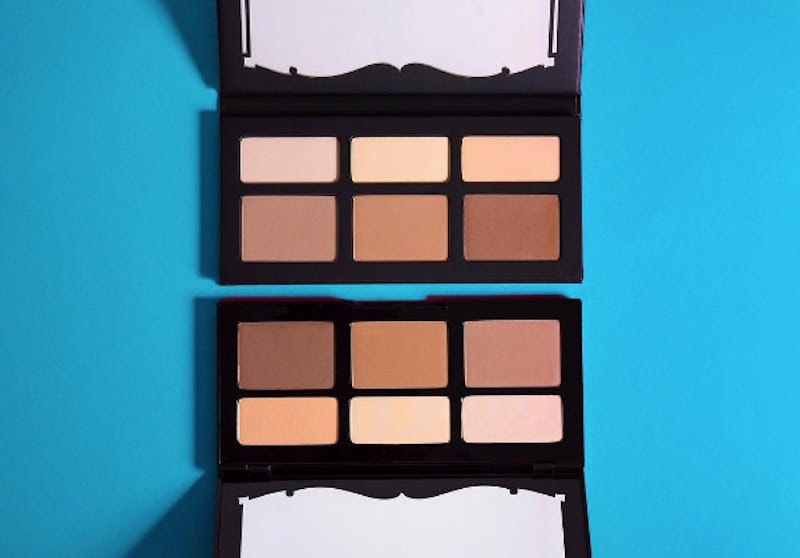 In case you missed the makeup news, Kat Von D Beauty created refillable Shade + Light Contour pans. That means that you can now replace all your favorites without having to spend tons of cash. How much are the Shade + Light Palette highlight and contour refills? It depends on which one you'd like. Either way, they're totally affordable though.
Not all color selections in a contour kit are going to be for you. That's just the plain truth. Kits are a great way to see what works for your skin tone, but once you know, you'll want your favorites in bulk. Up until now, the only way to stock up on your favorite Kat Von D Beauty hues was to buy multiple Shade + Light Contour Palettes, which can get pretty pricey. Thankfully, that's all about to change with the makeup company's new creation.
Starting Sept. 27, you'll be able to shop highlight and contour pans separately from the palette. The two kinds vary in price though. While the contour shades will cost $16 per pan, the highlights are a little bit cheaper at $14 each. That's a whole lot better than buying the entire palette for $46. Now you can just buy your favorites and pop them into a z-palette or buy the Shade + Light Contour Palette 2.0 for $49. It comes with a harder case and magnetic spaces for your refills.
There's only one place to buy the refills though. The products will be an online exclusive only at Sephora.com. People have been waiting a while to get their hands on the refill pans, so they'll probably sell out fast on their first round. I'd set an alarm for Sept. 27, if you're looking to get your hands on your favorite shades.
Shade + Light Contour Palette, $46, sephora.com
That's not the only exciting thing about the launch either. Kat Von D announced on her personal Instagram that she has reformulated all the shades to be completely vegan. The Shade + Light Contour Palette 2.0 will have the new formulas, if you're looking to buy them all.
Who knew it could get even better? Set those alarms, people! This palette will no doubt sell just as fast as the first one did.
Images: KatVonDBeauty/Instagram (1),