Good News For Fans Of These FX Shows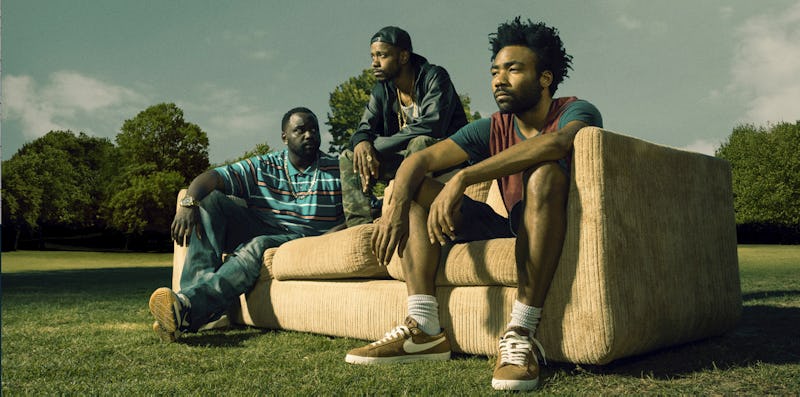 Every once in a while, a new television show manages to knock it out of the park early in its run — and this is exactly the case with FX's new fare, Atlanta and Better Things. Variety is reporting that, due to the success of the shows' first few episodes, FX has ordered 10-episode second seasons for Better Things and Atlanta — even though they are both only in the first few episodes of their first. In other words, viewers: if you're not watching both Atlanta and Better Things (or at least one of them) now, you need to seriously get with the program. They're amazing shows and everybody else is doing it, you deserve to as well — trust me, in this case, peer pressure is not a bad thing.
According to Deadline, Atlanta — which follows a man named Earn, a Princeton dropout who's now a manager for his up-and-coming rapper cousin Alfred Miles — is already breaking records: The show (from Donald Glover's brain trust, Royalty) scored the best premiere numbers for any basic cable primetime scripted comedy in over three years in the 18-49 demo. Meanwhile, the semi-autobiographical Better Things — which is about Sam, an actress who takes care of her three children and mother while also trying to make it in LA and is co-produced by Pameloa Adlon and Louis creator Louis C.K. — also has an outstanding claim: It happens to be the most-female driven FX show in the network's history.
It's not surprising, but still really exciting that both shows are both doing so well. According to Variety, Nick Grad and Eric Schrier, presidents of original programming for FX felt "gratified" by the ratings of those shows, and stated, "It is clear to us that Atlanta and Better Things have struck a nerve with viewers, which is a credit to Donald Glover's vision for Atlanta and Pamela Adlon's vision for Better Things. They, along with their spectacular casts, writers and directors, have created exceptional shows that we are incredibly proud to produce." I totally agree: FX should be proud to produce such diverse, hilarious, and well-done content.
I would say let's finish the first seasons of both Atlanta and Better Things before getting all worked up about Season 2, but from what we've all seen already, the sky is the limit for these awesome shows.
Images: FX Networks