Jean-Ralphio Finally Met His 'Stranger Things' Dad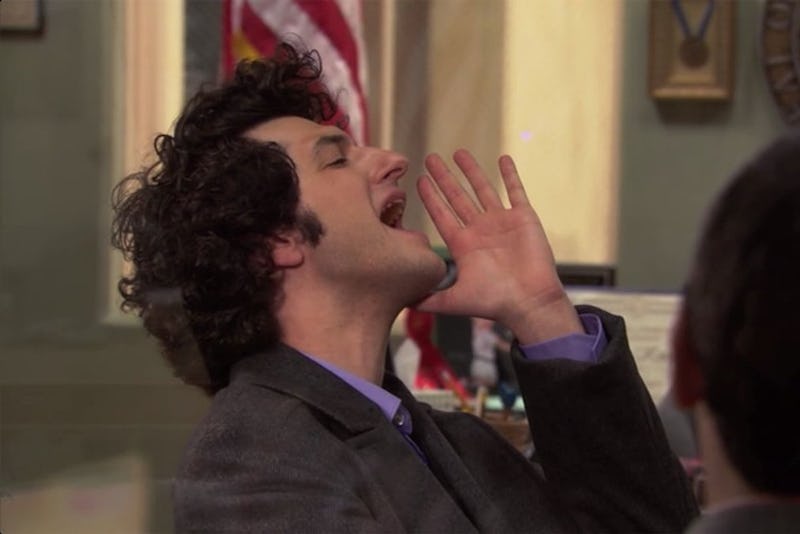 Finally. After way too long of an excruciating wait, Parks and Recreation's Jean-Ralphio and Steve Harrington from Stranger Things met. I mean, they are father and son, so it was bound to happen sooner rather than later, right? Ben Schwartz (who played Jean-Ralphio) shared an Instagram video Tuesday of himself and Joe Keery (who plays Steve). Alongside the IG, he wrote, "Dad and son meet because the Internet. @uncle_jezzy@strangerthingstv #strangertwins." What makes the video beyond fabulous is that they are wearing the same flannel shirt and then say in unison, "That's strange," while staring at the camera. Schwartz also shared a photo on Twitter of the two shaving together, like a real father and son would.
If you've haven't been following the hoopla or have yet to watch Stranger Things (what is wrong with you?), here's why their meeting is such a big deal. After encountering Steve and his huge hair while watching the Netflix hit, fans started to theorize that maybe he is actually Jean-Ralphio's dad. That's right, Parks and Rec's Dr. Saperstein (Henry Winkler) is not Jean-Ralphio's real father, but Steve is. As many fans pointed out, they both have amazing hair, live in Indiana, and are cocky, so they could easily be related. What started out as a silly meme actually turned into some serious theories that sound quite convincing.
Schwartz even addressed the theory in a video for The Late Late Show with James Corden. Not only did he confirm that Steve and Jean-Ralphio are father and son, but also revealed that Nancy Wheeler (Natalia Dyer) is his mom. Seeing as his character is their child, Schwartz also said that there is a good chance he'll probably show up in Stranger Things "Seasons 2 through 100."
I can only imagine what this video is going to produce. More theories? More memes? For sure, fans are going to freak out appropriately, because, well, Schwartz and Keery are giving them exactly what they want.
Image: NBC