YouTube Makeup Star Morgan Hanbery Is The Realest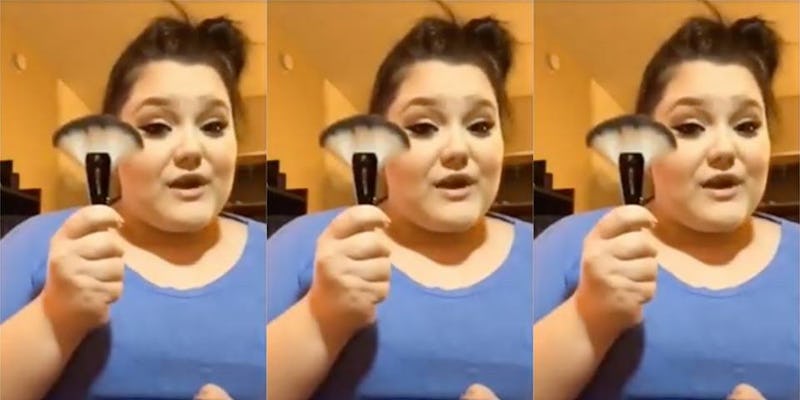 These days, YouTube makeup tutorials are a dime a dozen. There are so many bloggers, makeup artists and wannabe-Internet-sensations out there eager to show you how to blend your highlighter or create perfect your cat eye that after a while, it all sort of starts to blend together. Because of this, it takes someone really special to stand out from the crowd. Enter Morgan Hanbery, the hilarious young woman behind the "Bullsh*t Makeup Tutorial" videos.
Hanbery's videos, which went viral in early August, are laugh-out-loud funny parodies of what we've all come to expect from the zillions of makeup tutorials popping up on Youtube, Snapchat, and Instagram every other second.
In her first "Bullsh*t Makeup Tutorial," Hanbery tries out a foundation that "the guy at Sephora talked [her] into buying," goes "psycho" on her face with loose powder that "looks like crack cocaine," and uses "old ass, lumpy ass, brown ass" mascara. Not exactly the kind of product endorsements we're used to hearing from beauty bloggers, eh?
She also uses the wrong color concealer, breaks her powder, accidentally snaps a compact shut on her fingers and swears like crazy about all of it ... further proving that she basically is every single one of us.
Not only is Hanbery hilarious, but she's real. And it's that realness that has attracted over a million(!) people to her YouTube videos in less than a month.
"I think what makes me different from a lot of people out there is that I really don't care what people have to say about me or what anybody else's opinion is," Hanbery tells me over the phone. "I post what I want because I'm confident with myself and I feel like if you're confident you do what you want, and so I do what I want and people see that and they see that I'm not fake and I'm not going to put on a show to please anyone."
Damn, girl. Did I mention she's only 18? In fact, her videos went viral two days before she started her senior year of high school, which as you can imagine made coming back after summer vacation a bit more bearable.
However, no matter how famous she becomes in the world of beauty, Hanbery is committed to staying true to herself. "I think what frustrates me the most is that people will promote something that they really genuinely don't like, so they'll give their followers a false opinion and I think that's wrong," she said. "If you like something, tell them you like it, if you don't... don't tell them that, you know what I mean? Like, don't lie to people."
And in case there was any doubt about Hanbery's realness, she has already proven that she practices what she preaches: She's already had multiple companies approach her and offer her a lot of money to endorse products that she didn't believe in (namely, a weight loss tea) and has repeatedly turned them down, a fact that she and her team are incredibly proud of.
Some products she does love for real? Urban Decay concealer, Too Faced eyeshadow palettes, and NYX's Lingerie lipgloss.
For Hanbery, though, she hopes that the takeaway from her videos is about more than products — she hopes to inspire her viewers to learn to love themselves. "I just hope that people learn that you have to love yourself for who you are and don't let anyone else bring you down," she said. "If you live life not loving yourself it's just going to be dreadful.
If only we could all have been that wise at 18!
Images: Courtesy of Morgan Hanbery