The Terence Crutcher Transcript Is Hard To Read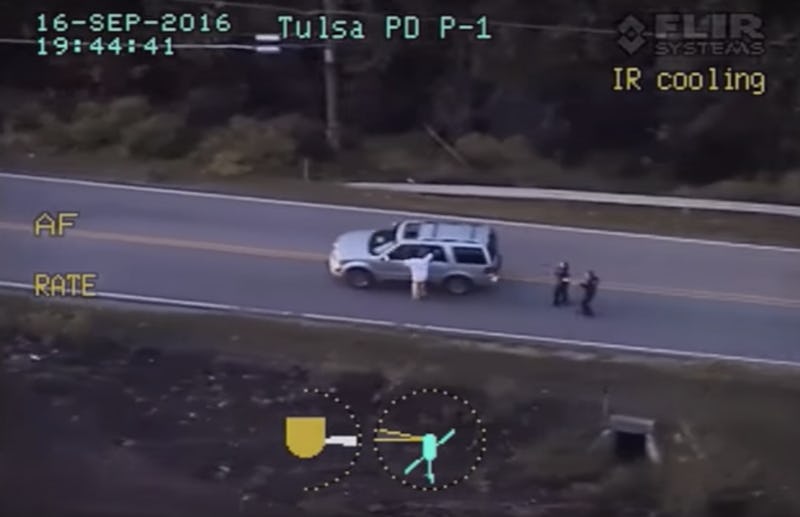 An unarmed black man in Tulsa, Oklahoma, whose family says he was waiting on the side of a road after his SUV broke down, was shot and killed by a Tulsa police officer last Friday. And now that the video and transcript from the Tulsa Police Department helicopter that was hovering over the car has been released, outrage over the shooting has continued to mount.
Terence Crutcher, 40, was fatally shot by a police officer on Sept. 16 after he was approached about his vehicle. Tulsa Police officer Betty Shelby, who was en route to a domestic call, noticed Crutcher and the vehicle, and stopped to look into what had happened, her attorney, Scott Wood said.
Wood said the officer thought Crutcher might be impaired. The attorney also claimed that Crutcher did not respond when the officer asked if the car belonged to him, and instead began walking toward her with his hands in his pockets, but he did take his hands out of his pockets after the officer asked him to. Crutcher then walked to the back of the police cruiser and put his hands back in his pockets and refused to get on his knees when ordered to, the attorney claimed.
But the transcript from the video footage, in which one person from inside of the helicopter says "it looks like a bad dude, too," portrays a different picture of the incident:
Helicopter: Police one we are 10-97 without him. 303.
Tulsa police dispatch: 19-43
Helicopter: Alright, Betty-Jo where are you at?
Helicopter: He's got his hands up there for her now.
Helicopter: Mike, I'm gonna [sic] hit the record it. This guy is still walking and following commands. Time for Taser, I think.
Helicopter: Also got a feeling it's about to happen. It looks like a bad dude too. Might be on something.
TPD scanner traffic: Which way are they facing?
Helicopter: One they are facing west bound. Uhh, I think he may have just been tasered. TPD scanner traffic: Shots fired!
Helicopter: Ohhhh.
TPD scanner traffic: 3-21, we have shots fired.
The footage shows Shelby, and other officers who had joined her at the scene, following Crutcher as he walked toward his SUV with his hands up, when he was shot. Tulsa police spokeswoman Jeanne MacKenzie, said that the officers thought Crutcher had reached into the driver's side window of his vehicle.
Crutcher's twin sister, Tiffany Crutcher, claimed her brother died because of "negligence and incompetency and insensitivity," and is demanding that the officer who shot him be charged. Crutcher and his sister had just celebrated their 40th birthday. Crutcher was a father of four and had just enrolled in a community college, his sister said.
Attorney Benjamin Crump, who also worked with the family of Michael Brown after he was shot and killed by a Ferguson police officer, is representing the Crutcher family in this case. During a press conference held on Tuesday, Crump with three other attorneys present, asked "Why is an unarmed black man who has committed no crime, who only needed a helping hand, given bullets in his lung?"