33 Sephora Exclusive Holiday 2016 Sets You Need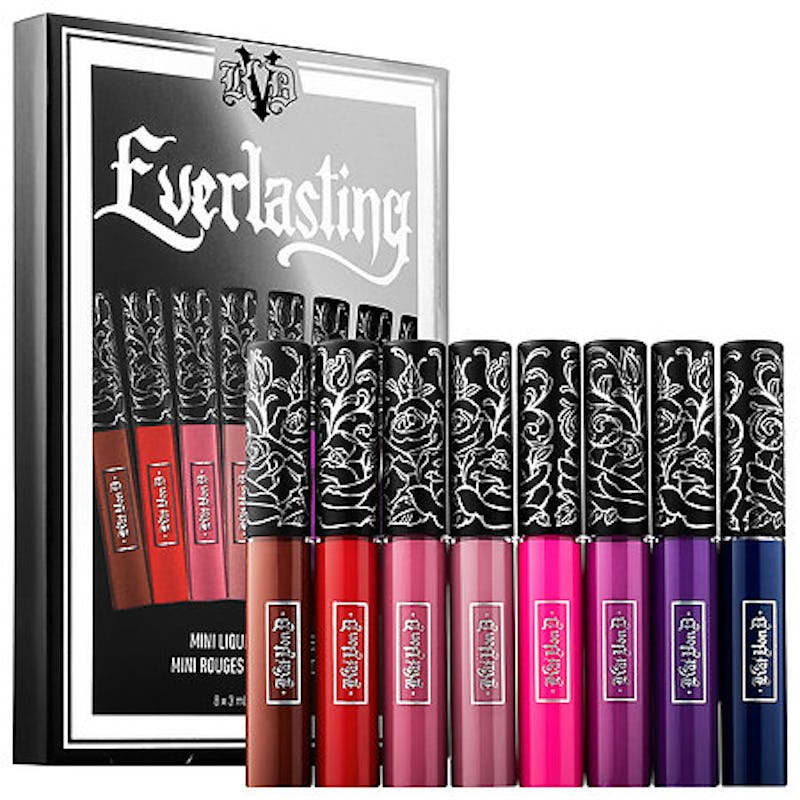 There's nothing like beauty holiday shopping. While it couldn't be easier to head into Sephora and snag 18 things for yourself, nailing the exact lipstick or blush for someone else's aesthetic is the holiday headache. Solution: give 'em choices — a.k.a. any of Sephora's exclusive holiday 2016 sets. Holiday gift sets are the key to looking like the most considerate daughter, friend, aunt, niece, nephew, colleague, neighbor — any relationship can benefit from beauty. The bliss of sets is they're easy to split, meaning you can pay it forward and pass off parts, looking great while still keeping something for yourself, or saving money. It's the gift that keeps on giving.
But flip side, every brand comes out with a holiday set these days. To cut through the clutter, I looked through every Sephora holiday 2016 exclusive and picked the best of the bunch for this list. Skin, makeup, hair, and fragrance... with price options across the board, there's something for everyone, from works of art like Make Up For Ever's Artistic Lip Ink and Brush Set, to workhorses like Drybar's Blowout Extending Essentials.
Shop The Sephora Holiday Sets Here
Highlighters aplenty, liquid lips across the spectrum and options for impossible-to-buy-for guys, take a look. Holiday shopping done early? The greatest gift of all.
Skin
GLAMGLOW Gift Sexy SUPERMUD® Set, $69, Sephora
Glamglow's masks are staples for glowing, clear skin. This mini set of three lets you dip a toe in three of the brand's bestsellers — perfect for getting a taste of each on your own, or trying with a sibling if you're feeling holiday generous.
Fresh Skincare Treasures, $71, Sephora
Fresh's cleanser is a gentle-but-effective skin savior, and their lip treatment is top of the line for keeping lips well-nourished. This set includes the two, and packs a punch with an exfoliant, moisturizer and eye cream, leaving you all set with a skin regimen that's perfect for skincare novices who want something easy.
Drunk Elephant Let's B Clear, $82, Sephora
Newer line Drunk Elephant is already making waves with their combo of sustainability and super-effective ingredients, and this skincare set is a great way to try out the brand. With all their bestsellers, night and day are covered for a skin-happy future.
Kate Somerville Cult Favorites Kit, $75, Sephora
If you want to stick with the tried and true, there's no better way than with Kate Somerville. Beloved by celebs with ever-perfect skin, the ExfoliKate treatment works honest wonders. Paired with a cleanser and gentle moisturizer, it's a way to do the basics in a luxe way.
Caudalie Premier Cru Ultimate Anti-Aging Set, $99, Sephora
Moms love Caudalie, this is a certified fact. For good reason — the French brand uses wine-based science for their line of skincare wonder-workers, and gets great results. A philosophy and products I can get behind!
First Aid Beauty FAB Delights, $18, Sephora
First Aid Beauty has super straightforward products, perfect for anyone mildly intimidated by the skincare game. Staples like tinted lip balm and moisturizer make the introduction easy, and are necessary objects for pros and novices alike.
Erborian Liquid Moisture Mini Bar, $24, Sephora
On the flip side, skincare lovers will freak out over this set. Korean brand Erborian is full of novel, intriguing products packed with innovative skincare ingredients, and the trio of lotions will delight any beauty junkie who's been around the block. Watery with a powdery finish, you've never seen lotions like this before.
Makeup
Too Faced The Chocolate Shop, $58, Sephora
Too Faced brought the goods this holiday season, with this very cute palette exclusive to Sephora. Full of holiday party-perfect shades of blush and shadow, a liquid lipstick, shadow primer and mascara, it's still workable for life post-New Year.
MAKE UP FOR EVER Artistic Lip Ink and Brush Set, $40, Sephora
Like. Look at this. Plain gorgeous packaging, plus a product that means business? Sign me up. This sleek, chic lip set is wholly unusual, the formula is out of this world and it's basically an objet d'art (the lip brush is also amazing quality — you won't know you need it until you have it).
Bobbi Brown Bobbi To Glow Shimmer Brick Palette, $69, Sephora
Three of Bobbi Brown's iconic shimmer bricks are paired up in this beaut of a palette. With a gold, rosy bronze and a blend of mauve-y pinks, there's a highlighter for everyone and no end to the combos possible. The Shimmer Bricks are ace multitaskers — use a single color on lids, or go swirl-crazy and dust them all over.
Laura Mercier Fall In Love Face Illuminator Collection, $58, Sephora
Yup, another highlighter set. But, Laura Mercier's palette sets itself apart in both formula and look. The silky powder defies expectations with an almost creamy finish, if you can bear to use it. I know. It's that pretty.
stila Star Light, Star Bright Highlighting Palette, $39, Sephora
People really love highlighters, that's the takeaway from holiday 2016. Stila's spin is on trend with the frosty highlighters that are big right now, but still eminently wearable. Plus, again — very pretty to look at.
Le Marc Lip Creme #Lipstick 'Bad Behavior,' $30, Sephora
Marc Jacobs gets that "home for the holidays" can often also mean "cabin fever." Get up to antics with this exclusive, limited edition lip color. It's marketed as a burgundy brown, but reviewers have said it leans more purplish in person (but gorgeous regardless).
Smashbox Light It Up 3 Palette Set: Eyes Contour Lips, $45, Sephora
Honestly drool-worthy, Smashbox's holiday set has you deeply covered on all feature fronts. With mini palettes for eyes, lips, and face, you can banish worries about the dreaded shadow fall-out/lipstick crossover, purple in your contour — it's no longer an issue. The colors are also spot on, and the price is extremely reasonable for what you get.
Kat Von D Everlasting Mini Liquid Lipstick Set, $49, Sephora
There's no fervor like the fervor for Kat Von D's Everlasting Liquid Lipsticks. With this taster of eight shades (including two ~exclusive previews~ of new shades) your every look is covered regardless of aesthetic. Midnight blue, pink, and pepper red are all there, but I've got my eye on Plath, a russet red. Bonus points for the vegan status.
tarte Pretty Paintbox Collector's Makeup Case, $59, Sephora
Tarte killed it this holiday season — their Pretty Paintbox Collector's Makeup Case was the obvious choice to highlight, but they also released two Sephora-exclusive blush palettes and a lip paint set. The Paintbox takes the cake though, with 24 shadows, three blushes, a highlighter, mascara, liner, and lip color. My jaw? On the floor.
SEPHORA COLLECTION More Than Meets The Eye Eyeshadow Palette, $36, Sephora
Equally expansive is Sephora's holiday palette. Thirty-two shades large, it's a no-duh choice for anyone looking to experiment.
Hair
Drybar Merry Mini Must-Haves Blowout Extending Essentials To Go, $29, Sephora
No one wants to waste time this holiday season showering when there's relaxing to do. Exception: bubble baths, but maybe not even then. Drybar's blowout extending essentials will keep things looking tip-top, with a dry shampoo, dry conditioner and volumizer.
Ouai Style Edit Set, $25, Sephora
This set is worth buying just for the scent. Seriously, it's so good. Further convincing, Ouai's products are the bomb, and this sampler is perfect for the frequent traveller (or commitment-phobe). Hair ties are included, which you know you always forget. They just get us.
Briogeo Don't Despair, Repair!™ Hair Therapy Kit, $20, Sephora
Trying to avoid hair damage and heat-styling in the new year (or just recover from 2016's bleach-heavy hair trends)? This set makes it easy, with a collection of reparative treatments at the ready.
Bumble and bumble Wavy, Windswept Hair (Anywhere) Surf Travel Set, $31, Sephora
Bumble and bumble's Surf Spray is the definitive cult classic, the salt spray that started the trend. Packed with a moisturizing primer and equally beloved dry shampoo powder-cum-volumizer, surfer waves are just a set away.
Madam C.J. Walker Beauty Culture Curl Enhancing Essentials Kit, $28, Sephora
Madam C.J. Walker busted into Sephora with their curl-perfecting products. Especially for people just figuring out their routines (curls are a fickle friend) this set is great for testing what's right for your hair type.
Fragrance
Atelier Cologne Nécessaire Nomade III, $45, Sephora
Any traveler (or those with a worldly outlook) will appreciate this set of eight travel-inspired fragrances. Concentrated with at least 15 percent fragrance, the small size packs a big punch — the perfect addition to any carry-on.
Sephora Favorites Discovery Collection Perfume Sampler, $18, Sephora
Five under-the-radar brands get the spotlight in this set, ideal for anyone not trying to smell like everyone else. Unique, exotic, and, best of all, cheap, show you care with this set. You know them, you really know them.
Sephora Favorites The Leading Man Fragrance Sampler For Him, $55, Sephora
Not to rely on a huge cultural stereotype... but some men are notoriously hard to buy for. This sampler gets you off easy — packed with four so-called "manly" scents and some shaving cream that I'm confident anyone who doesn't want to smell like a flower garden will enjoy.
Commodity Cocktail Kit, $22, Sephora
Buying for someone who loves to cocktail (or just cocktails)? Play to their strengths with this eccentric set, with ten scents made to layer.
THE BLEND Custom Fragrance Blending Mini Kit, $29, Sephora
Layering and individuality are the trend, as this Custom Fragrance Blending Kit makes clear. From Fred Segal, any combo of these oils will doubtless smell delicious, although it's each to their own. Personalized by the receiver, it's a flawless failsafe.
Tools
SEPHORA COLLECTION Deluxe Charcoal Antibacterial Brush Set, $62, Sephora
Washing your brushes is always on the to-do list, but regularly taking the time to do it is... aspirational. This brush collection doesn't completely cut the need, but the brushes have been infused with charcoal powder, which they say has antimicrobial properties to keep brushes fresher for longer.
Beautyblender Beautyblender® + Too Faced Holiday Kit, $40, Sephora
Beautyblender paired with both Too Faced and Benefit this holiday season for trios that set a new standard for cute. Both sets feature a blotterazzi and beauty blender — the Too Faced version has a deluxe-size highlighter and blush duo, while Benefit's has a deluxe of their POREfessional Face Primer balm.
BlendSMART Automated Makeup Brush System + Foundation Brush Head Starter Set, $69, Sephora
For the serious makeup lover, it doesn't get better than this automated brush. It's like going from a whisk to a Vitamix — an investment, but just doesn't compare.
Foreo LUNA™ play, $39, Sephora
Foreo's LUNA play cleansing brush is dang cute, and the lower cost makes it a more accessible way to try out deep cleansing technology. The colors also brighten up any skin routine.
Iluminage Sleeping Beauty Deluxe Set, $99, Sephora
This duo redefines beauty sleep. With a silky pillowcase and matching eye mask, the material is infused with patented copper technology that's clinically proven to reduce the appearance of wrinkles, helping sleepers literally with zero effort as they sleep. Perfect for any science lover, or someone with enough on their plate.
CLINIQUE Clean Skin, Great Skin Set for Oilier Skin, $90, Sephora
Clinique loves routines, it's their thing. They're at peak form with this set for oily skin, and it's super cute to boot.
Holiday shopping, sorted.
Images: Courtesy of Brands