Get Ready For 'Miss Peregrine's' To Scare You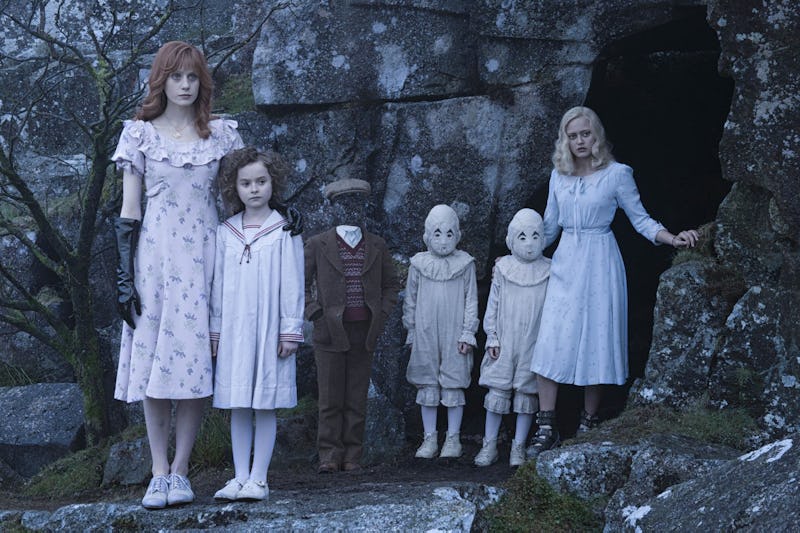 The words "scary" and "children's movie" don't usually go hand in hand. But, on occasion, there are some kids' movies that err on the side of scary. Not horror, necessarily, but stories that make you sleep with a nightlight on and perhaps make you look over your shoulder once in a while. If you've seen the trailer for the upcoming film Miss Peregrine's Home for Peculiar Children, you might be worried that this movie falls into that category. I mean, it does star Samuel L. Jackson as an utterly creepy villain, and the premise is thoroughly spooky. But just how scary is Miss Peregrine's Home for Peculiar Children ? Will this movie make you jump out of your seat?
Don't let first impressions fool you. Sure, there are few things scarier than creepy children with powers (The Shining, anyone?), but Miss Peregrine's Home for Peculiar Children is not actually that scary. It's more whimsical and mystical than anything, especially since it's directed by the master of whimsy and imagination himself: Tim Burton. If Miss Peregrine's Home for Peculiar Children is anything like his films The Nightmare Before Christmas, Alice in Wonderland, or Corpse Bride, there will be an air of fright but hardly enough to make you leave the theater in tears.
The novel Miss Peregrine's Home for Peculiar Children, on which the movie is based, definitely has some chilling moments, but the tone of the novel itself is not scary. It's about a boy, Jacob, who discovers an orphanage run by Miss Peregrine where she, and the children who live there, all have peculiarities. Jacob eventually discovers that he too has a peculiarity, one that will help him save the orphanage when evil monsters come to try to steal the residents' powers. It's a magical story about finding strength in yourself, more about a quest and fulfilling your destiny than it is about monsters popping up behind you in the dark. And I would bet money that Burton will err more toward the side of fanciful than horrifying in his adaptation.
There are, of course, bound to be some scary moments, as the subject matter does lend itself to suspense and adventure in that way. If I had to compare Miss Peregrine's Home for Peculiar Children to other works, I'd say its content is no more scary than the Dementors and Death Eaters of the Harry Potter series. The Percy Jackson novels, too, make a good comparison, as they are adventurous with a few terrifying moments as well. The live-action Goosebumps movie also utilized some scary characters in certain moments that seem similar to what Miss Peregrine's Home for Peculiar Children might have in store.
Overall, Miss Peregrine's seems like a movie made for both children and adults, with a tone that should entertain audiences of all ages. Sounds pretty good to me.
Images: 20th Century Fox; Giphy