30 Top Korean Sheet Masks For Any Skin Concern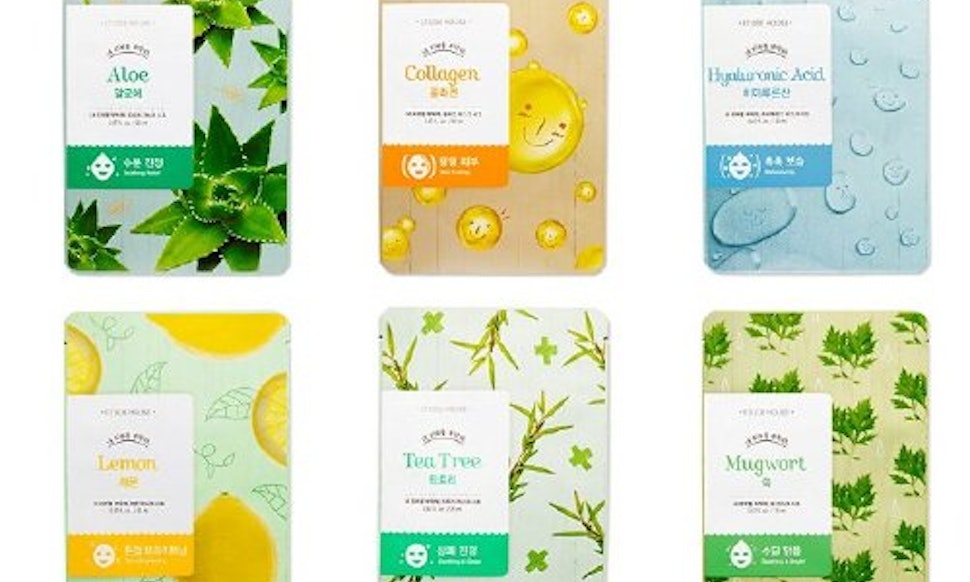 With the Korean beauty trend in full swing, American sites are overflowing with cheap and effective Korean beauty sheet masks. Basically a full spa treatment in one easy-to-wear sheet, people are totally flipping over these things, but with all the different ingredients — some familiar and some not-so-familiar, especially given that the packages aren't always in English — how are you supposed to know the best Korean sheet masks from the worst? That's why I enlisted the help of Korean beauty skin care expert Morgan, from The Beauty Breakdown.
"There are numerous benefits to using Korean sheet masks and incorporating them in your routine," Morgan says. "If you haven't done so already, what are you waiting for? Mainly, these are great for adding a rush of moisture to the skin. Depending on the type of mask, some have added benefits like anti-aging, brightening, improving the texture of the skin, etc. Plus, they're super easy to use. You just apply them onto your face and hang out while it works its magic!" If you're not quite sure which awesome Korean skin care mask is right for you, check out Morgan's favorites, along with some other best-selling picks that people can't stop raving about.
1. Snail Secretion Seriously Helps With Renewal
mothermade Deep Moisturizing Rich Snail Facial Mask, $18, Amazon
"There are a lot of unique ingredients that are incorporated into Korean sheet masks," Morgan says. "One of my faves... Snail secretion! It's awesome for all skin types, helps with anti-aging, and renews the look of the skin."
2. Try Every Ingredient To See What Works Best For You
Dermal Korea Collagen Essence Full Face Facial Mask Sheet, $10, Amazon
If you're not sure which ingredient to try, this Dermal Korea 'Collagen Essence' full face facial mask sheet comes with 16 types — everything from green tea to charcoal.
3. This Mask And Finger Pad Set That Keeps Skin Hydrated For Longer
Common Labs Vitamin B Honey Masks, $27 (Pack of 10), Amazon
Because these Common Labs masks are loaded with ultra-hydrating ingredients like honey, Vitamin B, propolis, and a gel essence, reviewers are raving, "It felt like my skin was moisturized for a longer period of time even without applying lotion." Each one even comes with an exfoliating finger pad to remove dead skin, so the serum absorbs easily and works more effectively.
4. Even Out Skin Tone & Smooth Skin's Surface With Ginseng
Eborian Ginseng Shot Mask, $7, Sephora
For a more even skin tone, this Eborian Ginseng mask has ginseng root, which has been used for centuries in Korea because of how soothing and healing it is.
5. This Quality Variety Pack With A Mask For Every Skin Type
Mizon Essence Full Face Facial Mask Sheet, $14 (Pack of 16), Amazon
Every mask in this Mizon Essence set has a different main ingredient, like rose petals to cleanse pores, snail for firming and hydration, and acai berry for vitality. Reviewers say that the masks are high quality — more like stretchy cloth than paper — and no matter which one they choose, their skin feels "super smooth and moisturized" afterwards.
6. Try Try Tea Tree To Minimize Breakouts
Teatree Care Solution Essential Mask, $11, Amazon
Tea tree is an awesome ingredient that helps minimize breakouts, oil secretion, and infections, so if you've got reoccurring acne, Teatree Care Solution's essential mask could be a great one to test.
7. These Printed Animal Masks For Some Fun Alongside Your Hydration
SNP Animal Characters Printed Masks, $13 (Pack of 8), Amazon
These SNP Animal Characters printed masks add a whole other level of fun to your self-care routine. They transform your face into a panda, otter, dragon, or tiger character, and they infuse skin with coconut water in the meantime. They're also loaded with natural pulp to hydrate without a sticky residue.
8. Leaders Is A Great Brand For Sensitive Skin
Leaders Amino Moisture Masks, $10, Amazon
"My favorite masks are from Leaders!" Morgan says. "I love that they have all different kinds, including sheet masks made from both cotton and coconut masks." These Leaders amino moisture masks are great for sensitive skin, and especially awesome if you need hydration.
9. This Protective Vitamin C Mask For Radiant Skin
Mediheal Vita Libeam Essential Mask, $11 (Pack of 10), Amazon
Designed to give skin a lighter, shinier and brighter look, this Mediheal Vita Libeam Essential mask has reviewers raving: " My face looks radiant and feels so soft right after. It doesn't leave an annoying sticky residue, either." The secret is the vitamin C derivatives that brighten your skin tone and protect from harmful external substances.
10. This Innisfree Rice Mask That Uses Fresh Ingredients To Smooth & Brighten
Innisfree It's Real Squeeze Rice Mask, $14 (Pack of 10), Amazon
Innisfree is all about using fresh ingredients to fit the needs of every skin type, and this It's Real Squeeze rice mask smoothes and brightens rough, dull skin. "It's very soothing and calming on my naturally oily and acne prone skin," says one reviewer, and the three-layer sheet offers tons of hydration and adheres easily to skin while you're going about your business.
11. Minimize Appearance Of Pores With Egg Cream
Too Cool For School Egg Cream Mask, $24, Sephora
This Too Cool For School egg cream mask is awesome for blackheads and uneven skin tone. It uses the proteins in eggs to purify and whiten your skin tone.
12. A Sheet Mask That Uses Replenishing Power From Snails
Milky Piggy 24K Gold Waterdew Snail Mask, $14, Amazon
These Milky Piggy 24K gold waterdew snail masks are loaded with rich ingredients (there's that snail again) that absorb oil, add hydration, and cleanse away impurities.
13. Everything From Pearl To Honey
Etude House I Need You Mask Sheet, $17, Amazon
This pack of 15 Etude House 'I Need You' mask sheets contain everything from pearl to honey and bamboo to rice, and reviewers love them because they adhere well to the face and every different kind does wonders for the skin.
14. Calm Irritated Skin With Mugwort
Manefit Beauty Planner Mugwort, $10, Birchbox
Mugwort has been used for centuries to calm skin, and this Manefit Beauty Planner mugwort mask could help your face look clearer and more radiant in as little as 20 minutes.
15. Laneige Cools, Nourishes, And Soothes
Laneige Water Bank Double Gel Soothing Mask, $26, Amazon
"I also really like sheet masks from Laneige," Morgan said, and this Laneige 'Water Bank Double Gel' soothing mask is so highly rated because it cools, soothes, nourishes, and provides loads of intensive hydration.
16. Rehydrate And Repair With Snail And Herbs
Tony Moly Age-Defying Snail Hydro-Gel Face Mask Sheet, $9, Sephora
This Tony Moly snail hydrogel face mask sheet has more of that snail mucin, which helps to rehydrate and repair, but it's also got traditional Korean herbs that nourish and protect the skin from damage.
17. Give Your Dried Out Skin A Boost Of Hydration
Kisskin Premium Diamond Hydro Gel Mask, $29, Amazon
If you're looking to give your skin a little bit of a hydration boost, this Kisskin Korean face mask is made from a plant-based material that fights fine lines and helps to reverse signs of sun damage.
18. A Sheet For Every Day Of The Week
Reskin Solution Monday To Sunday, $17, Amazon
The coolest parts about this Reskin Solution 'Monday To Sunday' pack is that it come with seven sheets for every day of the week, and the sheets are made from honeycomb shaped microscopic cell structures that deliver tons of nourishment to the skin.
19. Skip The Parabens For Sensitive Skin
banila co Miss Flower & Mr. Honey Skin Care, $20, Amazon
This 'Miss Flower & Mr. Honey' skin care mask is made from great natural oils and extracts, and it skips the parabens, so it's ideal for sensitive skin.
20. Mucin And Epidermal Growth Factor For A Healthy Texture
It's Skin Prestige Masque, $14, Amazon
These luxury 'It's Skin Prestige' masks have snail mucin and epidermal growth factor, which help to rejuvenate and moisturize skin for a soft, healthy texture.
21. Four Types Of Flower Formulas
Dearpacker Jeju Flower Mask Sheets, $7, Amazon
These 'Dearpacker Jeju' flower mask sheets are ideal for sensitive skin. They're made from 100 percent pure cotton sheets, and they've got four different types of flower formulas to brighten, moisturize, nourish, and calm.
22. Pull Out Impurities With Black Charcoal
Dr. Jart+ Pore Minimalist Black Charcoal Sheet Mask, $7, Sephora
Black charcoal is an awesome ingredient for pulling impurities like blackheads and sebum to the surface, and that's why this Dr. Jart+ Pore Minimalist Black Charcoal sheet mask is a definite favorite among beauty fans.
23. Donkey Milk Is Loaded With Vitamins
Freeset Donkey Milk Skin Gel Mask, $14, Amazon
Yep. Donkey milk. It's actually loaded with vitamins and nutrients that hydrate, nourish, and are great for all different types of skin types.
24. Another Great Brand: My Beauty Diary
My Beauty Diary Black Pearl Mask, $13, Amazon
Another favorite brand of Morgan's? "My Beauty Diary!" They come in all different types, like this My Beauty Diary 'Black Pearl' mask, which smells beautiful and leaves your skin looking really clear.
25. Improve Your Skin's Texture Tenfold
My Beauty Diary Imperial Birds Nest Mask, $20, Amazon
If you're looking to improve the texture of your skin with added softness and elasticity, this My Beauty Diary 'Black Pearl Mask' gets the job done using coralline (a deep sea plant).
26. Add Tons Of Moisture With Hyaluronic Acid
My Beauty Diary Lipsome Hyaluronic Acid Mask, $13, Amazon
Looking for tons of moisture? Some say that My Beauty Diary's Lipsome hyaluronic acid mask works better than snail gel for flaking and dryness.
27. Even Out Your Skin Tone With Apple
My Beauty Diary Apple Polyphenol Mask, $15, Amazon
If your biggest concern is uneven skin tone, whether it's from breakouts, scars, or blackheads, the My Beauty Diary 'Apple Polyphenol' mask is really good at leaving you with toned, brightened skin.
28. Awaken Your Complexion With Aloe
My Beauty Diary Aloe Vero Mask, $20, Amazon
My Beauty Diary also has an awesome aloe vera mask, which is super nourishing, moisturizing, and will visibly awaken your complexion.
29. Use Natural Flower Botanicals To Calm Skin
Whamisa Organic Flowers & Aloe Vera, $10, Amazon
For a face mask made with 95 percent organic ingredients, there's Whamisa organic flowers and aloe vera, which has natural flower botanicals to give you plump and calmed skin.
30. Eliminate Dryness And Dehydration With Rose Water
Dermovia Lace Your Face Hydrating Rose Water Mask, $15, Nordstrom
This Dermovia 'Lace Your Face' hydrating mask has moisturizing rose water that totally eliminates dryness and dehydration, and it's made from a latex gauze that attaches over your ears for a comfortable, effective fit.
Images: Amazon (22); Sephora (5); Birchbox (2); Nordstrom (1)
Bustle may receive a portion of sales from products purchased from this article, which was created independently from Bustle's editorial and sales departments.