Orlando Bloom Has Awkward Threesome In 'Easy'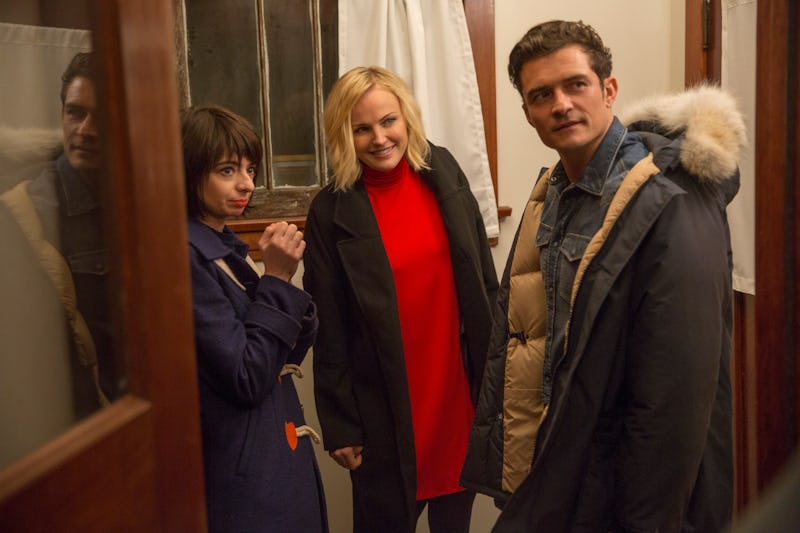 When you watch a Joe Swanberg movie like Happy Christmas or Drinking Buddies, you watch with baited breath, just waiting for the dramatic fallout — which never comes. That's not to say there isn't thoughtful exposition and poignant character-driven plots. In Swanberg's work, the conversation and the characters are the action. What you see is what you get. Which is why his compelling format is making waves with his new Netflix series Easy , which explores sex and relationships. It's fascinating to see a candid approach to sexual experimentation through Swanberg's storytelling, particularly in the Orlando Bloom threesome episode with Malin Akerman and Kate Micucci.
Easy is an eight-episode anthology with new characters exploring love, sex, relationships, and technology in each stand-alone episode. The star-studded ensemble cast includes big hitters like Orlando Bloom, Malin Akerman, Marc Maron, Dave Franco, Hannibal Buress, Jake Johnson, Kate Micucci, Elizabeth Reaser, and many more. In episode six, Bloom and Akerman play a married couple who decide to do some experimenting with the use of modern technology. Episode 6 spoilers ahead.
The episode begins in a pretty common, even mundane way. The couple is in a music class with their baby — Kate Micucci plays the ukulele playing teacher. After class, viewers learn Annie (Micucci) and Lucy's (Akerman) characters are old friends; they grab lunch and gossip about single Annie's Tinder exploits. She jokes that the app has brought her on four first dates, two coffee dates and two bar dates and that she slept with the bar dates because "that's the difference between coffee and vodka."
This conversation, as well as one Tom (Bloom) has at work, leads the married couple to become curious about the dating apps that they missed out on back when they were dating. The conversation then eases into them creating a Tinder profile. The almost montage shows the couple taking selfies for the profile picture and getting giddy with the idea of experimentation — of course, they also discuss the app over feeding a fussy baby in a high chair.
Annie sees her friend on the app and an emoji game ensues. Long story short, the three of them decide to go for it. During the actually steamy sex scenes, the trio is interrupted as many times by Lucy and Tom's crying baby. You keep expecting boundaries to be crossed or someone to back out with the interruptions and moments where two thirds of the party are left alone. But, instead, it almost seems like the foreplay is strengthened and trust is built. First, Lucy leaves, then Tom, and, in the end, they trust Annie to check on their baby. While we do see Tom and Lucy have sex while their overnight guest is tending to their baby, the audience is left wondering what happens when Annie returns. The next shot is the three of them saying a warm goodbye.
Often experimentation in shows and films ends with regret or ultimately leaves one person out of the action. Usually there is embarrassment or shame in the goodbyes. Typically, when the movie or show cuts back to the couple afterwards, they have their relationship foundation shaken, with one or more of the participants feelings used. Never forget the Sex and the City episode where Samantha literally pushes her threesome partner onto the floor.
Instead of that typical approach, Easy delivers a look at experimentation that shows consenting adults with the desire to experiment and who agree upon boundaries, and don't mind when things get a little awkward. The episode is a matter of fact vignette into the night without assumption about what is to follow. All of it isn't super sexy. There are some awkward moments where the trio fumbles around trying to figure out how they all fit into the scenario, but that's natural, normal, and refreshing to see play out. In the final scenes, Tom and Lucy are still a couple, cuddling in their bed and remarking that they will sleep well and Annie is in her own bed on Tinder, smirking at the thought of the next adventure the app will bring.
While this innovative episode is just one chapter in Swanberg's Easy, viewers can catch all eight episodes on Netflix September 22.
Images: Patrick Wymore/Netflix (2)