8 Genius Curling Wand Sets With Different Barrels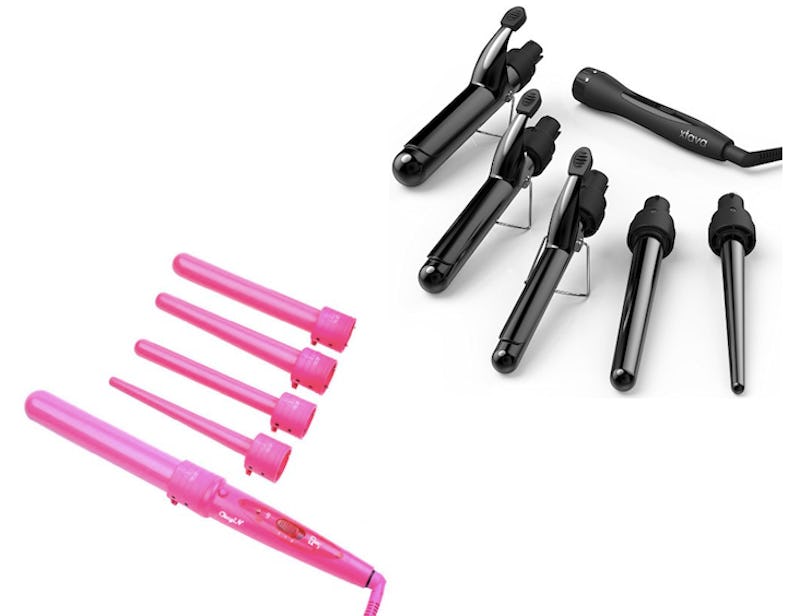 I spent an entire year without putting heat on my hair. It was liberating (and also necessary — Southeast Asia humidity is the worst), but when I got home, I wanted to start changing up my style again. I spent some time looking for curling wand sets with different barrels, so I could keep the routine simple without having to limit possible hairstyles. This way, I wouldn't require more than one curling wand, which was crucial if I intended to stick with the new routine.
I'm not a big fan of straightening my hair, as mine has a tendency to end up looking flat and greasy. This made going for big waves with a curling wand set with interchangeable barrels a total no-brainer, as not only would it save me money, but it would save me valuable storage space (and hours of untangling cords). Plus, I could easily switch up my look without committing to an arsenal of hair supplies. Whether you want effortless beachy waves for day or night, or you're interested in tight bouncy curls, believe me: There's an attachment for that. Using a curling wand set that comes with different attachments is one of the smartest (and headache-free) ways to get the look.
Zealite 6-in-1 Curler Wand Set, $37, Amazon
It's time to clean out your bathroom cabinet and toss all of the hot tools you've collected over the years. This 6-in-1 curler wand set (that comes with a heat-resistant glove, so you don't burn your hand) eliminates the need for several different tools. One user said, "I already had 3 different size curling irons, and this iron has replaced them all. I already gave my other ones away since I don't need them anymore. I have no complaints about this item at all! LOVE."
Inkint 5-in-1 Curling Iron With Glove, $37, Amazon
When you're on vacation, you may find that you want to change up your look. Sometimes you may want cute banana curls. Sometimes you may want beachy waves. Other times you may want loose, natural curls. Pack light and save room in your luggage with this curling iron kit that has worldwide voltage. It's super cheap and won't break the bank.
SKM Interchangeable Hair Curling Iron, $40, Amazon
Whenever I leave the salon, my hair looks amazing. I never think I can replicate it at home, but this ceramic curling iron set makes it possible. The technology allows this set to preserve moisture and protect the cuticle, ensuring that your hair stays smooth and shiny all day long. Get even, beautiful curls in no time at all at home.
xtava Satin Wave 5-in-1 Curling Iron and Wand Set , $35, Amazon
If you still love using an iron with a clip, then this could be a really great option for you. You can choose between five wands (three of which have clips) ranging from .3 inch to 1.25 inches. The wand heats in minutes to 410 degrees, allowing you to create a style that will last for hours. One user said, "The curlers and wands heat up pretty quickly (within 2 minutes). They get very hot so a heat protector spray and heat resistant glove is highly suggested! My curls are so pretty!"
NexGadget 6 in 1 Hair Curler Wand Set, $46, Amazon
Now you can create so many different styles with one wand. Depending on the barrel you choose, you can create tight curls, ringlet curls, spiral curls, ribbon curls, bouncy curls, beachy waves, and finger waves. That's an entire week of different looks. And you can get all of those looks with this dual voltage, ceramic tourmaline wand set.
Bebella 6p Super Premium Pro Gift Set, $75, Amazon
This gift set is amazing — seriously. It not only comes with five interchangeable curling barrels, there's even a ceramic hair straightener included. The tools are made with onyx ceramic plates that radiate infrared heat (it heats up to 500 degrees, so your style really stays put). This type of heat is much gentler and easily glides through hair. You'll be left with a gorgeous long-lasting style.
Nume Octowand, $160, Amazon
If you're someone who loves to experiment with styles, then this is the curling wand set you'll want to check out. It comes with eight interchangeable ceramic barrels to give you a ton of versatile looks. Embrace your inner Shirley Temple with the 13mm wand, or use the 32mm wand for gorgeous waves. Think of any style in between, and you can get it with one of the many quick-heating tourmaline ceramic curling barrels.
Zealot 3-in-1 Hair Curling Wand Set, $28, Amazon
If you have no need for five or six different wands, but you still want a bit of variety when it comes to styling your hair, then this is the set to try out yourself. The interchangeable wand comes with three barrels that allow you to get the look you want without overcomplicating things. One user said, "I am really impressed with the Zealite Hair Curling Wand! The iron heats fast and I'm curling away in no time. I really like the color, the cord is long, and the iron curled my hair great!"
Images: Amazon (8)
Bustle may receive a portion of sales from products purchased from this article, which was created independently from Bustle's editorial and sales departments.