'Notorious RBG' Author On Ruth Bader Ginsburg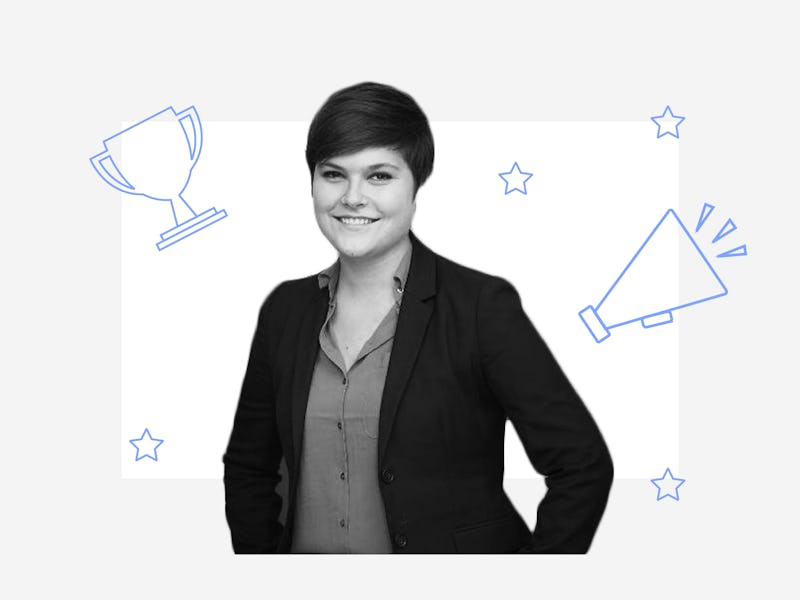 As is usually the case, when Shana Knizhnik started the hugely popular Tumblr Notorious R.B.G. , she was busy doing other things. It was the summer after her first year at N.Y.U. Law School, and she was hard at work interning at an group representing death row inmates in California. She watched with interest as the Supreme Court came out with a slew of upsetting decisions that summer, including striking down a major provision of the Voting Rights Act. Although upset with the majority of the Court in those decisions, Knizhnik focused on Supreme Court Justice Ruth Bader Ginsburg's incisive, elegantly worded dissents in those decisions.
"Her dissents in those decisions were this light, this beacon, that gave me hope amidst the anger over what the rest of the Court was doing," Knizhnik recalls. Around that time, one of her law school classmates posted an excerpt of Justice Ginsburg's dissent with the hashtag #NotoriousRBG — and something clicked for Knizhnik. "It was one of those things where I saw it, and I thought, 'How is that not already a thing? So I started the blog ... What better way to juxtapose her with this 90s hip-hop icon? It was this tongue-in-cheek little thing."
And the #NotoriousRBG phenomenon blew up from there. Justice Ginsburg kept doing awesome, meme-able things, like hugging President Obama during State of the Union Addresses and writing more influential opinions; and Knizhnik kept blogging about them, even while busy with demanding law school classes and an overloaded extracurricular schedule, which included activities like editing articles for the NYU Law Review, co-chairing the OUTLaw LGBTQ Students' Association, and singing in an a capella ensemble. In the fall of 2014, Knizhnik was approached by an editor for Harpercollins about turning her blog into a book, Notorious R.B.G.: The Life and Times of Ruth Bader Ginsburg, which she co-wrote with journalist Irin Carmon, all while studying for the New York Bar exam. In fact, the book came out — to stellar reviews, by the way — the day Knizhnik found out she had passed the bar. So it's no surprise that Knizhnik has been selected as an honoree for the 2016 Upstart Awards. Here, Kniznik runs through just a few things she admires about a fellow amazing, accomplished woman, Justice Ruth Bader Ginsburg.
1. RBG Has Been An Advocate All Her Life
"As I ran the blog, I found out even more about [Justice Ginsburg]," says Knizhnick. "I knew she had worked for the ACLU, but I didn't know how much she'd gone through in her own life, just how instrumental she was in developing sex discrimination law and equal protection jurisprudence. Throughout this whole journey of the blog and the book, the more I learn about Justice Ginsburg, the more in awe I am of her."
2. She Steps Up To Write Fiery Dissents When She Needs To...
"The blog really exploded in the Summer of 2014, in response to the case regarding the Hobby Lobby — there was already a lot of attention on that case as far as the birth control and other reproductive components of the Affordable Care Act, and whether employers that stated that they were religious could be exempt from providing brith control and other forms of contraception to their employees. But basically she wrote an amazing dissent in that case that really caused the blog to explode because everyone was just celebrating her words in this moment of distress at what the rest of the Court was doing."
3. ...But She Doesn't Do It For The Recognition
"The funny thing about RBG is that she never wanted to be a famous dissenter. Obviously, she would rather be in the majority, so it's interesting that she's become known as this fiery dissenter."
4. She's Incredibly Gracious In Person
Yep, Knizhnik got to meet her idol in person! Justice Ginsburg welcomed Knizhnik and three of her friends to watch her in action. "We saw the oral argument, which was very exciting," Knizhnik says. "The cases themselves weren't very interesting to watch, but it was thrilling to be in the room. Afterwards, we were led into her chambers by her team, and she was so gracious. It was stunning to be in her presence."
5. She's An Effective, Thoughtful Communicator Even While Being Softspoken
"She's not a very outgoing or talkative person in real life. She chooses her words very carefully. One of her clerks told us he had a five second rule. If she stopped talking and didn't start talking again after five seconds, you knew that she was done. ... Se often takes long pauses and starts again, so it's hard to engage in an impromptu conversation with her."
6. Her Opinions Have Created Important Positive Change
"She was so excited to show us a photo of President Obama signing the Lilly Ledbetter Act, which was one of the first pieces of legislation that he signed in office. That was passed by congress in response to [Justice Ginsburg's] dissent in the Lilly Ledbetter case, which was another crucial case about employment discrimination."
7. She's A Badass
"She had actually had a heart procedure done [weeks before we visited her], but of course, she didn't miss a day on the bench. She never has. And when we asked her how she was doing, she said, 'Tell my followers that I'll be back doing push-ups in a couple weeks.'"
Images: Courtesy of Shana Knizhnik; Design: Caroline Wurtzel / Bustle