BioMetrix Aims To Keep Athletes In Peak Condition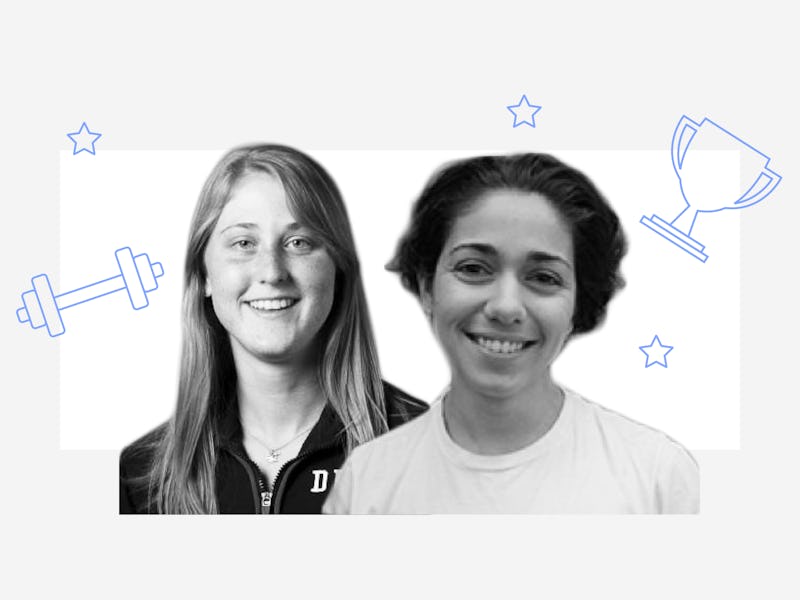 The college experience — one typically associated with parties, pulling all-nighters, and frequent raids of the dining hall — are supposedly "the best years of your life." Yet for Ivonna Dymanyan and Gabrielle Levac, what was supposed to be a period of personal growth and higher education was plagued with a slew of injuries. Dymanyan and Levac, both NCAA athletes at Duke University (Dymanyan, a sophomore, was a member of the crew team, while Levac, a senior, was a track athlete) were each fighting individual battles with re-occurring injuries when they met, bonding over their handicaps as well as the lack of recovery options available to them.
To regain control of their lives and their bodies, the pair merged their backgrounds in mechanical engineering and data science to find a solution to their problems. Together, the idea for BioMetrix Tech — a wireless, real-time analysis tool that provides clear feedback to optimize training, and pinpoints technique degradation to prevent future injuries — was born. Two years later, the duo is nearly ready to launch their product with NCAA institutions across the country. To highlight Dymanyan and Levac's dedication to empower athletes everywhere, Bustle has chosen the pair as honorees for the 2016 Upstart Awards, an opportunity to highlight the extraordinary accomplishments of recent and upcoming female graduates who are breaking barriers throughout the world. Read on to learn seven things about BioMetrix, their business model, and what makes them "unicorns" in the world of STEM.
1. It Was Misfortune That Prompted Their Entrepreneurial Venture
You've probably heard the phrase "misery loves company." But in Dymanyan and Levac's situation, their collective misery is actually what helped create their company.
"When I met Gabby, she was actually coming out of the second major surgery of her college athletics career after a torn labrum," Dymanyan says. "Meanwhile, I was coming back from a long series of injuries. We were both commiserating and complaining about the quality of care that was accessible to athletes at any level, and especially what was available to NCAA athletes at such an elite institution like Duke. We felt like more could be done."
In the midst of four to five hours of scheduled practice time per day, homework, and social activities, the women got to work on tinkering with different technologies available to address what was available — and what was missing — in order to find a solution for themselves.
2. In The Digital Age Of Activity Trackers, The BioMetrix Does More Than 'Count Steps'
These days, it's hard to ignore how popular activity trackers like the FitBit and the JawBone Up have become. These wearable devices claim to count individual's steps and track movements, but those are small matters compared to what the BioMetrix can measure.
"The type of work we're trying to do isn't simply counting steps," Dymanyan says. "[The BioMetrix] takes biomechanical data and assesses it in terms of how we can pinpoint your shortcomings. We identify what you're good and bad at, and how we can modify what you do throughout your regiments day-to-day to focus on areas you need to strengthen."
3. The Central Focus Of Their Business Is Injury Prevention
Levac, who admits to struggling with sports-related injuries for "basically my whole life," says the BioMetrix is exactly the tool she would have needed to avoid two surgeries.
"It's the more intelligent solution to a common athletic problem," Levac says.
And while the focus will stay on injury prevention, the tool is also about keeping an athlete's body greater, for longer.
"[BioMetrix] aims to improve an athlete's robustness — it's about making the human athlete greater, for longer," says Dymanyan. "[BioMetrix] aims to keep you at your peak longer than you would be able to do on your own, or even with a coach. It keeps you regimented. For example, when your body shows signs that you need to stop [to prevent an injury], the [BioMetrix] indicates that you should probably stop."
4. BioMetrix Attempts To Address Areas Where Other Activity Trackers Fall Short
Unlike most traditional fitness trackers that position the activity monitor on the wrist, this tiny wearable device is worn on the feet and small of the back to measure an athlete's movements in high resolution, high speed, and high accuracy.
To ensure that BioMetrix stands out in a crowded activity tracker landscape, Levac and Dymanyan focused on two major "problem areas" they've witnessed in products already on the market: battery life and accuracy.
"Your average wearable may be only 60 percent accurate," Dymanyan says. "We don't release anything that is less than 90 percent accurate. We've been able to reach 98 percent accuracy, which is something we hold near and dear to our hearts."
5. The Entrepreneurs' Collective Strategy: 'You Have To Crawl Before You Run'
Dymanyan and Levac have been exceedingly careful about how to approach the activity tracking space, and the specific problem of sports injuries.
"In the wearable space, specifically in the wearable sports space, there's a lot of companies and organizations that have tried to run before they crawl," Dymanyan says. "We're highly focused on building this right, and in a user-friendly way. We've focused on building it in a way that coaches and athletes can easily adopt it, understand it, and utilize it to optimize their performance to save time, improve performance, and prevent getting hurt."
6. Working In A Male-Dominated Industry Has Only Made This Power Couple Stronger
While both women acknowledge that there are clear and glaring disadvantages to being females in a male-dominated industry, Dymanyan says it's made their skill set even stronger.
"Whether they realize it or not, intentionally or unintentionally, so many investors, partners, and skeptics tend to think less of you," says Dymanyan. "[They don't believe] that a young woman would have the financial, managerial, and strategic skills to run a successful company — they simply don't relate to you."
"I've had people tell me, 'Maybe you need an older, male CEO,' on at least three different occasions," she continues. "I look at it this way: if you are looking for a unicorn, you need a unique voice, you need to paint outside the lines and be one in one hundred million. What you need is a radically different point of view or approach from the norm. Now … I know … it's a scary thought, but maybe someone who doesn't look like you or think like you might have something genuinely valuable to add… Maybe you need a young, gay, female, immigrant as your CEO."
7. Their Advice To Other Women: Don't be Afraid To Break The Mold
"Something I've been so blessed to have is amazing coaches that continue to tell me, 'If you want to do something extraordinary, you can't do something everyone else is doing.'" Levac says. "You have to be different. Having the courage to do something that is completely different from what your peers are doing is a sign of greatness."
Images: Courtesy of Ivonna Dymanyan and Gabrielle Levac; Design: Caroline Wurtzel / Bustle