13 Places That Book-Lovers Should Visit This Fall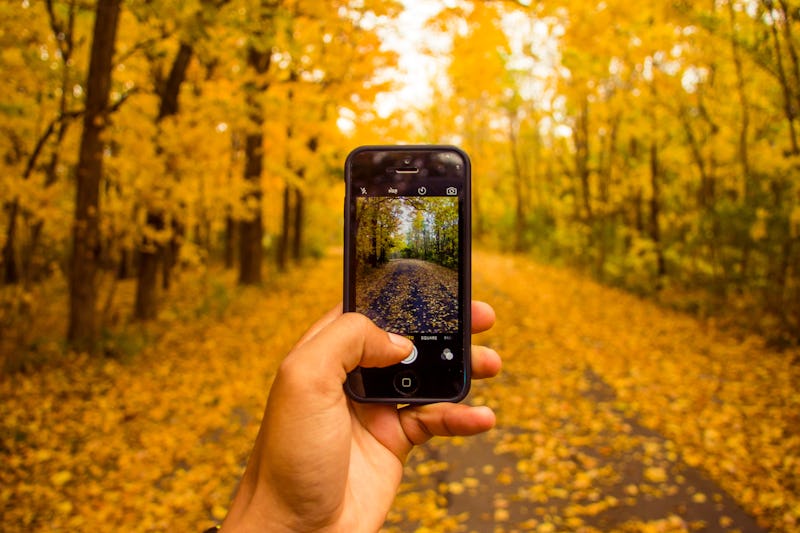 The season of summer vacations may be long gone, but that doesn't mean a wanderlusting book-lover's yen for travel disappears along with it (that's half the reason we read, after all — to be transported to places beyond our own realm of geography and experience.) The good news is there are tons of amazing places for book-lovers to visit in the fall — when the crisp weather and crunchy leaves are bound to make your travels all the better. (Plus, some of the world's best book festivals only happen during the autumn months, so you've got to catch 'em then.) From bookstores and book fairs to historic sites and cultural landmarks, there are plenty of literary locales that are best visited come autumn.
Whether you've got your passport in hand, ready to take a Hemmingway-esque jaunt through leaf-strewn Paris, or you're leaning more towards a Kerouacian adventure across roads a tad closer to home, the literary destinations on this list do not disappoint. So pull your nose out of that book you're reading for just a moment, if you can bare it, because here are 13 places all book-lovers should travel to in the fall. Now wait there, I'll go put my shoes on.
1. Brattle Book Shop in Boston, Massachusetts
New England autumns are so gorgeous they've practically become mythologized — so what better excuse to enjoy all that New England-y weather than taking yourself up to Brattle Book Shop in Boston, Massachusetts? In addition to being one of the largest and oldest used bookstores in the United States, Brattle Book Shop's unparalleled collection of rare and antiquarian books practically guarantees you'll leave with something that'll make you the envy of all the other gals in your book club back home. Plus, their outdoor sale lot means you can both browse books and enjoy all that fall weather. Love it.
2. Shakespeare & Company in Paris, France
Most travelers will tell you Paris is best enjoyed in the springtime — and I'm here to let you know every single one of them is dead wrong. There is nothing like Paris in the fall, when things are a little chillier, a little gloomier — perfect weather for getting your brooding, writerly ennui on. And from Ernest Hemingway to F. Scott Fitzgerald to Gertrude Stein, there have been an endless number of authors who at one time called Paris their home, which makes the city itself a haven for book-loving travelers. Shakespeare and Company, the English-language bookstore that was first opened in Paris in 1919, is a must-see.
3. The Texas Book Festival in Austin, Texas
Hosted every year in the fall — this year's festival will be held November 5-6 — the Texas Book Festival invites lovers of literature to Austin, Texas, to spend a weekend celebrating books and the authors who write them. In addition to being one of the largest and most prestigious literary festivals in the country, the Texas Book Festival is decked out with food trucks, live music, hundreds of your favorite authors, and books galore. For this year's author lineup and tons more information, head over to the Texas Book Festival's website.
4. The Mark Twain House & Museum in Hartford, Connecticut
Another literary gem of New England, the Mark Twain House and Museum in Hartford, Connecticut is in the restored home where Mark Twain and his family lived from 1874 to 1891, and where Twain wrote some of his most celebrated novels, in particular The Adventures of Huckleberry Finn, The Adventures of Tom Sawyer, and A Connecticut Yankee in King Arthur's Court. Chances are you'll be able to find out everything you ever wanted to know about Mark Twain here.
5. The Library of Congress in Washington, D.C.
As the largest library in the world — yup, you heard me — The Library of Congress in Washington, D.C. is a book-lovers dream. The collection, housed in three buildings on Capitol Hill, consists of more than 162 million items — including books and other printed text in 470 languages. I don't know about you, but I feel a little like Rory Gilmore did standing outside the Harvard Library: so many books, so little time. In addition to housing literally all the books you could ever want to read in 100 lifetimes, the Library of Congress is also just a really gorgeous cultural heritage site — and you really can't beat D.C. in the fall.
6. The Jane Austen Festival in Bath, England
Hosted over 10 days in Bath, England, the Jane Austen Festival usually takes place in late August or early September (this year's festival was September 9-18, so prepare to mark your calendar for next year) and is an Austen-lover's dream. You'll definitely want to take in the festival's opening event —the world famous Grand Regency Costumed Promenade, a procession through the streets of Bath taken by hundreds of festival-goers decked out in 18th century costume. If you're ever going to find your own Mr. Darcy, this would definitely be the place.
7. Hay Castle Bookshop in Hay-on-Wye, UK
Just like France, I think the UK in the fall is the place to be (maybe I'm just not a springtime kind of gal…) A fun fact that even many of the most avid readers don't know — the Welsh-English border town of Hay-on-Wye is the most famous little book hamlet in the world, boasting approximately one bookstore per every 63 residents. You'll definitely want to take the complete bookshop tour, but the open-air bookstore at Hay Castle definitely needs to be at the top of your list. Don't forget to bring an empty suitcase for all those books you'll be flying home.
8. Wordstock Book Festival in Portland, Oregon
I know what you might be thinking: the Pacific Northwest in the fall? As nobody who's ever read the Twilight series (or literally any other novel ever set in the Pacific Northwest) will believe, the weather up in the furthest reaches of the U.S. isn't actually all that terrible — even in the fall. Which is when Wordstock Book Festival is hosted in Portland, Oregon. Although only one day long (this year's festival will be held on November 5) it's definitely worth the trip. In addition to live music, local food trucks, and author readings, the Wordstock book fair is LEGENDARY. Plus, Portland is such a literary city all on its own, you'll be able to plan plenty of other bookish adventures after the festival is over.
9. The Ernest Hemingway Home and Museum in Key West, Florida
Is it just me, or does Ernest Hemingway seem to have racked up a lot of homes in his lifetime? Another locale that'll take you back to that summertime weather no matter what the season back home, the Ernest Hemingway Home and Museum in Key West, Florida is legendary for one reason: cats. Cats, cats, and more cats. OK, so maybe there's a lot more to see here than just the cats — Hemingway did live and write in the home for more than ten years, and the architecture and surrounding gardens are pretty spectacular. But the home's featured felines do kinda steal the show.
10. The Miami Book Fair in Miami, Florida
In case you are just not into fall weather at all, the Miami Book Fair is another spot that'll get you out of the cold and into some great reads. This year's festival will begin on November 13, with the main event — the festival's street fair — taking place November 18-20 (so book your flight accordingly.) With more than 450 author readings and discussions scheduled, and nearly 250 publishers and booksellers featured during this year's festival, you're bound to connect with one of your literary heroes, and come home with a bag (or, like, seven) full of books. The Miami Book Fair also gives special attention to Latin American and Spanish authors.
11. The International Literature Festival in Berlin, Germany
Each year in September the International Literature Festival in Berlin, Germany welcomes writers from all over the world, writing and publishing in just about any modern language you can think of, to gather together in a celebration of books and words and the people who write them. With hundreds of events — from readings to craft discussions to events for young readers, and more — this is one of the coolest literary festivals in the world, and you'll definitely leave with a new perspective on the global literature.
12. Flannery O'Connor's Childhood Home in Savannah, Georgia
I'll let you in on a little secret — I don't like Flannery O'Connor. Nor do I like Savannah, Georgia. One had a serious attitude problem and the other still does. But, BUT, there's no denying O'Connor's impact on American literature, nor the fact that her writing was deeply informed by her hometown. And lots of people who aren't me love her, so what the heck: give this one a whirl. The Flannery O'Connor Childhood Home is restored to the Depression-era and features garden space and rare books. And while you're down there, definitely keep your eyes open for any sightings of John Berendt's Midnight in the Garden of Good and Evil.
13. Literally Anywhere in New York City, New York
As fictional bookseller Kathleen Kelly taught us, there's nothing quite like New York City in the fall. There's also nothing quite like New York City when you're a book-lover. The most literary city in the United States — and one of the most bookish destinations in the world — NYC has it all: iconic bookstores, endless literary events, the hub of publishing houses, countless destinations featured in your favorite books, and some of the coolest public libraries on the planet. If you only check out one literary destination in NYC, make it the legendary Strand Book Store, which features 18 miles of new, used, and rare books.
Image: Dayne Topkin/Unsplash.com; Rob Faulkner, celebrategreatness,TrigPhotography, Jonathan Billinger , Florida Memory, JRempel, Beyond My Ken/Wikimedia Commons