Turning 30? Read These 12 Books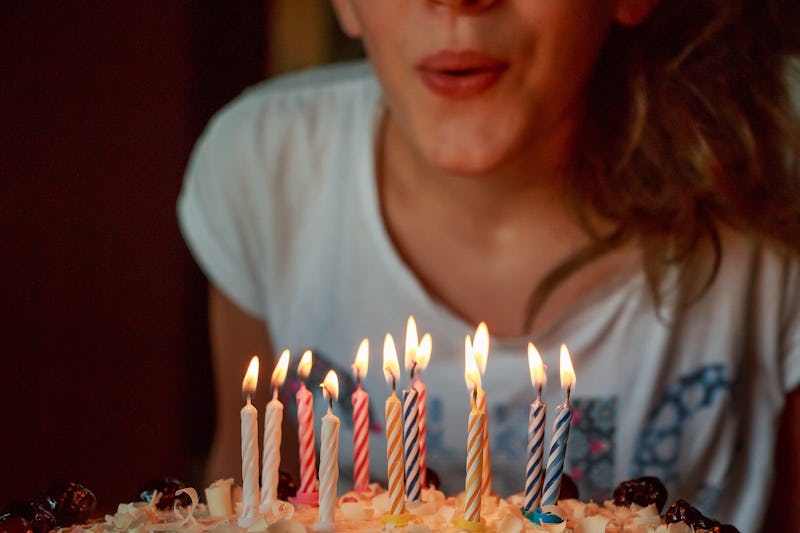 I have never been especially sad about the end of my 20s; sure all the college drama, crappy apartments, ramen noodles, impractical shoes, and tequila shots were a blast while they lasted, but I'm rather content to leave all of that behind (well, maybe not the ramen) in exchange for what Instagram has promised will be my grown-woman, fully-realized, take-no-prisoners, own-my-sh*t, know-myself, love-my-body, speak-my-truth 30s. But as excitingly Valencia-filtered as all that might sound, it is still a lot to ask out of just one — albeit significant — birthday, which is why you'll probably want to grab some of these books to read at age 30, perfect for helping you celebrate and navigate all the ups and downs of your newest, most fabulous decade yet. And OK, if you also want to take your favorite pair of impractical shoes along with you, be my guest.
What all the writers on this list have in common, other than being women who faced their 30th birthdays head-on and lived to tell about it, is that they write about the journeys taken by themselves and/or other women: where they went, and what they found out when they got there; ways they failed, fell, got back up, and tried again; what they learned about themselves, and who they became on the other side. And that, after all, is kinda what a 30th birthday is all about.
Here are 12 books to read at age 30.
1. Tiny Beautiful Things: Advice on Love and Life from Dear Sugar by Cheryl Strayed
This book is just everything, and it's the perfect little 30th birthday reminder that you — your life and the decisions you make throughout it — matter. Filled with new and previously-published advice columns written by the one-and-only Cheryl Strayed, Tiny, Beautiful Things offers heartfelt, straightforward advice about everything you could ever want advice on: sex and relationships, careers and money, infidelity and infertility and body image and parenting, substance abuse, grief, depression, and forgiveness — and tons of other stuff too. 30 is a great time to pause and reconnect with your truest self, and this book invites you to do just that.
2. The Six: The Lives of the Mitford Sisters by Laura Thompson
A book about six upper-class English sisters born at the beginning of the 20th century might seem like an odd pick for a 30th birthday read, but hear me out: these women, for better or for worse, knew themselves inside and out, were willing to defy class expectations to make their own way in the world, stood by their convictions — even at times to the extreme — and had some hilariously off-putting senses of humor. Their stories are fascinating, at-times unbelievable, and the Mitford sisters have captivated historians and researchers for decades. The Six tells it all, and will make you think about what it means to be the kind of gal who always does her own thing, no matter what. And, if nothing else, everything these women witnessed in their lives will make you realize how long a lifetime actually is, and how much opportunity you still have to experience it all.
3. Just Kids by Patti Smith
This is the very best memoir for fondly saying goodbye to those good ol' 20s and ushering in a whole new age, IMO. Just Kids is a memoir of the relationship that defined Smith's 20s and informed the rest of her creative life — her friendship with the wild and bizarre photographer Robert Mapplethorpe, with whom Smith lived and loved and made art for years. From falling in love with New York, to renting the smallest room in the Hotel Chelsea, to mingling among iconic figures like Andy Warhol, the duo supported each other through the difficult, amazing era of finding themselves and discovering their artistic passions.
4. What I Was Doing While You Were Breeding by Kristin Newman
No matter what your mother might tell you, if you haven't procreated by the time you're 30 you're not, in the least little bit, abnormal — and the utterly hilarious Kristin Newman proves it to you in her memoir What I Was Doing While You Were Breeding, an account of Newman's beautiful, adventure-filled, and child-free life. In between her full-time career and attending her friends' seemingly endless weddings and baby showers, Newman made time to travel the world alone. This memoir of her journeys will remind you that your life definitely doesn't have to look like everybody else's, no matter how old you are.
5. The Art of Waiting: On Fertility, Medicine, and Motherhood by Belle Boggs
On the other hand, if you're a gal who has been dying to rock Mommy-hood and hasn't had much success, 30 might seem like a much scarier number for you than most. If that's the case, you'll definitely want to pick up The Art of Waiting by Belle Boggs. Based on a viral essay published in Orion magazine in 2012, Belle Boggs's memoir-through-essay dissects what it means to procreate and parent in our modern world — and especially the myriad ways of getting there. Faced with her own inability to conceive, Boggs catalogs examples of fertility, infertility, and parenting that seem to exist all around her, reminding readers that there is no one path to parenthood, and no one experience of mothering more valid than another.
6. The Heart of a Woman by Maya Angelou
Maya Angelou is an author to read at every age, and I learn something new from her every time I pick up one of her books. The Heart of a Woman is a memoir of womanhood and motherhood, following Angelou's life as raises her young son in New York City, against the backdrop of a rapidly changing America. At the same time, she's discovering all that artist-and-writer-filled Harlem has to offer her, from engaging with the Civil Rights Movement, to encountering figures like Billie Holiday and Malcolm X. This memoir tells the story of one artist, activist, and mother who somehow managed to do it all at a time when the world expected the exact opposite from her.
7. The Second Sex by Simone de Beauvoir
It is never not a good time to read a book written by a French existentialist that challenges the social construct of what it means to be a woman while highlighting the otherness and inequalities that are essential to that construct. Revolutionary when Simone de Beauvoir published it back in 1949, and just as essential to a feminist library today as it was then, The Second Sex offers a rewriting of the socially-enforced sexual identity of women and calls for equality and liberation from traditional female roles. Methinks it's no coincidence that de Beauvoir wrote this in her 30s. Read it as you begin yours.
8. Americanah by Chimamanda Ngozi Adichie
Chimamanda Ngozi Adichie doesn't only speak brilliantly about feminism (have you seen that TED Talk?), she writes brilliantly about feminism as well. Her novel, Americanah, tells the story of the Nigerian-born Ifemelu, who leaves her home to study in the United States, where she's confronted head-on by issues of race and female identity that force her to think differently about herself and her new environment. This novel is the story of one woman doing the emotional and intellectual work of becoming her truest self, and is a perfect 30th birthday read.
9. Blackout: Remembering the Things I Drank to Forget by Sarah Hepola
Binge-drinking your way through your 20s has almost become a rite of passage — so when Sarah Hepola decided that her own binge-drinking went beyond some unfortunate mistakes made in college and started to take steps towards fighting her addiction, it wasn't easy. Her memoir, Blackout, follows Hepola as she scavenges her life, collecting the experiences she blacked out while drinking, and learning who she was sober. A story of reinvention and transformation, Blackout is a must-read for anyone struggling to leave some unhealthy and destructive part of themselves behind.
10. I Love Dick by Chris Kraus
Fact number one: Now that you're 30, you're far too secure with yourself to worry about what everyone will think when they see you reading this on the subway. Fact number two: this book is much too absurd and great to pass up. Published first in 1997, and recently re-released by female-forward publisher Emily Books, I Love Dick tells the story of one woman and her totally unconventional husband who endeavor to write sometimes-funny, sometimes-macabre love letters to a man named Dick. Dick, by the way, is totally not into this, so the couple continues to write the letters for each other instead. There are all sorts of paths to discovering your fullest feminist self, and while I'd never heard of this one before, it appears to be one of them.
11. Bad Feminist by Roxane Gay
If you're turning 30 and you haven't read Roxane Gay's Bad Feminist yet, stop what you're doing and go read it. The essay collection, which tackles everything from competitive Scrabble, to the boyfriends you love to hate, to reality television, to the feminist implications of dancing, is the perfect read for keeping you in check while reminding you to be whoever the f*ck it is you want to be. Witty, hilarious, and thought-provoking, Roxane Gay engages with feminism — hers and your own — in a way that is just so relatable and compelling and real.
12. Sex Object: A Memoir by Jessica Valenti
Give yourself the gift of Jessica Valenti for your 30th birthday, because the author, columnist, and co-founder of Feministing.com is seriously such a badass. You'll want to be her best friend. Now that you're 30, you can look back on all your seriously awful coming-of-age sexcapades with a newfound understanding and intelligence. (Right? …Hopefully?) That's exactly what Valenti's memoir Sex Object tries to do, with both dark humor and pain, as it navigates not only female sexuality, but how that sexuality is formed by modern sexism.
Image: profivideos/Pixabay.com