Does The Presidential Debate Have Commercials? The Hillary Clinton-Donald Trump Showdown Has Some Strict Rules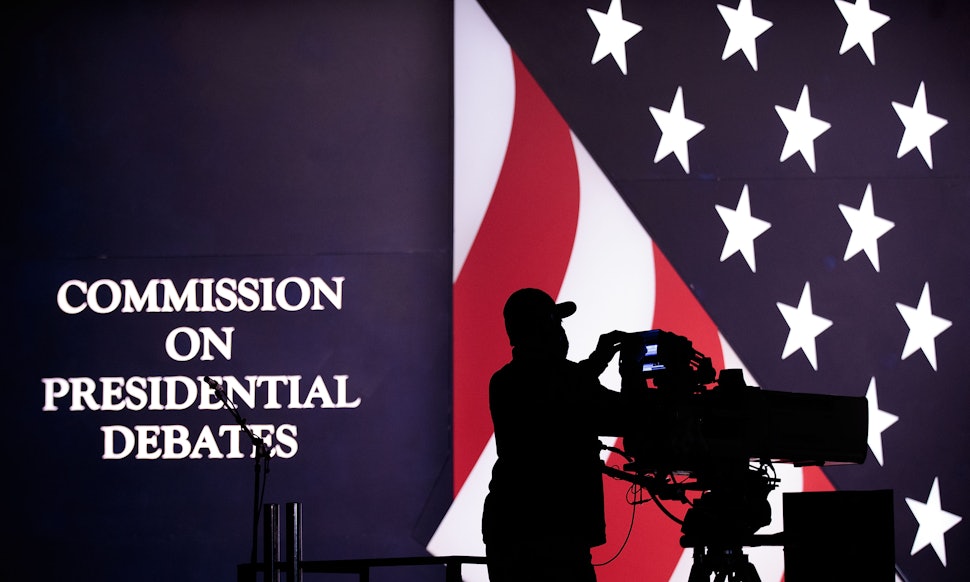 Drew Angerer/Getty Images News/Getty Images
Before you tune in Monday evening to watch the presidential debate between Hillary Clinton and Donald Trump, make sure you head to the bathroom. And be careful not to drink too many liquids, either — be it water at home or beer at a viewing party. That's because once it gets under way, you won't get another chance. There will be no commercial breaks at the presidential debates this year. Unlike during the primary season, these debates are organized by the Commission on Presidential Debates, and they set some pretty strict rules.
One of those rules puts the kibosh on any possible advertising:
All debates will be moderated by a single individual and will run from 9:00-10:30 p.m. Eastern Time without commercial breaks.
The first and third debates are made up of six 15-minute segments on different topics which are announced the week before. The second debate will be a town hall, with members of the public asking half the questions. Moderators keep the time fair between the candidates, and they can extend different segments if need be. Each candidate gets two minutes to respond after an initial question, and then the candidates have the opportunity to respond to each other, with the moderator guiding the conversation. None of that can be interrupted.
The 2012 debates also saw longer segments, and the co-chairs of the Commission, Frank J. Fahrenkopf, Jr. and Michael D. McCurry, explained why in a statement:
The CPD has a simple mission, to ensure that presidential debates help the public learn about the positions of the leading candidates for president and vice president. These formats will allow an in-depth exploration of the major topics in this year's election.
While there are to be no breaks during the 90 minutes, that doesn't mean channels haven't looked to find ways to monetize the event with their pre-debate programming or analysis after the fact. Variety reported that some of the ads are running at about $200,000 to $225,000 — and that's for 30 seconds on CBS. There are a large number of channels airing the debate, including ABC, CBS, NBC, FOX, CNN, MSNBC, and Fox News. So think of how much that could add up to. Some of the channels are already sold out.
AdWeek spoke with Paul Rittenberg, EVP of advertising sales for Fox News Channel, who said that it would likely be a multi-million-dollar night for the channel:
It's live programming. It's a big rating. It's watercooler conversation. It's everything advertisers are looking for these days. Our version of the Super Bowl—or at least the playoffs.
The situation seems like a win-win. No distractions from democracy, but plenty from political punditry. So make a pit stop before you settle in on the couch. Clinton and Trump won't get any breathers, and neither will you.