VOYA Faces Intense Criticism Over 'Run' Review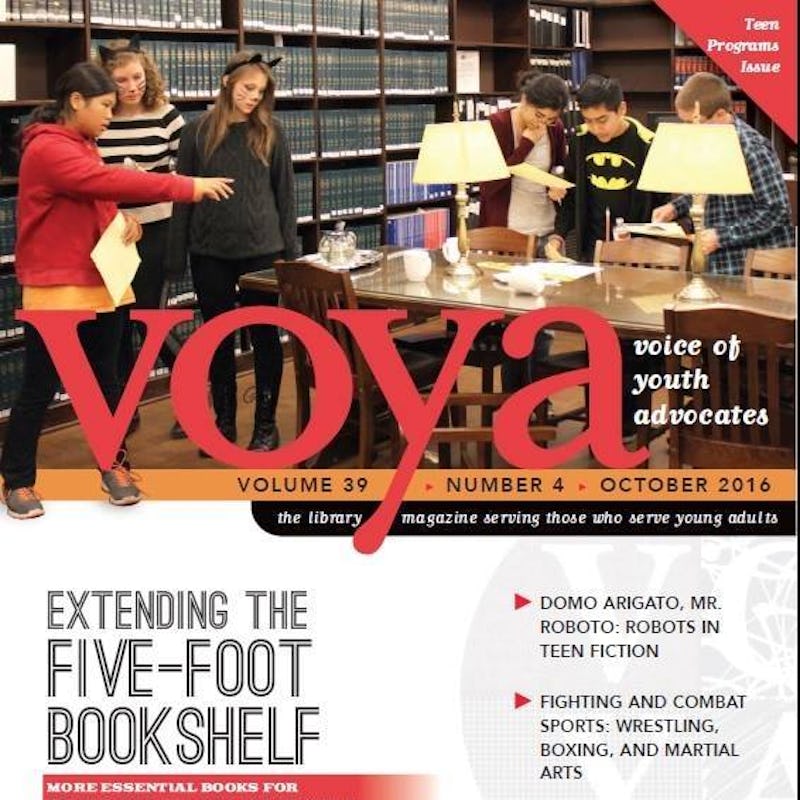 Over the past few years, there has been a major push to make young adult literature more inclusive and reflective of the many, many identities real, live teenagers inhabit. This process is not always smooth or steady. Last week and continuing over the weekend, controversy erupted over a review by VOYA Magazine which many criticized as reflecting bias against bisexuals. The subsequent responses from VOYA Magazine were also criticized as non-apologies.
The review in question, which has since been removed from VOYA's site, was for the new young adult novel Run by Kody Keplinger, in which one of the two main protagonists is bisexual. The review, written by Rachel Axelrod, concluded by noting, "The story contains many references to Bo being bisexual and an abundance of bad language, so it is recommended for mature junior and senior high readers." Whether intentional or not, many believe the wording in this statement implies that bisexual characters make a work only suitable for "mature" readers in the same way that bad language does. Of course, bisexual teens — or bi people of any age — aren't somehow inherently risqué or unsuitable for younger audiences. Or, if they are, then straight and gay people must be as well.
VOYA is a magazine aimed primarily at librarians and others who help select books to share with young adults; as such, their reviews can influence which books are stocked in a library or bookstore and which books librarians might recommend to a young reader. Which means labelling it as mature might plausibly keep many readers from reading it — including bisexual teens who rarely get to see depictions of themselves in literature.
This review garnered criticism from the YA community. Author Tristina Wright emailed VOYA to express her concerns. In a passionate message, she explained why she found the final sentence in the review concerning, and why it was particularly upsetting that it was posted during Bi Visibility Week. In a tweet she posted on Thursday, she attached a screenshot of the email response she received from VOYA magazine. It reads, in part:
Our writers and reviewers have various lifestyles and beliefs and that has never been a concern of mine and usually not even revealed to me unless the writer wishes to do so, so the assumption that I or VOYA magazine might be bi- or any other kind of phobic is just that, your assumption. A misguided one.
Since this is Bi Visibility Week, I understand your need to find and destroy your enemies in a public forum, however, VOYA and I are not your enemies.
Wright, as she wrote in the tweet, found the response "insulting." She also noted on Twitter that the response criticized her decision to share that her six-year-old identifies as genderqueer, incorrectly labeling it as a sexual orientation and not a gender identity.
Critiques to VOYA's review and response began to mount on Twitter after Wright's initial post, and VOYA began to respond to critics. Though VOYA has since deleted many of their replies on both Twitter and Facebook, as the weekend progressed, many young adult authors and others in the community preserved the comments in screenshots which they then posted on social media.
When VOYA released an apology for the review on Thursday, many authors grew even more frustrated, noting that the statement did not seem actually apologetic. The initial apology, which has since been deleted from Facebook, read:
The LGBTQ community has taken offense at a review of RUN by Kody Keplinger and has demanded an apology from VOYA. The offending sentence is thus:
"The story contains many references to Bo being bisexual and an abundance of bad language, so it is recommended for mature junior and senior high readers."
I apologize for myself (editor in chief [sic]), the magazine, the reviews editor, and the reviewer that anyone was insulted or harmed by this sentence in the book review and/or read it as biphobic. VOYA is an advocate for all teen voices. RoseMary Ludt, Editor in chief [sic]
Many of VOYA's critics were not pleased by this response:
VOYA continued to reply to Facebook comments, as many Twitter users shared:
The criticism of VOYA has continued on social media. Author Hannah Moskowitz has started a petition calling for those within the industry to boycott VOYA, saying that, "The information industry can no longer trust VOYA or the Kurdyla publishing company."
On Friday and Saturday, VOYA posted two additional apologies, one "open apology," and one from the editor-in-chief, which both seem more heartfelt and which are still on Facebook as of press time. The open apology in particular acknowledges both the offensive nature of the initial review and of VOYA's response to criticism on social media.
In her apology, editor-in-chief RoseMary Ludt writes, "After much soul searching and reading your letters and posts, I have come to a better understanding of how my words have affected you." She goes on to make specific apologies to Tristina Wright, the LGBTQ community, and to other members of the VOYA team for the way she failed to properly handle criticism.
However, Tristina Wright tells Bustle in an email that no one at VOYA has apologized beyond their public post (although Ludt did send her an email with a portion of the public apology copy/pasted in). "I'm deeply hurt by the entire incident and it's made me think long and hard about when I speak up and how and to what extent," she says. "I also feel badly for those authors who've remained quiet all these years when VOYA issued a mature content warning for queer female characters and no one noticed."
Wright adds, "I believe VOYA has broken the trust of the publishing community in such a way that it will take some big steps and a long time before anyone trusts them again."
Young adult literature needs to become more inclusive, to ensure that all young readers have a chance to see themselves represented in print and to reflect the diversity of the actual world. Progress towards that goal, though, demands that gatekeepers in the young adult literary world hold views that are inclusive of all groups.
Wright tells Bustle that the response to her email had the effect "of peeling back a thin veneer to reveal a very ugly underside" and that she hopes librarians will begin turning to other sources — and that they will have the resources to look beyond VOYA when seeking out reviews. "A lot of the bigger systems have other avenues in addition to VOYA for their programming and reviews, but many of the smaller systems only use VOYA, which is a problem," she explains.
In an email to Bustle, VOYA Magazine wrote that they "withdrew [the review] and apologized," once it was pointed out that it was biphobic. In their email, they also attached a letter, in which they apologized for the review and for the subsequent responses. VOYA adds that they will engage in sensitivity training and plan to form a diversity committee. The letter reads in full:
Dear ,
On Friday, September 23, 2016, VOYA began what has become a terrible example of bad social media and customer relations. VOYA failed dreadfully in response to a legitimate concern about an error in a review. To compound the problem, VOYA responded in exactly the wrong ways to further legitimate complaints regarding the original response. This egregious series of interactions was VOYA's fault from beginning to end, and represents the company at its worst moment.
We apologize unconditionally to our colleagues and supporters for the damage, pain, and confusion the mistakes have caused. Not only have we caused tremendous insult to commenters online, we have potentially put our supporters in the uncomfortable position of being criticized for supporting us. We are taking steps to ensure that these mistakes are never made again.
The situation involved a convoluted, inappropriate series of online responses from VOYA to concerned people regarding a review in which bisexual mentions in the text were cited as a reason for recommending a particular title to a mature reading audience. This oversight in editing is inexcusable and caused unnecessary damage to our readers. The VOYA response to the complaint was disrespectful and dismissive. It was reactionary and defensive, when it should have been grateful and receptive to the writer for pointing out the error and the reasons it was harmful. Following that, we further alienated the people we needed to hear from and learn from by making further inconsiderate comments and responses. VOYA reacted emotionally and defensively to a situation that should have been handled professionally. It was a remarkable opportunity to openly interact with our readership and supporters in a meaningful way, and we blew it.
This will never happen again. To ensure that all VOYA professionals are diversity sensitive in both attitude and language, we are engaging in sensitivity training and are in the process of forming a diversity committee to further ensure that all VOYA representatives are aware and respectful of the many different groups of readers we serve. We are rewriting our review guidelines and implementing new reviewer training. We are putting out a call for diverse columnists, writers, reviewers, and contributors in order to encourage new voices and new perspectives. To ensure that all VOYA professionals are social media savvy, we have engaged in social media training. We are also appointing a social media relations person who will be responsible for handling all interactions on VOYA's behalf online.
It is VOYA's mission to ensure that all young adult readers are able to get the reading materials they need when they need them. To accomplish this mission, it is obvious that we need to update our training protocols and broaden our perspectives. We accept and welcome the opportunity to do this.
We know that we made offensive, insensitive mistakes for which we are extremely repentant and regretful. We welcome the opportunity to learn, grow, and expand our knowledge of the wonderful diversity of our youth to better serve our purpose and our readers, which will ultimately accomplish our mission in keeping with our founding philosophy that any censorship of young adult literature is unacceptable.
Publishers that focus on book reviews have come under controversy in the past for failing to employ diverse reviewers, columnists, and editors, so if VOYA stays true to their promise to hire new voices and perspectives, engage in sensitivity training, and form a diversity committee, this could be a huge step in the right direction. Regaining the trust of the community, though, will likely remain a challenge.
Images: Facebook/VOYA Magazine