How To Start A Business Casual Wardrobe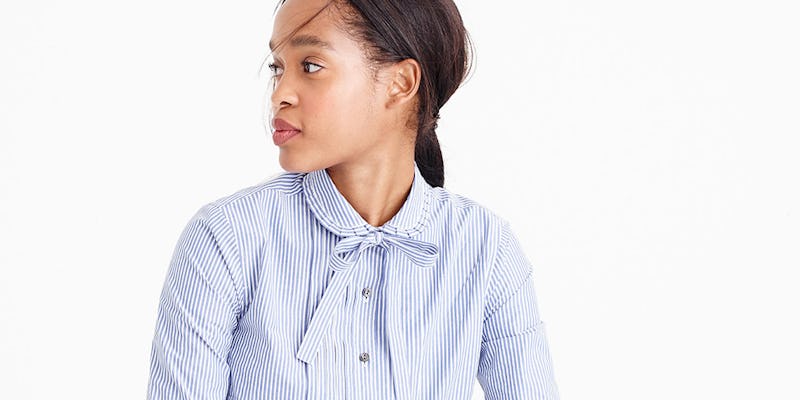 When it comes to dress codes, the term "business casual" has to be the most confusing one out there. Not only is it an oxymoron, but its definition can vary so much, even in office environments. One company might define business casual as traditionally professional clothing items — slacks, nice shoes, button down shirts, etc. — with a more laid back vibe — i.e. no need to wear heels and a suit every single day. Another company might say their dress code is business casual, but really it's just super casual — as in, jeans and flip flops are acceptable. Figuring out what's appropriate and what isn't at your job is something that often comes with time and experience, but that doesn't mean you can't be prepared with some business casual clothing essentials in your closet.
Even if you're not working in an office full time and you're just interning or interviewing for positions, you should stock up on some of these clothes and accessories. Business casual might be confusing, but it can also be very versatile. Each of the below pieces can be paired with more dressed up pieces to look more put together and mature, or they can be worn with much more casual pieces for a more laid-back vibe. The result is kind of like a business casual capsule wardrobe that will make it a lot easier to get dressed in the morning without running late.
So, confused on how to stick to your company's vague dress code? Want to look professional but not too over the top? We've got you covered! Keep these business casual clothing essentials in your closet at all times, and you'll stop feeling so lost.
1. A Black Blazer
Fitted Jacket, $20, H&M
Vince Camuto One-Button Blazer, $165, Nordstrom
A basic blazer is at the top of this list for a reason: It's a life saver. The right blazer has the power to take any plain outfit and turn it into something that looks more mature, like you're a person who has their life together even if you're just wearing one to cover up a chocolate stain on the sleeve of your white tee.
Blazers are excellent for a business casual wardrobe. You can use them to make almost any regular casual item look instantly more dressed up. The key is to find one that doesn't look like part of a long-lost suit - I like to opt for blazers without a button, or slightly more cropped versions. You should also make sure it fits correctly. The whole professional vibe will be lost if it looks like you're swimming in it.
2. Button Down Shirts with Flair
Striped Tie Neck Tuxedo Shirt with Ruffles, $90, J.Crew
New Look Plus Pajama Dressing Polka Dot Shirt, $38, ASOS
It's hard to go wrong with a button down shirt. They have all the components of the perfect piece of work clothing: they're versatile (they can be dressed up or down), they're basically seasonless, and they're comfortable while still looking professional.
For a slightly more stylish business casual vibe, pick a button down with a little bit of flair, like ruffles, a polka dot pattern, or a cute collar. Just stay away from trendy flair like shoulder cut-outs or over-the-top patterns. Those will look less work-appropriate and won't give you as much for your money.
3. A Pair Of Comfortable Heels
Merona Block Heel Brie Pump, $30, Target
When it comes to shoes, it can be tough to figure out what counts as business casual and what counts as too casual. Some offices are fine with flats and even sneakers (in my office, it's more common to see sneakers than anything else), while others are heavier on heels. Either way, it doesn't hurt to have a pair of go-to pumps just in case. I would suggest black, since they'll go with basically anything you're wearing, but if you want to stock up, go for neutrals like nude and brown. These block heel pumps from Target look professional, trendy, and are also a lot more comfortable than something pointy and super high. Something like this is great for dressing up jeans for the office.
4. Ankle Boots
Dolce Vita Block Heel Western Bootie, $96, Nordstrom
If the idea of wearing heels to work seems torturous to you, but you want to wear something more than flats, try a pair of ankle boots with a small heel. They're more comfortable, they're warmer, and the right style can still be great for an office environment. Pick a leather or suede in a neutral shade that will go with anything. I wouldn't survive a work week without ankle boots! My personal favorite is Dolce Vita booties, which are comfortable, stylish, and great quality.
5. Chic Flat Shoes, like Oxfords or Loafers
I'm All Loafer It, $40, Modcloth
Radiant Refresh Flat, $50, Modcloth
Most business casual work environments are fine with flat shoes, as long as they look nice and not shabby. A pair of comfortable shoes like loafers or Oxfords are always a great idea. They look chic and can dress down something on the slightly fancier side. They're a step up from ballet flats, but still comfier than heels. These black Oxford style flats will lend a bit of flair to anything you're wearing, while these cute loafers have a fun vintage vibe.
6. A Cool Blouse
ASOS Curve Wrap Front Tea Blouse in Floral Print, $52, ASOS
Intermission Top, $85, Madewell
The nice thing about a business casual dress code is that you can have a little bit more fun with your wardrobe than some other dress codes. Don't get too trendy — I would stay away from anything revealing or sheer, lace-up tops, anything backless, anything with cut-outs, and off the shoulder — but you don't always have to stay in basic neutrals. You should mix it up with fun patterns or cool silhouettes. A printed wrap top is a nice alternative to a plain blouse, while a layered look is perfect for the colder months.
7. Cute, Easy Dresses
Plus Size Textured Mock Neck Shift Dress, $18, Forever 21
Short Dress, $10, H&M
Dresses are, obviously, an office staple. But while a more professional office might prefer structured, business-suit-like options, business casual gives you a little bit more breathing room. Something like a mock turtleneck dress or a simple silk dress are easy to layer and are super versatile. Wear them with heels to dress them up, pair them with flats to be more casual. Throw on a cardigan when it's cold or be more *fashion* and layer a short sleeve dress over a turtleneck. The possibilities are pretty endless.
8. A Polished Tote Bag
Tory Burch York Buckle Tote, $295, Tory Burch
Carrying a small handbag to work might work for some women, but personally, I could never imagine surviving the day that way. If you need something larger and roomier, go for a polished tote bag. I highly recommend something like this leather Tory Burch bag: It offers a lot of space and pockets, along with a zipper pocket that fits a 15 inch laptop. It's an excellent work bag (I have one and I use it every day) because it's functional and still makes you look put together.
9. A Versatile Cardigan
AEO Ahh-mazingly Soft Cardigan, $40, American Eagle
Knox Rose Layering Sweater, $33, Target
A good cardigan is a work lifesaver, because offices are often more like iceboxes in that they are freezing cold no matter what the temperature is outside. I suggest finding a cardigan you love and being it in every color possible. You can never have too many! If that sounds absurd, at least buy a good one in black, white, and maybe gray or brown so that it goes with a lot. I keep one at my desk year-round for the days I forget to grab one or when it gets extra cold.
10. A Comfortable Skirt
Vim For Velvet Midi Skirt, $70, Modcloth
Plus Size Faux Leather Midi Skirt, $12, Forever 21
A skirt is another obvious wardrobe staple for a business casual office that I can't recommend enough. You can wear it with a button-down shirt, a blouse, or even a plain t-shirt and a blazer. For work, I prefer midi-length skirts over maxi skirts or shorter options — I just think they look the most professional. Pick something fun but on the more basic side, like a velvet skirt or a faux leather.
11. Black Pants
ASOS Curve Cigarette Pants in Crepe, $43, ASOS
Willow & Clay Jogger Pants, $68, Nordstrom
If your office frowns upon jeans, then you definitely need at least one pair of nice black pants. You don't want to make skirts and dresses your only options! You really can't go wrong with a pair of cigarette pants, which look chic and cool no matter what season it is. I'm also obsessed with jogger pants, which feel like sweatpants but can easily be dressed up. Silk joggers are a little more office-appropriate, but cotton can be fine too.
12. A Nice Pair Of Jeans
Paige Denim Transcend-Skyline Skinny Jeans, $119, Nordstrom
H&M+ Skinny High Jeans, $35, H&M
Most business casual dress codes allow for jeans, which is great. Make sure you're wearing something that fits nicely and looks structured. I would say your best bet is to pick out a pair in a darker wash (light washes look less professional) with no rips or trendy accents. Skinny jeans or boot cuts are timeless.
13. A Shift Dress
Contemporary Dolman Shift Dress, $20, Forever 21
BB Dakota Jazlyn Shift Dress, $98, Nordstrom
Fun breezy dresses are great, but if you want to look very put together and ready for a big meeting, put on a shift dress. I think it's always a good idea to have a more professional looking dress in your closet if you're working. Shift dresses are easy to wear and super comfortable.
14. A Basic Sweater
ASOS Curve V-Neck Sweater, $38, ASOS
AEO Ahh-mazingly Soft Turtleneck Sweater, $55, American Eagle
Do I really need to explain why you need a basic sweater for fall and winter? Wear yours with jeans and heels, tucked into a skirt, layered over a dress, or with your nice black pants. Solid shades are great, but don't be afraid to play with color and patterns too!
15. A Striped Shirt
Truly Madly Deeply Maddie Mock Neck Tee, $29, Urban Outfitters
Mossimo Luxe Crew Neck Sweater, $23, Target
It might not be something you think of right away, but a striped shirt is always great to have on hand. Worn with black pants and a pair of flats, it's an easy and chic look that can go from the office to date night with just a few accessories. Are you feeling professional yet?
Images: Courtesy Brands