16 Coziest Items You Need, If You Love Being Comfy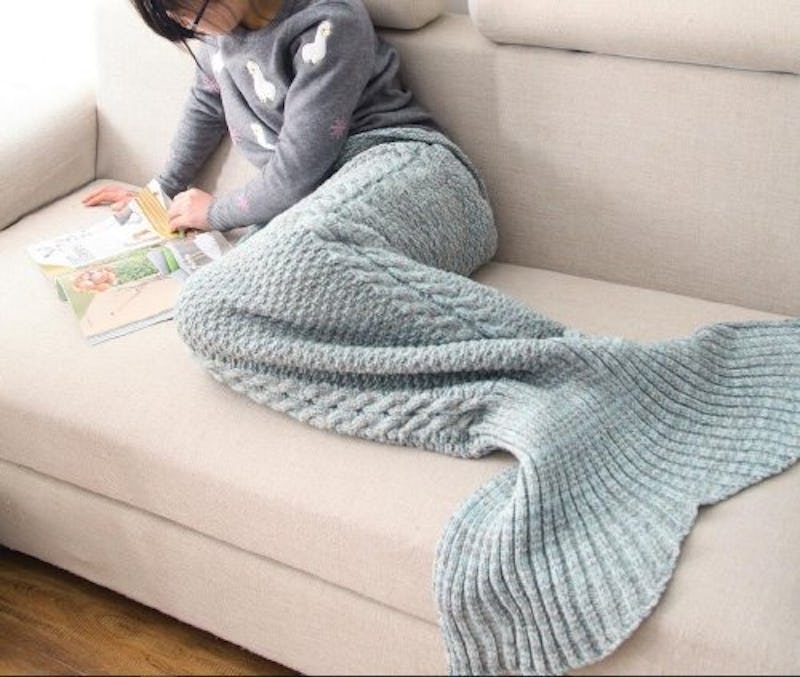 On the agenda for this weekend, I've got apple picking, festive candle shopping, and pie baking. Seriously; you can check my Google calendar. I'm so psyched to break out the things to keep you warm and cozy, as positively nothing beats switching off your phone, listening to the rain, and curling up with a scary book. Except maybe prefacing this whole activity by zipping up your adult onesie, making a cup of tea, and keeping it hot and toasty on your bedside table with a personal coffee warmer. Yep: Go ahead and take a stab at my favorite season.
Whether you're looking for gifts for people who are always cold, or the best ways to make your space cozy, you've come to the right place because this article might as well be called, "How To Be Shamelessly Lazy And Ridiculously Warm Whenever, Wherever." I'm all about putting layers on rather than taking them off, so I'm not particularly sad to see summer go. If you're as much of a comfort enthusiast as I am, and you're looking to stay extra warm and cozy with the best products, check out these awesome things that'll feel as good as pumpkin spice tastes.
1. Keep Your Tea Warm And Toasty For Hours
Mr. Coffee Mug Warmer, $10, Amazon
If you're one of those coffee drinkers who averages two sips an hour, but really hate how quickly it gets cold, there's this Mr. Coffee mug warmer. It sits right on your desk or bedside table to keep your drink warm and fresh, and it easily wipes clean in case of any spills. Best of all, as it's portable with a long cord, you can take it into the office with you.
2. Warm Your Feet With This Giant Plush Macaron
Plush Heated Foot Warmer, $21, Amazon
This giant fluffy macaron is actually a plush heated foot warmer. It comes in eight different colors and sits right at your feet, keeping them cushioned and warm with its cute little pocket. The coolest part? Plug it into a USB port on your computer or in the wall, and it heats up from the inside out.
3. This Scarf For Wearing While Doing Nothing
Pullover Hooded Scarf, $17, Amazon
While this pullover hooded scarf is great for the rain or snow, I also fully endorse it for extreme couch-sitting and donut-eating. Not only is it really soft and cozy, but it's super wide, really long, and has an infinity design that stays put no matter what you're doing, so you can keep your neck, head, and ears warm at all times.
4. Encompass Your Body In Fluff And Comfort
Premium Contoured Total Body Pillow, $45, Amazon
This contoured total body pillow was actually made for pregnant women, but it's also ideal for anyone who loves to be cuddled from every angle while they're sleeping or watching a movie. It supports your head, neck, back, and arms with its soft interior and breathable cotton cover, and reviewers love how huge and encompassing it is.
5. Heat Up Your Slippers In The Microwave
Comfort Herbal Warming Slippers, $30, Uncommon Goods
These comfort herbal warming slippers are filled with 12 different healing herbs to give you the relaxing benefit of aromatherapy, and the comfy beads inside are microwave-safe, so you can heat them to your heart's content. They're a great way to release tension after a hard day, or to bum around the house in when you're sick, and people say they make an awesome gift.
6. An Essential Oil Diffuser To Fill Your Room With Calming Scents
Tenswall Ultrasonic Aromatherapy Essential Oil Diffuser , $37, Amazon
Essential oil diffusers are exactly that — essential — to anyone who considers themselves true purveyors of coziness. Let your favorite calming lavender or eucalyptus fragrance waft throughout your bedroom as you doze off in complete comfort. This diffuser can operate between intermittent or continuous mist settings, and seven different LED light color and timing settings make it ridiculously customizable to your preferences.
7. This Chair That Cradles Your Whole Body
Oversized Folding Moon Chair, $54, Amazon
My old roommate had one of these oversized folding moon chairs in our dorm room; it was absolute crap for productivity levels, but man, was it cozy. This one cradles your whole body in a poof of comfortable fluff, and because it's pretty huge, you can curl up so your whole body fits, or share it with a friend.
8. The Best Investment You'll Ever Make
SkylineWears Onesie (S-XXL), $26-$44, Amazon
The first thing I did when I started working from home was invest in an adult onesie. Best decision of my life. This SkylineWears onesie is stretchy and soft with a knitted fleece and cotton fabric, and it's got a front zipper and kangaroo pockets for convenience. Get it in your choice of 17 awesome designs.
9. Bamboo Is Way Warmer And Softer Than Anything Else
Mika Home Oversized Bamboo Throw Blanket, $35, Amazon
Bamboo is hands down the softest material you'll ever feel, and this Mika Home oversized bamboo throw blanket makes a great addition to any couch or bed. Even though it's lightweight and easy to take care of, it's insanely warm and oversized, so it makes a great companion for those chilly fall nights.
10. Keep Your Ears Warm While You Rock Out
Knitted Earmuff Headphones, $10, Amazon
Whether you're shoveling the driveway or curling up with a movie on your laptop, these knitted earmuff headphones make any experience a whole lot cozier. They're made from a faux fur and knit material that keeps your ears super warm, the cord is detachable so they can function as just plain earmuffs, and they've got a pretty decent sound quality, too.
11. Majestic, Magical, And Damn Cozy
Green and Gray Mermaid Tail Blanket, $29, Amazon
One huge step up from the Snuggie, this Green and Gray Mermaid tail blanket is soft, encompassing, and makes you look like a majestic sea creature. It feels like a sleeping bag that you can still move around in. You can also get it in two sizes and a whole bunch of different colors, so your cold-weather travel, Netflix, or reading game will never be the same.
12. Combine Bath-Time and Tea-Time Into One Epic Activity
Aquarian Soul Full Moon Bath Tea Bags, $18, Urban Outfitters
Tea is amazing and baths are even better, so why not combine them? These Aquarian Soul Full Moon bath tea bags are made from a natural blend of herbs that turn your bathwater into a medicinal and relaxing experience. The flowers bloom inside the tea bags and release their healing qualities, but because they're confined to a mesh bag, clean-up is a breeze.
13. Warm Your Hands With Your Favorite Beverage
Clay in Motion Handwarmer Mug, $21, Amazon
This adorable hand fired Clay in Motion hand-warmer mug was made by a husband and wife in Walla Walla, and the interesting shape is specifically crafted to warm your hands while you're holding your favorite beverage. It's also lead-free, and can be put in the oven, dishwasher, or microwave.
14. Do Everything From The Comfort Of Your Bed
Bamboo Adjustable Lap Desk, $33, Amazon
Bring all your responsibilities over to the bed with this bamboo adjustable lap desk. It's got several awesome features, like a drawer, lockable legs, an adjustable height and width, and a tilting position that lets you prop up your laptop or tablet. Whether you're eating, working, or watching movies, this thing ensures that you never need to leave the warmth of your bed.
15. Turn The Lights Off From Bed
The Clapper Sound Activated On/Off Switch , $18, Amazon
Few things are worse than making yourself into a human burrito under the covers, only to realize you left the lights on. Eliminate all obstacles to coziness with The Clapper — it's a classic for a reason, folks.
16. Take Your Nap Anywhere (Literally, Anywhere)
Calsky Ostrich Pillow , $26, Amazon
These notorious napping pillows are the saving grace of travelers, commuters (who aren't driving the vehicle, of course), and general cozy enthusiasts everywhere. Tuck your head and hands inside, and catch a snooze when you need it most.
Images: Amazon (14); Urban Outfitters (1); Uncommon Goods (1)
Bustle may receive a portion of sales from products purchased from this article, which was created independently from Bustle's editorial and sales departments.