8 OTC Acne Products Dermatologists Recommend & Why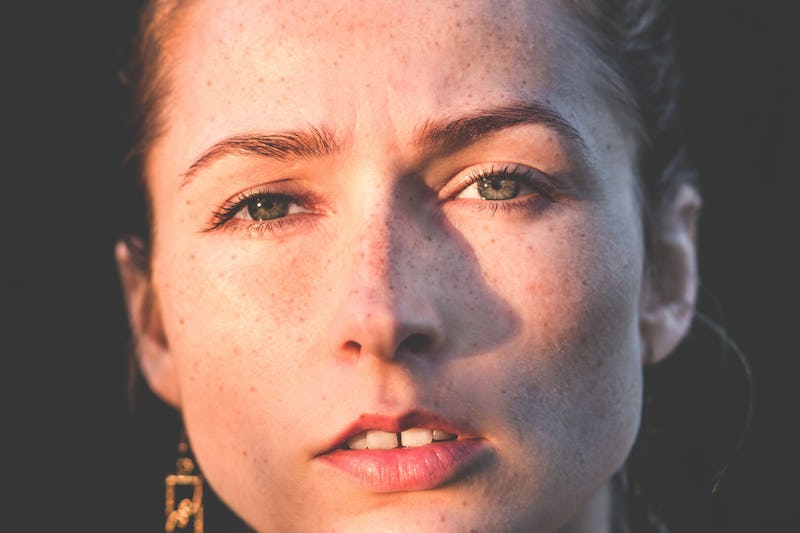 Adult acne is an issue that's at an all-time high, and while it's got a lot to do with diet, stress levels, and lifestyle, topical solutions can be really effective. Problem is, however, not everyone's got $200 to drop on a prescription. Good thing there's acne products that top dermatologist swear by, and a lot of them are great over-the-counter acne solutions that specialists recommend. That means that instead of appointments, copays, and trips to the drug store, you get convenience and a reasonable price tag — both of which are awesome news.
According to an article by the American Academy of Dermatology, many dermatologists agree that great over-the-counter solutions do have a place in your medicine cabinet and happen to be well worth your time. It all comes down to choosing products with effective ingredients. Things with benzoyl peroxide, salicylic acid, sulfur, and natural ingredients with anti-bacterial and anti-inflammatory properties will help to clear up acne and reduce breakouts, while fillers and bad oils will do quite the opposite. Check out these top acne-fighting dermatologist picks, so you can take care of everything from cleansing to moisturizing right from the comfort of your own home.
1. Cleanse With Something That Respects The pH
La Roche-Posay Effaclar Purifying Foaming Gel, $15, Amazon
As Andrew F. Alexis, M.D. told Teen Vogue, it's important to be gentle when washing acne-prone skin. Alexis said, "I advise my patients to use a cleanser that is non-drying, but very efficient in removing oil build-up on the skin surface and in the pores." La Roche-Posay Effaclar's purifying foaming gel was Alexis's pick for doing just that. Not only is it great for getting rid of makeup and blocked pores, but it does so while respecting your skin's natural pH balance.
2. Use Natural Acids To Wake Up With Smooth Skin
Olay ProX Anti-Aging Nightly Purifying Micro-Peel, $21, Amazon
As celebrity dermatologist Annie Chiu, M.D. told the Fashion Spot, "Just a few drops of this product, which contains glycolic and lactic acids, to your face at night (before your moisturizer) helps you wake with smooth, glowy skin." Because it works to get rid of oil, product build-up, and dead skin, it helps pores stay clean and clear long-term.
3. Good Old Benzoyl Peroxide
Paula's Choice Clear Acne Treatment, $18, Amazon
When it comes to fighting acne, "You still can't beat good old benzoyl peroxide," Susan Van Dyke, M.D. told The Survival Doctor. "Start with 2.5 percent and go higher, as tolerated. Remember that irritation is not necessary for results … but patience is. It can take up to a month to work." Paula's Choice Clear Acne Treatment is an awesome option with which to start. Because it has 2.5 percent benzoyl, it's powerful on breakouts and bacteria, but gentle enough to use on a daily basis.
4. Protect Your Face Without All The Grease
Tizo 3 Facial Mineral Sunscreen, $34, Amazon
Shirley Chi, M.D. told Glamour she can't wear chemical sunscreens, because they make her break out, but inadequately protected skin can also worsen acne. "I use a tinted mineral sunscreen makeup primer from a brand called Tizo… I love it. It's SPF 40 and water resistant, with a nice velvety finish." It's also got a non-greasy matte look, and reviewers even say that it helps to even out impurities and redness.
5. Get Adequate Hydration That Fights Bacteria
Eminence Seven Herb Treatment, $26, Amazon
When it comes to getting adequate hydration without worsening acne, celebrity skincare expert Joanna Vargas told Teen Vogue she really loves Eminence's Seven Herb Treatment. She said the formula's greens help to oxygenate skin, and it kills bacteria after extraction. It's also got awesome ingredients like honey and stinging nettle, which work naturally to reduce inflammation and breakouts.
6. Boost Skin Rejuvenation With Retinol
RoC Retinol Correxion Sensitive Night Cream, $13, Amazon
As Dr. Jessica Weiser told The Fashion Spot, this night cream is a great anti-acne resource. "It contains retinol, a vitamin A derivative that helps boost collagen production to minimize fine lines, improve cell turnover and renewal, resulting in improvements in skin tone and texture." The combination of retinol plus hyaluronic acid to bind moisture to the skin, reducing your body's oil production.
7. Try A Sulfur-Based OTC Medication
Dr. Dennis Gross Skincare Clarifying Colloidal Sulfur Mask, $30, Amazon
"The fastest way to quell an existing blemish is by using a sulfur-based medication, which dries out the spot," said dermatologist Dr. Dennis Gross to Teen Vogue. For a great mask with high reviews, there's the Dr. Dennis Gross 'Skincare Clarifying' colloidal sulfur mask, which calms redness and irritation while treating existing blemishes and large pores. Reviewers are saying things like, "AMAZING for minor or major acne. I love this stuff and use it religiously....as a mask and as an overnight spot treatment."
8. Volcanic Sulfur For Antibacterial And Anti-Inflammatory Uses
Grandpa's Thylox Sulfur Soap, $4, Amazon
Another anti-acne pick Dr. Jessica Weiser shared with the Fashion Spot, "Grandpa's Thylox sulfur soap contains volcanic sulfur, which is an excellent anti-inflammatory and antibacterial ingredient to reduce overall redness and breakouts on the skin and to aid in treatment of acne and rosacea." It washes away oil and helps with inflammation, but without feeling overly stripped or drying, and reviewers say that it's one of the only things that won't irritate sensitive skin.
Images: freestocks.org/Pexels; Amazon (7); Grandpa Soap Company (1)
Bustle may receive a portion of sales from products purchased from this article, which was created independently from Bustle's editorial and sales departments.