Couples Who Do This Are Less Likely To Break Up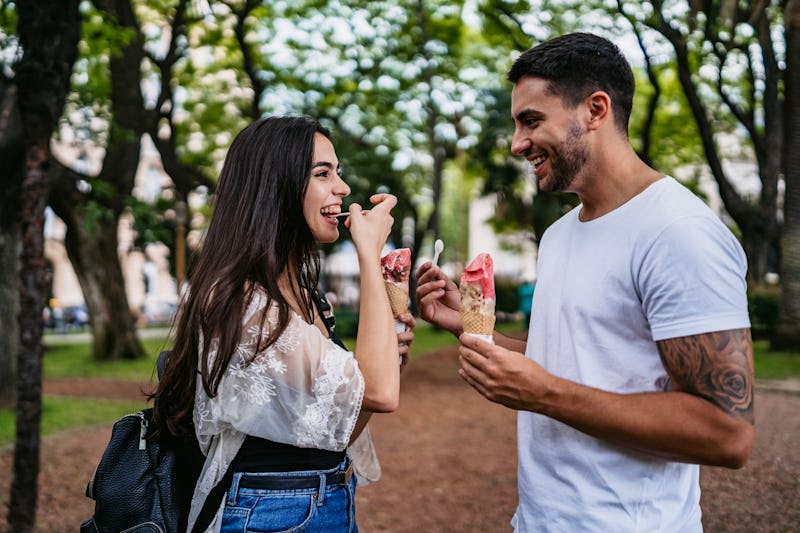 urbazon/E+/Getty Images
You don't need experts to tell you that spending time with your S.O. is one of the essential keys to maintaining a healthy relationship. After all, if you don't invest some time into each other, how do you expect it to grow into anything special, especially if you're married? As a new study found, married couples who have monthly date nights are 14 percent less likely to break up. "The most important ingredient to a healthy marriage is connection. The more time, energy, and commitment you put into your relationship, the stronger it will be," host of Vh1's Couple's Therapy and author of The Relationship Fix, Dr. Jenn Mann tells Bustle. "We become more devoted to what we invest in. We value the people in whom we have invested our time, energy, and affection. Dates are one way we do that."
The Relationship Fix, $13, Amazon
In a report released by the Marriage Foundation, Harry Benson, the research director at the Marriage Foundation, and Stephen McKay from Lincoln University analyzed data from the Millennium Cohort Study. The study took survey responses from 10,000 mothers in the UK who were married or cohabiting and followed them over a span of 10 years while tracking changes. According to the study, 11 percent of couples said they managed to squeeze in weekly date nights, 30 percent went out once a month, 23 percent went out less than once a month and 36 percent said they never did it. Married couples who took some time to themselves to work on their relationship once a month were 14 percent less likely to split than those who didn't. Once a month seemed to be the sweet spot since those who went out weekly didn't find anymore increase in their chances at relationship success than once-a-monthers.
"A key pattern associated with development of a close relationship is sustained, escalating, reciprocal personal self disclosure," Dr. Mann says. "In other words, to become and remain close, we must be open and forthcoming with our partner in our world. Dates with our spouse give us that opportunity. It takes focused time alone and a little romance to foster personal self disclosure and give couples the opportunity to connect in order to create intimacy."
Previous research has found that the happiest couples were the ones who weren't afraid to try new things together. According to Mann, this novelty habit releases dopamine, a neurotransmitter that controls the brain's reward and pleasure centers. "Watching a new television show together isn't going to do that," Mann says. "The good news is that you don't have to go skydiving to create a novelty. It could be as simple as trying a new restaurant together, riding a roller coaster at an amusement park, going to hear a lecture together or taking a walk in a different part of town."
In general, Mann recommends couples have 30 minutes a day of face-to-face time. Consider it like a mini-date. "I also recommend couples have a romantic vacation twice a year," Mann says. "They don't have to be long. They don't have to be expensive. But it does need to be just the two of you." Here are some fun date night ideas for you and your partner:
1. In-Home Couples Massage
Companies like Zeel offer massages on demand and can get them delivered to your home whenever you want. This might even be a good option for couples with kids. After the kids go to bed, you can relax and have your date night at home without having to worry about finding a sitter.
2. Participate In Unique Local Events
New experiences bring couples closer together and sometimes you don't even have to go very far. Maybe even your local bar has something for you. For instance, a new social experience called Plant Nite offers couples a drinks and DIY type of date night experience. "Often times, especially with couples that are married or have been together a while, they've done it all. They've gone to dinner a million times, they've seen every new movie, but when is the last time that they were able to reignite that childhood bliss of playing in the dirt? Likely never," Courtney Osgood, Head of PR/Communications at Plant Nite tells Bustle.
Events take place at local bars and people have the opportunity to get their hands dirty and turn empty planters into cute tabletop terrariums they can take home. Booze, dirt, why not?
3. Sip And Paint
According to a Wall Street Journal report, doing activities like crafts can release chemicals in your brain that make you happy, and couples who share hobbies are happier. So if planting isn't your thing, maybe painting might be it. Places like Painting With A Twist offers theme nights for couples to make special canvases that they can take home.
4. Get Your Fitness On
Studies have found that adrenaline and endorphins can be key components to attraction. So if you're a couple who's into fitness, why not try working out together? If you don't do so already go to the gym together, go on a hike, or maybe even try something like a cycling class. "Working out shouldn't feel like a chore and you should enjoy your sweat session," Jordin Cooper, Director of Marketing at CycleBar tells Bustle. "A cycling class can make for a great date night—couples not only get in their daily workout, but they get to experience the ride together."
CycleBar offers couples date-night themed rides throughout the year which include post-ride champagne and strawberries. Happy hour rides every Friday also include post-ride rinks and amenities like hair dryers and straighteners to prep you for a night out.
Images: urbazon/E+/Getty Images; Giphy(3); PlantNite; CycleBar