The Shades In MAC X Selena Are Just Gorgeous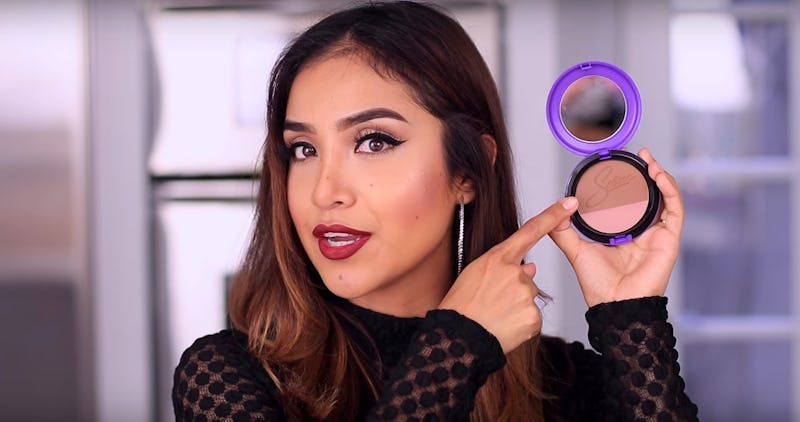 Selena Quintanilla is still inspiring women today, and that's exactly why you're going to want to get your hands on a collection that was created in her honor. She not only was she an incredible performer, she was also a fashion and beauty icon. Swatches of the MAC Cosmetics x Selena collaboration prove that these shades will not disappoint.
If you were a fan of the singer, you're going to be a fan of these beauty items. The collection contains lipsticks, eyeliner, eyeshadow and one bronzer/blush compact. It's got everything you'll need to get your bold beauty on this fall, and I'm sure Quintanilla wouldn't have it any other way! The range will be available to shop on the MAC Cosmetics website on Oct. 1. It'll also be available in stores on Oct. 6, so the countdown is officially on!
As if you weren't already beyond excited for this collection, these swatches will have you even more ready to spend your cash on every single product. From the deep red lipstick shade to the bronzer, you'll have a flawless face of makeup all fall long. And it's all thanks to MAC X Selena and their vision for a glammed out world! Fans out there, get ready to rock these shades.
It'd be hard not to fall in love with these classic shades.
The lipstick shades range from nude to a deep burgundy.
This matte neutral eyeshadow will help you create tonsss of your fall looks.
For a bold pop of color, look no further than this plum shadow.
Ensure your eyeliner is absolutely flawless with application that's this precise.
As you can see, this compact will help you get bronzed to perfection.
Here, you can see vlogger Dulce Candy swatch items from the collection one by one. But, after seeing this video, you're going to want to purchase these immediately. Consider yourself warned!
You can also check out a tutorial demonstrating how you can use these shades to create a very Selena-esque makeup look.
Images: screengrab/YouTube (5); YouTube (2)