9 Smoothing Hair Tools To Try, If You Have Frizz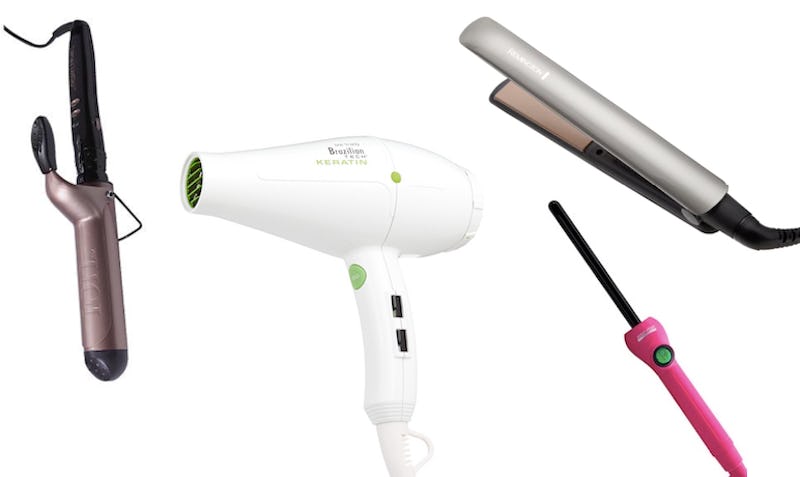 If you're constantly struggling to get rid of frizzy hair, you're definitely not alone. However, if you're still fighting the good fight, you likely haven't yet discovered the smoothing hair tools that fight frizz. But I get it: Tracking down an arsenal of products to fight frizzy hair can be time-consuming. I often find that it always takes way too long to style hair anyway, which leaves me feeling upset because until recently, I didn't think there were tools equipped to fight my frizz fest.
Meet the new wave of hot hair styling tools that work to smooth out even the unruliest of heads, leaving you with shiny, glossy hair that looks like you stepped out of the salon. These tools are not your mom's hair styling products, either. Some products, such as hair straighteners and curling irons, are infused with rich oils like argan and keratin to strengthen your hair follicles. You also have products like ionic hair dryers, designed to protect your hair from the heat and cut down styling time. Lastly, you have thermal hair brushes that will do the work for you. Whatever your frizz levels, there's a product out there to tame your head. Take a look at the best hair tools for frizzy hair to help you smooth things out.
1. A Two-in-One Hair Tool
Turbo Hair Straightener De-Tangling Brush with Negative IOn Plates, $20, Amazon
Real talk: Doing my hair is the worst part of getting ready. A hair brush like this cuts getting ready time in half by allowing you to detangle and straighten at once. Turn on the heated plate to straighten your hair, and you'll notice that this brush does a great job of smoothing out any frizz.
2. A Nano Technology Flat Iron To Smooth Away Fly-Aways
BFF Pro Flat Iron Ceramic Hair Straightener , $49, Amazon
Tired of spending hours straightening your frizzy hair? Like your BFF, this ceramic hair straightener has your back. Its nano technology will smooth out fly-aways, while the ceramic plates protect your hair from pulling.
3. A Keratin Treatment In A Hair Dryer
BaBylissPRO One and Only Brazillan Tech Dryer, $80, Amazon
You know how some hair dryers leave you with some frizz after use? Yeah, this hair dryer doesn't do that. Instead, this model has keratin and titanium inside the motor that will leave you with salon-worthy hair after each use. It also has six heat settings and even protects color-treated hair.
4. Curling Wand With Negative Ions To Protect Against Humidity
Jose Eber Curling Iron Wand , $30, Amazon
Straightening frizz hair is one thing, but curling is another ballgame. I know personally, my hair can't bear with the excess heat. Enter this curling wand, which features negative ions to keep humidity at bay, leaving you frizz-free curls all day, every day. Now, styling your hair will go from two hours to half an hour.
5. A Straightener For Dry & Damaged Hair
Ceramic One Inch Straightening Iron , $61, Amazon
This tool is basically a straightener and hair treatment in one. The ceramic plates are infused with argan oil, which helps with smoothing hair, as well as adding some extra shine. Argan oil is rich in vitamin E and fatty acids, which helps nourish dry and damaged hair.
6. Keratin Therapy In A Hair Straightener
Remington Keratin Therapy Hair Straightener, $35, Amazon
An affordable straighter with salon-like results, this model features keratin-coated plates that help diminish frizz and protein to strengthen your locks. Because really, who wants to sacrifice healthy hair for style?
7. A Curling Iron That'll Leave Your Hair Healthy
One and Only Argan Heat Curling Iron , $30, Amazon
Back in the day, using hair tools consistently led to burnt, damaged hair. Not anymore; this curling iron will maintain your healthy strands, thanks to its argan oil coated plates. Every time you curl with this tool, you're adding vitamin E, omega 6, and fatty acids, which are the nutrients responsible for strong and healthy-looking locks.
8. A Negative Ion Barrel Brush For Salon-Styled Waves
Amika Blowout Babe Thermal Brush , $113, Amazon
If you're like me, who could never ever master those sexy-looking blowout waves, then this thermal brush is about to make your life easier. Its thermal ceramic barrel contains negative ions that ward off any unwanted frizz, so your hair stays perfect. Just use it like any other barrel brush, and you'll have tangle-free bombshell waves.
9. A Hair Straightener Totally Worth the Hype
Ghd Gold 1-Inch Straightener , $149, Amazon
I know what you're thinking; "Why spend so much money on a flat iron, when there so many cheap ones out there?" I kid you not when I say that all my friends who have this Ghd flat iron swear by it, and claim it's the best purchase they've ever made. One night I tried it for myself, now I'm convinced it's worth the hefty price tag. This styler is not only great for getting straight, sleek hair, but the round edges make it suitable for creating waves and curls. It also protects the hair cuticle, so you can stress less about your hair burning into a crisp.
Images: Amazon (8); One 'n Only (1)
Bustle may receive a portion of sales from products purchased from this article, which was created independently from Bustle's editorial and sales departments.