How Demanding Is Adam's Role?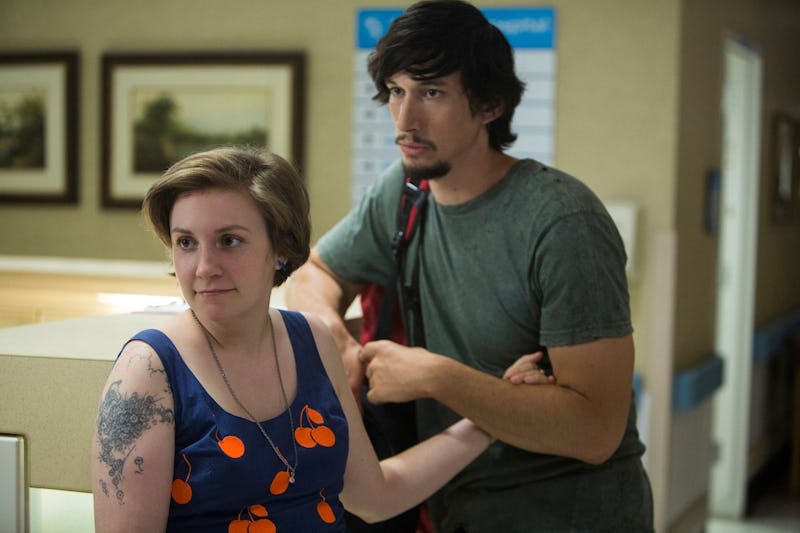 We know that Adam on Girls is an intense kind of guy, and now that he's an actor on Broadway, his intensity has the professional opportunity to climb. Undoubtedly, performing nightly on the stage is a demanding task, but is Adam's role in Major Barbara actually that demanding, to the point that he has to shack up with Ray and ward off Hannah?
Adam plays the role of Bronterre O'Brien Price (we know this because in the last episode, when he's running lines with Ray, Ray refers to him as "Mr. Price.") Guess what? Mr. Price is not a lead role; it's a supporting role. In fact – the character is only in one, albeit lengthy scene (if it interests you, here's the text of the entire play).
The play is about a woman who becomes disenchanted by the Salvation Army she works for when it begins to accept donation from less-than-holier organizations (an interesting nod to Hannah's fears of "selling out" at GQ.) Adam plays young and corrupt fellow — and interesting choice for the struggling character Adam Sackler.
Now, needless to say, performing on Broadway is demanding, and performing in a Shaw play requires a certain tenacity that a contemporary work may or may not provide. As someone who trained in theater, I know that performing the text written by a playwright such as Shaw, Ibsen, or O'Neill can be incredibly demanding. The text is trickier and filled with complex language. The accents are tricky to master.
Moreover, performing in a Broadway house requires certain vocal strength and breath support that one doesn't need when meeting somebody for drinks in a bar. In fact, drinking is death to the voice; actors need to stay hydrated. When I did shows a couple years ago, I used to drink so much water that I couldn't function in a social setting unless a bathroom was in relatively close in proximity. Charming, I know.
And of course, actors always should treat every role — even Man #1 with no name — with the same care and precision that they would treat the role of King Lear. A small part (though pivotal part — it's an important scene that reveals the scumbag nature of folks in the world of the play) is no less of a part. An audience watches every scene, and unlike in high school, where maybe the less talented folks get one scene instead of seven, on Broadway, it's about who fits the role. In fact, it's a testament to Adam and his work ethic that he is so thoroughly invested in any role at all.
But even for an incredibly large role — even if Adam was appearing, prematurely, as the titular character in King Lear, it doesn't necessarily mean that he should isolate himself from his everyday life. In fact, Adam Driver agrees. He spoke to The Daily Beast about the quandary that an actor encounters when working on any role; because boundaries are less ostensible than they are in an office setting, it's easy for the role to take control. But he said:
For me, the work is always on my mind. I'm constantly thinking about the role, and there's an infinite amount of questions you can ask yourself about a character to the point that it's hard to find the boundaries of when to not work. I'm not speaking about anything personal, but I think it does lead to not quite being in the moment, or being self-involved. It's constantly gestating, so there's a tendency to ignore the things that are happening around you because you want to focus on what you're trying to do. I haven't been doing this that long, and I feel like the more I learn that absolutely the things in life that are more complicated are more valuable than acting. Living life is more important than actually doing the work. Life is complicated, and shitty, and great. That's obvious. But I've learned that when I have to stop living life to put all my energy and focus into this one thing, it suffers.
According to Driver, then, Adam's decision to stay with Ray might be a step too far for not just this role — but for any role, but in reality, Adam is treating his work with utmost professionalism.
As for believability, it's truly a credit to Dunham for giving Adam not the lead role, either, but a miscreant supporting role, which is more likely what Adam would be cast in.
Now all we need is a scene in which we see him in action — with that coat that he's been "breaking in" and all.
Image: HBO