30 Things You Didn't Know About the 'Game of Thrones' Cast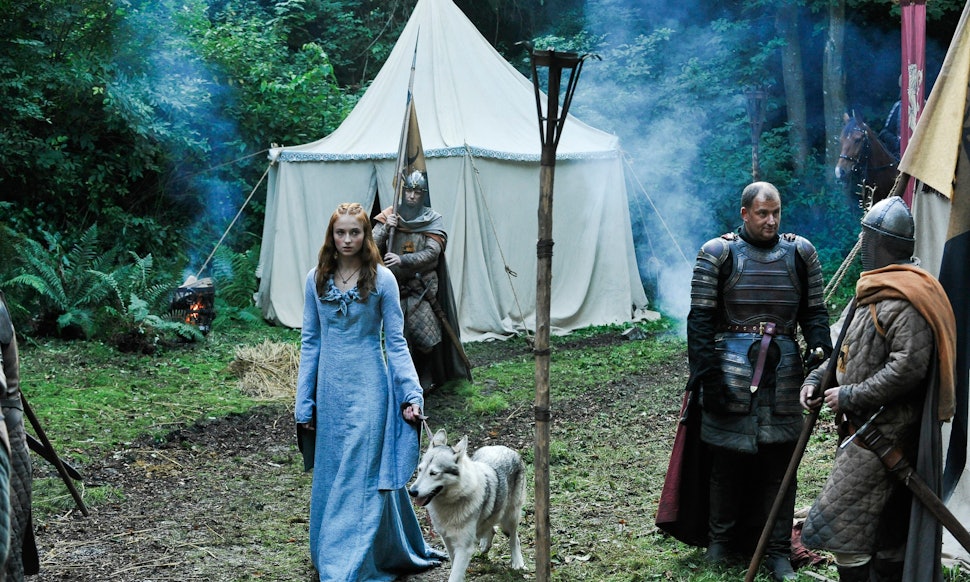 You know this season has left you shocked. Heartbroken. Yearning for Season 4 to begin. But you still don't know much about your favorite HBO warriors. Read on to find out 30 things you didn't know about the 'Game of Thrones' cast and their past. Surprise is coming. [Image: HBO]
Nikolaj Coster-Waldau (Jaime Lannister)
The man also known as the villainous King Slayer has said he cries on a regular basis… especially while watching 'Extreme Makeover'. [Image: Getty Images]
Sean Bean (Ned Stark)
His character's beheading was hardly Bean's first filmed death — the actor has been killed at least 22 times on screen. [Image: New Line]
Lena Headey (Cersei Lannister)
Despite starring on a hit TV series, the actress claimed in spring 2013 that she was royally poor, with less than $5 in her bank account thanks to a divorce and custody battle with ex Peter Loughran. [Image: Getty Images]
Peter Dinklage (Tyrion Lannister)
The actor's voice is one of the most famous in '90s sitcom history — Dinklage played "Wake-Up Guy" on "The Wink" episode of 'Seinfeld.' [Image: NBC]
Gwendoline Christie (Brienne of Tarth)
Know Gwendoline Christie's birthday? Neither does the actress… or her birth mother. To this day, Christine still doesn't know her exact age. [Image: Getty Images]
Kit Harington (Jon Snow)
Despite being Ned Stark's bastard, Harington has royal roots — the actor is related to Sir William Molesworth, 8th Baronet, Sir Richard Harington, 13th Baronet, and Henry Dundas, 1st Viscount Melville. [Image: Getty Images]
Sibel Kekilli (Shae)
The actress who plays Tyrion's prostitute lover worked as a porn star under the name "Dilara" before making it in Hollywood. Typecast much?
Emilia Clarke (Daenerys Targaryen)
Emilia Clarke almost didn't play Khaleesi at all — the role was originally offered to Tamzin Merchant, but the series swapped actresses after the pilot was filmed. [Image: Getty Images]
Maisie Williams (Arya Stark)
The right-handed Maisie Williams has learned how to sword fight and more with her left hand in order to stay true to her character. [Image: Getty Images]
Oona Chaplin (Talisa Maegyr)
Oona Chaplin isn't just familiar because she starred on 'Game of Thrones' — the actress is the granddaughter of Charlie Chaplin. [Image: Getty Images]
Sophie Turner (Sansa Stark)
Turner is the proud owner of Zunni, otherwise known as the dearly departed direwolf Lady from Season 1 of 'Game of Thrones.'
Jack Gleeson (Joffrey Baratheon)
Jack Gleeson, otherwise known as the psychotic King Joffrey, has been afraid of doors since he closed his finger in one while playing with a cousin as a child. [Image: HBO]
Alfie Allen (Theon Greyjoy)
Alfie Allen was made famous even before he joined the 'Game of Thrones' cast. The actor is the subject of older sister Lily Allen's "Alfie." [Image: Getty Images]
Richard Madden
Spoiler Alert! No, really, that's what the actor needed. The actor found out about the death of Robb Stark not through the books, but accidentally when Googling the character. [Image: Getty Images]
Rory McCann (The Hound)
Turns out McCann is a gentle giant. He worked as a gardener and a painter before jumpstarting his acting career. [Image: Getty Images]
Jason Momoa (Khal Drogo)
You won't let the dreamy Momoa out of your sight… and, it turns out, he once returned the favor as a 'Baywatch: Hawaii' lifeguard. [Image: NBC]
Iain Glen (Jorah Mormont)
Daenerys aide has become so good at speaking Dothraki, he ad-libbed the final scene of Season 2. [Image: Getty Images]
Charles Dance (Tywin Lannister)
It must have shaken — not stirred — Charles Dance when he witnessed the success of the Bond franchise after turning down the opportunity to screen test for the role.
Joe Dempsie (Gendry)
We almost didn't get the chance to enjoy Joe Dempsie as Gendry — or Kit Harington as Jon Snow. Dempsie originally auditioned to play Jon Snow before locking in the role as Gendry. [Image: Getty Images]
Aidan Gillen (Petyr 'Littlefinger' Baelish)
Gillen is not only the star of a hit TV series. The actor also stars in a blockbuster movie. You can spot him in the opening scene of 'The Dark Knight Rises' as a CIA agent. [Image: Warner Bros]
Emse Bianco (Ros)
The King's Landing prostitute is also an experienced burlesque dancer in her spare time off the show. Her most popular show, 'White Wedding,' involves Bianco, burlesque, and, naturally, a giant wedding cake.
Finn Jones (Loras Tyrell)
Jones was forced to change his name to make it in Hollywood. His birth name, Terry Jones, has already been taken by the legendary 'Monty Python' star. [Image: Getty Images]
Natalie Dormer (Margaery Tyrell)
The actress, who also starred in 'The Tudors,' is an avid poker player who has competed in the 2008 PartyPoker.com Women's World Open in London. [Image: Getty Images]
Natalia Tena (Osha)
A whopping nine 'Game of Thrones' actors have appeared in the 'Harry Potter' franchise. Including Tena, who played Nymphadora Tonks… [Image: Warner Bros]
David Bradley (Walder Frey)
Bradley, who played Argus Filch… [Image: Warner Bros]
Julian Glover (Grand Maester Pycelle)
Glover, who voiced Aragog… [Image: Warner Bros]
Michelle Fairley (Catelyn Stark)
Michelle Fairley, who played Mrs. Granger… [Image: Warner Bros]
Ciaran Hinds (Mance Rayder)
Hinds, who played Aberforth Dumbledore… [Image: Warner Bros]
Ralph Ineson (Dagmer Cleftjaw)
Ineson, who played Amycus Carrow… [Image: Warner Bros]
Bronson Webb (Will)
…and Webb, who played a Slytherin student. (See him peeking out in back?) [Image: Warner Bros]