16 Funky But Creative Items For Crafty People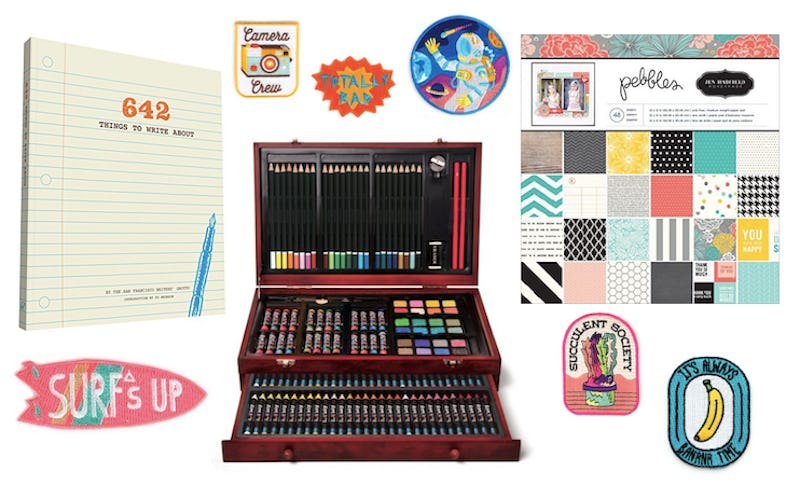 When you'd forego a night out drinking with friends for a trip to the craft store, you realize you might have a problem. Michael's is my heaven and A.C. Moore is my paradise on earth. I'm all about the best gifts for crafters, as my top hobbies include knitting, wood burning, and sewing. That being said, being a crafter (or having crafty friends) can get expensive really quick, especially if you have to buy all of your supplies separately. Never fear. Those everything-included crafting kits aren't just for kids, and they also make for awesome gifts for the crafter, artist, or DIYer in your life.
Personally, I love crafting for a whole multitude of reasons. For one, you've got a therapeutic and productive hobby you can do when no one's around. I'm of the belief that having fun on your own is one of the best things you can do for your mental health and self esteem. For another, you never run out of presents for people, as you can whip up a scarf or some homemade DIY lip balm whenever someone's birthday rolls around. Whether you're shopping for yourself or for that friend who has a massive dependence on adult coloring books, check out these gifts and tools that every crafty person needs.
1. Get Started On Your Next Scrapbooking Project
Me & My Big Ideas Lacey Charm Album Box Kit, $24, Amazon
Get a headstart on your next scrapbooking project with this Me & My Big Ideas Lacey Charm album box kit. It comes with an album, 20 decorative sheets of paper, stickers, and embellishments, so all you need to provide are the photographs of your friends and family members.
2. A Curated Patch Collection For Your Denim Jacket
Mokoyubi 'Space Explorer' Patches (2) , $10, Amazon; Mokoyubi 'Totally Rad' Iron-On Patch, $10, Amazon; Mokoyubi 'Succulent Society' Patch, $6, Amazon; Mokoyubi 'Banana Time' Patch, $10, Amazon; Mokoyubi 'Camera Crew' Patch, $6, Amazon; Mokoyubi 'Surf's Up' Patch, $6, Amazon
Customizing things comes naturally to any crafty person, so these iron-on patches from Mokoyubi will serve as the perfect tool for decorating a jacket, backpack, jeans, or what-have-you. Whether you're a proud owner of a baby succulent, amateur photographer, or just really love bananas, there's a patch out there for you.
3. Give The Gift Of Customized Moisturizer
DIY Lip Balm Kit, $32, Amazon
Whether it's a gift in and of itself, or you want to give away your handmade lip balms once you're finished with them, this DIY lip balm kit is awesome for anyone crafty. It comes with everything you need to make your very own hydrating and natural flavored lip balms, and everyone says the directions are straightforward and the project comes out great.
4. For That Horror-Loving Creative Friend Of Yours
Edgar Allan Poe Adult Coloring Book, $9, Amazon
The flowers-and-happiness coloring books are one thing, but this Edgar Allan Poe adult coloring book suits anyone who's either really into Halloween or just likes the perverse. It's got settings, motifs, and details that fans of Poe will recognize in the intricate drawings, and it's a great way to unwind after a rough day.
5. Overcome Writer's Block For The Next Two Years
642 Things to Write About, $14, Amazon
Got a friend who struggles with writer's block? This 642 Things to Write About journal makes an awesome gift because it's filled with hundreds (642, to be exact) of quirky, fun writing prompts that can snap even the most stuck mind into creativity.
6. Master Origami With This Expert-Made Kit
Origami 365, $20, Amazon
This book, called Origami 365, comes from the experts at Taro's Origami Studio in Brooklyn, New York, and reviewers can't stop raving about it. It comes with enough paper and supplies to create a piece of origami every day of the year, as well as a how-to book that easily shows you how to create your ornaments, jewelry, and decorations.
7. Paint Or Color In Style
142-Piece Wood Art Set, $27, Amazon
Whether you're looking to get into painting at home or just aiming to branch out from your typical adult coloring tools, this 142-piece wood art set has loads of colors in crayons, pencils, pastels, and watercolors. All the high-quality tools come in a sleek and convenient wooden case that folds up for easy storage.
8. Make Your Own Soaps For The Ultimate DIY Charm
Lorann Oils Soap Making Kit, $24, Amazon
Make your very own cocoa butter homemade soaps in various shapes, colors, and scents with this Lorann Oils soap making kit. The review section is filled with everyone from kids to adults who found this kit to be easy, convenient, and tons of fun.
9. Decorative Paper Is Catnip To Crafty People
American Crafts Pebbles Paper Pad, $13, Amazon
You'd be surprised how happy a crafty person can be with a wad of paper. This American Crafts Pebbles paper pad makes an awesome gift because it's got 24 modern and classy designs that someone can use for scrapbooking, origami, card-making, and just about anything else you can think of.
10. Never Forget Another Epiphany
Eureka Shower Idea Whiteboard, $17, Amazon
A crafty brain is often fast-paced and creative, but it's sometimes accompanied by forgetfulness. This shower whiteboard ensures that you never again lose those genius shower ideas. The board and pencil are entirely waterproof and stick to the wall of your shower, so you can jot down everything that comes up before the thoughts slip away.
11. Make All Your Own Jewelry
Adults Deluxe Jewelry Beading Kit, $46, Amazon
My mom is ridiculously into beading, and she's never out of gift ideas when Christmas or birthdays roll around. If you're looking to get into beading, this deluxe jewelry beading kit is the way to go. It comes with pliers, cutters, beads, jumprings, clasps, and a book to show you how to make your very own gifts – everything from earrings to bag accessories.
12. Personalize Gifts With Wood Burning
Weller Woodburning Kit, $15, Amazon
If you're looking for a cool new hobby, I just recently got into wood burning, and I love how therapeutic and original it is. This Weller Woodburning kit is an awesome way to put personalized touches on everything from jewelry boxes to cutting boards. It comes with the tool itself and nine wood burning tips, so you can handle any project.
13. Keep Your Thread Organized And De-Tangled
Premium Beechwood Thread Rack, $17, Amazon
For the sewer or embroiderer in your friend group, there's this premium beechwood thread rack, which holds up to 60 spools of thread in a space-savvy and convenient way. The rods are specifically made to hold a wide variety of threads, and you'll never again have to deal with a cluttered sewing box and tangled thread.
14. Bring Your Knitting Project Wherever You Go
Miles Kimball Knitting Tote Bag, $15, Amazon
I'm a knitter, and this Miles Kimball knitting tote bag is definitely on my wish list this year. It comes with individual compartments that let you use your yarn knot-free while it's packed away, and it's got side pockets for your needles and books. Best of all, the durable strap allows you to carry everything with you when you're on the go.
15. Organization Is Everything To A Crafter
Set of 12 Mason Style Spice Jars, $25, Amazon
Organization is (or should be) everything to a crafter, because if it's not, your whole room's a disaster in no time. This mason jar spice rack can be used to hold everything from beads to glitter in a convenient and aesthetically-pleasing way. The rack is rust-proof and sturdy, and the mason jars are easy to label and really durable.
16. Make Your Own Wine For Your Next Party
Master Vintner Fresh Harvest Fruit Winemaking Kit, $47, Amazon
Picture this scenario: Someone compliments your wine choice at your next dinner party, and you get to use the phrase, "Thanks. I made it." Instant champion status. This Master Vintner Fresh Harvest Fruit Winemaking Kit lets you make delicious wine in under an hour, and it comes with pretty much everything you need except the fresh fruit.
Images: Amazon (23)
Bustle may receive a portion of sales from products purchased from this article, which was created independently from Bustle's editorial and sales departments.