Where 'Birth Of A Nation' Got Its Meaningful Name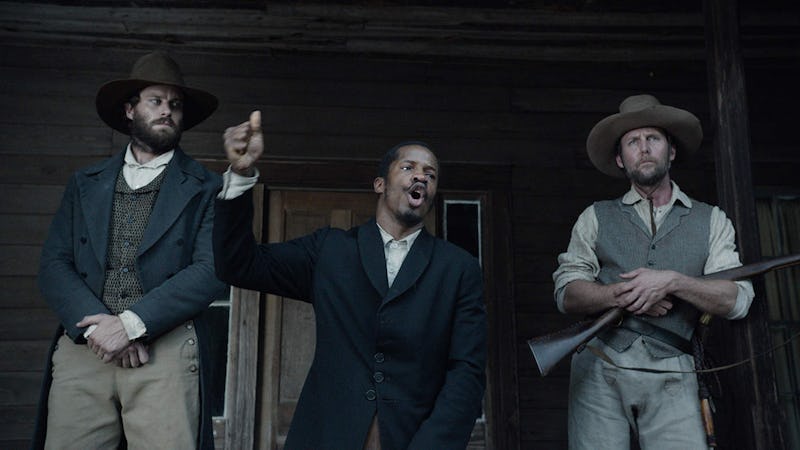 What very well might be the most controversial film of 2016 hasn't even been released yet. Birth Of A Nation has its wide release Oct. 7, but the historical drama has already claimed a significant amount of media space, both film-centric and otherwise. The movie was directed by Nate Parker (Non-Stop), who also stars as Nat Turner, a real-life slave who organized and led a famous revolt in Virginia in 1931. The movie was a smash at Sundance. Variety reported the financial result: Fox Searchlight paid $17.5 million for the distribution rights of Birth Of A Nation, the highest price ever for any film that's ever premiered at that festival. A few months later, the movie was in the news for a more troubling reason. As Parker's star rose, outlets like The Daily Beast became aware that he and his co-writer Jean McGianni Celestin had been accused of raping a fellow student while they were roommates at Penn State University and reported on the case, casting a shadow over the film. (Parker was never convicted and maintains that the sex was consensual; Celestin's guilty verdict was overturned on appeal and he also maintains that the sex was consensual.) In a decision that now seems almost prophetic, Parker chose a historically, racially, and emotionally loaded title for his directorial debut. Birth Of A Nation is not a remake of an unquestionably racist 1915 silent film, but it does share its title.
The original Birth Of A Nation is an important piece of film history, not just because it was narratively and technically ambitious for its time, but because it's vital to the country's future to remember how blatantly hateful such a popular piece of entertainment was once allowed to be. The epic by filmmaker D.W. Griffith follows two families on either side of the American Civil War, from the conflict through the reunification of the country. Among the many repugnant and racist aspects of the movie are the positioning of Ku Klux Klan members as noble heroes; white men made up in blackface to portray black men; and the general characterization of black men as violent, unintelligent, and rapacious. The 1915 Birth Of A Nation is based in part on the book, The Clansman: A Historical Romance of the Ku Klux Klan by Thomas Dixon Jr. That book was part of a trilogy celebrating the white supremacist group.
Though the silent film, Birth Of A Nation, was protested by the NAACP and other groups, their requests for a ban were unsuccessful. The film clocked in in at over three hours, it was even screened at the White House for President Woodrow Wilson, and is still a part of the Library of Congress's National Film Registry.
Parker told Filmmaker magazine that he chose this title not to reference the past but to compare the attitudes displayed in the original Birth Of A Nation to the country's present racial tensions. "I've reclaimed this title and re-purposed it as a tool to challenge racism and white supremacy in America," Parker said, "to inspire a riotous disposition toward any and all injustice in this country (and abroad) and to promote the kind of honest confrontation that will galvanize our society toward healing and sustained systemic change."
Though the issues affecting the response to each movie are very different, both films that carry the Birth Of A Nation have prompted discussion, anger, and protest.
Image: Fox Searchlight