See The Cover For Heather Demetrios' Newest Book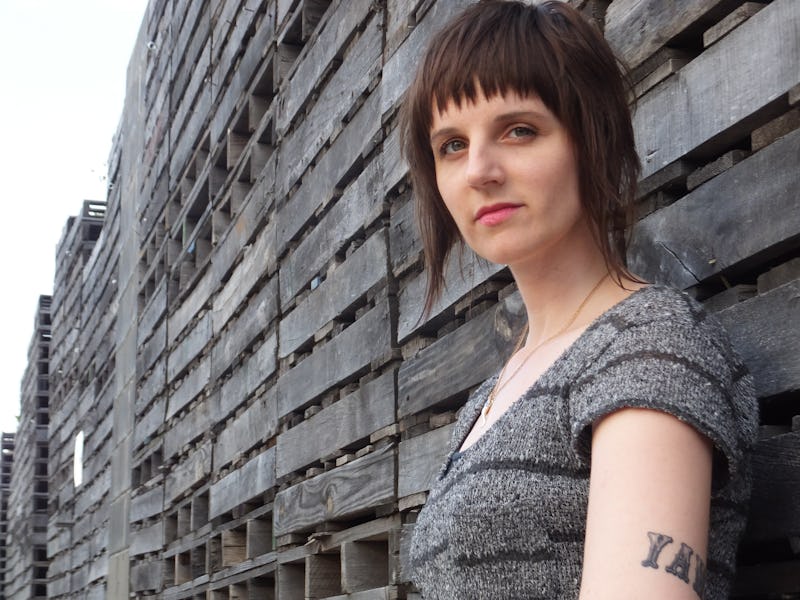 I first fell in love with Heather Demetrios' writing upon reading I'll Meet You There , a story about two lost teenagers — one, an art school hopeful, the other, a Marine who lost his leg in combat — and their journeys to achieve their dreams and find their peace. Along the way, they fall in love. It's a happily-ever-after that left me smiling from ear-to-ear. But Heather Demetrios' new novel, Bad Romance, tells a much darker story — a story about love gone bad. The author drew on her own life experiences to craft a tale of destructive, abusive love and the difficulty of finding a way out.
"I was 16 when I fell in love. Hard," Demetrios tells Bustle in an email. "It was a two-year nightmare that was literally life or death; it was a prison I was too scared to escape because I thought that twisted love was all I was worthy of. I got out. As Lady Gaga would say: I'm a free bitch, baby. And I want my readers to be, too."
Bad Romance, out in June 2016, follows 16-year-old Grace, a girl who wants out of her house and away from her abusive mother and stepfather. She has ambitions that transcend the small, California town where she lives. She wants to move to New York City or Paris — anywhere but where she lives now. Then Gavin enters the picture. He's charming and talented and everyone loves him, including Grace. When he falls in love right back, she can't believe it. But then their relationship takes a twisted turn, and Grace has to find the strength to stop her spiral into his darkness and re-emerge into the light.
"I wanted girls to have the courage to say, 'boy, bye,' and mean it," Demetrios says.
Bustle is proud to reveal the cover of Heather Demetrios' new book, Bad Romance . Take a look:
The illustration by Valerie Hegarty perfectly captures the difficulty of escaping a destructive relationship; sometimes the good stuff overshadows the ugliness beneath it. "It's just the most beautiful cover I've ever had," Demetrios says. "This cover gets the book so hard; some loves, no matter how beautiful they seem at the start, go rotten."
Heather Demetrios is coordinating a campaign against dating violence, domestic violence, and sexual assault. Visit her Tumblr for more details. You can pre-order Bad Romance now.
If you or someone you know is a victim of dating violence and you would like to speak to a trained peer advocate, the National Dating Abuse Hotline is reachable 24 hours a day, 7 days a week by phone (1-866-331-9474), text (text 'loveis' to 22522), or online chat.