Get Ready To Marathon Miranda Sings On Netflix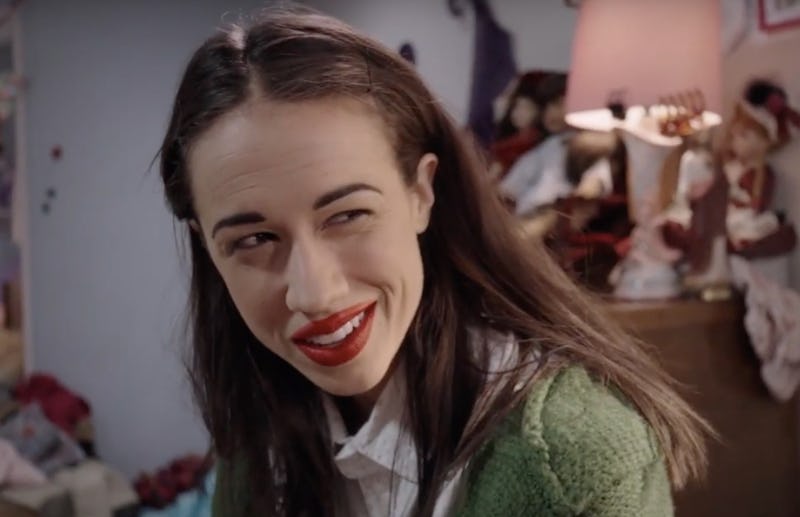 A staple on the Youtube airwaves since 2008, Miranda Sings is finally coming to Netflix with Haters Back Off, her first major foray into television. The trailer for what's soon to be everyone's new favorite comedy hit is already giving me heart palpitations — of excitement, naturally — because Miranda has easily been one of the most original Youtube stars/characters since the platform became a star-making medium. As performed by Colleen Ballinger, a classically trained singer who began performing as Miranda on a jokey whim, Miranda's unique mix of not-so-talented singing and inflated hubris come together to comedic effect, often capitalizing on the uniquely unawareness some in search of stardom possess. Miranda has become a staple character in the Youtube world and remains a very recognizable and meme-able personality.
Which is why Haters Back Off is already bound for greatness. This will be fans' first experience of Miranda in an environment other than Youtube and (bonus) we'll be able to dive deeper into her own fictional history. Miranda has become emblematic of a new kind star-seeker in the digital age: a youngster who decides that waiting for a fame-making opportunity simply won't do and that in order to become visible (and ostensibly beloved), you have to create the opportunities for visibility yourself.
If that uniquely academic take on Miranda Sings and Haters Back Off hasn't wooed you into watching yet, then keep reading to see why else you should tune in when the show airs on Oct. 14.
1. It's Miranda Sings, Duh
If you've been a fan of Miranda Sings since her unusual beginning on Youtube, then the chance to revel in eight episodes worth of her will be well worth your time.
2. It Speaks To The Awkward Star In All Of Us
Who said chasing stardom was easy? Anyone with a dream in their head and a song in their heart knows that the road to success can be a little bumpy and awkward, just like Miranda's journey.
3. Fans Of Napoleon Dynamite Will Love This Show
There's a certain homespun, oddball quality to the look of Haters Back Off! that really speaks to the Napoleon Dynamite fan in me.
4. There Will Be More Miranda Goodness
Couldn't get enough Miranda on Youtube? Well, you're in luck because there will be eight (count 'em, eight) episodes of out-of-tune songs, nasally snark and smeared lipstick.
5. Angela Kinsey, From The Office, Is On It
Because it's always a beautiful thing to be reconnected with a familiar face, especially Kinsey's. It looks like she'll be playing Miranda's supportive, if not honest or realistic, mother. I can't wait to see the chemistry between her and Miranda.
6. It's Centered On An Underdog
Who doesn't love a good underdog story? It's clear from the very start of the trailer that Miranda will have many hurdles to jump over. Watching her try to survive and thrive will be both amusing and empowering.
7. You Can Marathon It
Now that fans have to wait centuries (ahem, I mean months) for the second season of Stranger Things, we need to find a good reason to spend a Saturday chilling with some take-out. Haters Back Off is going to be that next, great, marathon-able show.
8. Miranda's Brand Of Comedy Is Unique
Sure, you may be cringing when you watch it but you have to admit: Miranda Sings' oddball, deadpan humor is as entrancing as any Christopher Guest mockumentary.
9. Lipstick, Lipstick, Lipstick
I could honestly watch Miranda put on her signature goopy, smeared, nearly-painted on lipstick look for hours. Here's to hoping the little sneak peek seen in the trailer will be repeated throughout the show.
10. The Show Will Destroy Stereotypes
There's something to be said for a woman who embraces her flaws and reconfigures them into an inspiring set of positive qualities. Miranda's own belief in herself, her talent and her natural charisma mean that while her peers may potentially laugh at her, we shouldn't be so quick to write her off. Nerdy, unusual girls deserve love, too.
11. It's Just Too Damn Funny
If you weren't chuckling — bare minimum — while watching the trailer, who are you? The show is destined to hit you right in the funny-bone.
And in case these reasons still aren't reeling you in, take another long, hard look at the above trailer and see the glory that awaits you.
Images: Netflix US & Canada (7); Giphy (5)