'Parenthood' Dealt With Some Abandonment Issues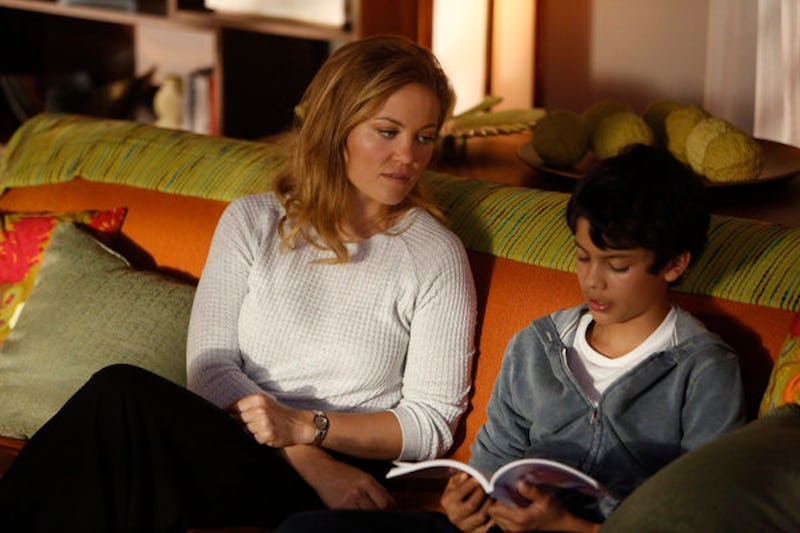 I had a lot of mixed feelings when Victor Braverman (not yet a Braverman) drove up Joel and Julia's driveway at the end of Season 3. He wasn't the baby they'd teased all season, after all: He was a 10-year-old boy, who'd already lived a life filled with a lot of trials and tribulations we didn't yet know about. He was a wild card, and his story was one that could have easily gone all the wrong ways.
Instead, Parenthood managed to pull it off. Sometimes in overly genuine or overly glossy ways, yes. Sometimes, while watching Victor's storyline, you wished you could just skip the necessity of working through emotional issues and land at a place where it's Victor's graduation and he and his parents are exchanging thanks over all they've given one another. Sometimes you just wanted to skip to the tear-filled resolution, y'know?
Parenthood at its best, though, tends to know when to give you those happy tears (last year's season finale featuring Victor's adoption), and when to turn those potential tears into furrowed brows of frustration (the few episodes last season in which Julia doubts that she and Victor could ever have a parent-child bond). On the (long, winding) path towards whatever the hell's happening with Joel and Julia's marriage, Parenthood succeeded this week in bringing back Victor's story, and reminding us that, no, a kid's long-standing issues don't go away once he's skipped off happily once the adoption papers are signed.
Victor's reaction to Joel misreading the baseball schedule and picking him up hours late was one that Jabbar would never have — not because he's in any way a better child, but because he doesn't have burned into him this idea that the people in his life have the ability to just up and disappear. That's an aspect of Victor that's been buried since the adoption (since he realized last season that Joel and Julia weren't going to "change their minds" about choosing to keep him). Enter separation. Bustle's own Kelsea Stahler wrote a while back about Parenthood 's triumphs in depicting the day-to-day realities of being a kid from a broken family, and that's tough enough — when you add in that Victor just joined this family less than two years ago, coming to it from a life with the kind of instability that landed him in the hands of a social worker? That's a ride a lot more complicated than Sydney's.
Of course Victor freaked out when Joel was late: It brought up issues of abandonment they'd barely even thought about for months. In fact, they were issues that were severe enough when we first met him that Julia had to spend the entire school day sitting in her car on school property so that he wouldn't feel so alone. And of course Joel bought him a cell phone to instantly solve the problem, and without consulting with Julia: It's the classic separated/divorced parent tactic, and Joel at this moment in time is defined by his quiet desperation to keep everyone satiated for as long as possible to avoid the (very necessary) blow-up fight with Julia he knows is coming any second.
Victor, for much of this season, had been slipping through the cracks. It was nice to see his show and parents approaching him head on this episode.
Image: NBC