Music Fans Can't Miss The 2016 BET Hip Hop Awards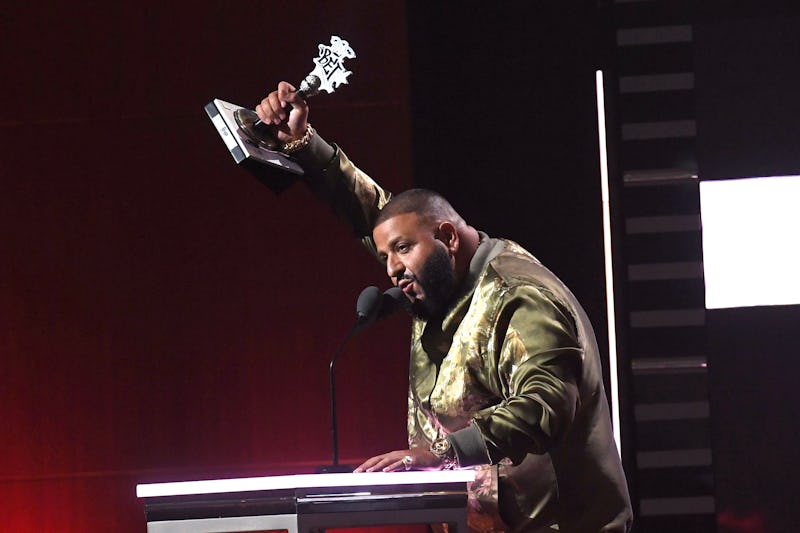 Hip hop fans, rejoice! Tuesday night is your night. That's because the 2016 BET Hip Hop Awards will air on Tuesday, Oct. 4 at 8 p.m. ET. Since there aren't too many awards shows solely dedicated to honoring hip hop, you're definitely going to want to make sure you tune in to BET on Tuesday night. But if you're used to watching your TV programming online, you might want to know how to stream the 2016 BET Hip Hop Awards before the big night. If that's the case, you've definitely come to the right place.
Viewers can live stream whatever's currently airing on BET through the BET Now app, but that requires a cable provider log-in for access. You may also be able to live stream the awards show through a participating cable provider's website and mobile app, but that also obviously requires a cable subscription. It's unclear if there will be a live stream of the red carpet and behind-the-scenes of the awards show like this year's BET Awards had when they aired in June.
Luckily, the 2016 BET Hip Hop Awards will likely be available to view later through the likes of the BET Now app since last year's ceremony is currently available to stream there on demand. However, that also requires a cable provider log-in to access.
If you're not able to watch the 2016 BET Hip Hop Awards live this year, don't you fret. The ceremony will not be broadcast live on Tuesday night. Rather, the awards show was previously filmed on Saturday, Sept. 17 at The Cobb Energy Performing Arts Centre in Atlanta, Georgia, the network announced last month. So that takes away some of the fun of watching an awards show live anyway.
However, the fact that the 2016 BET Hip Hop Awards have already occurred also means that we already know some amazing moments went down this year. Find out more about what's in store for this year's ceremony below, and you'll probably be super-motivated to find a way to watch it live.
It Celebrates Today's Best And Brightest Hip Hop Stars
If you're a fan of hip hop, general music awards shows like the Grammys or the MTV Video Music Awards can kind of be a letdown since all of the airtime isn't be solely devoted to artists of this genre. But an event like the 2016 BET Hip Hop Awards can be. Not only are more mainstream hip hop artists like Drake, Kanye West, and Kendrick Lamar honored as nominees (and could potentially be winners), but legends on the rise also get the spotlight. No matter who ends up taking home the awards, when the art of hip hop gets its due, everyone wins.
The Host Is Known Beyond The Hip Hop Community
DJ Khaled will be hosting this year's Hip Hop Awards on BET. Not only is he the artist behind such hip hop hits as "All I Do Is Win," "I'm On One," and "I'm So Hood," but he has also gained a reputation for killing the social media game in recent years. Needless to say, with DJ Khaled at the helm, the 2016 BET Hip Hop Awards should be an entertaining couple of hours.
It's Packed With Performances
Like most music-centric awards shows, the 2016 BET Hip Hop Awards will be filled with performances. Gucci Mane, T.I., and Big K.R.I.T performed, as well as Desiigner, whose time on the stage looks particularly electrifying, according to BET's website. It's sure to be a night to remember.
Get Ready For Some Freestyling
One of the things the BET Hip Hop Awards are most famous for is featuring cyphers, or impromptu verses. Lil Wayne and Chocolate Droppa, Kevin Hart's hip hop alter ego, are said to be dropping their very own cypher during the ceremony, Billboard reports. I don't think it's possible for anyone to top the awesomeness of that, but you'll just have to tune in and see for yourself, now won't you?
It'll Get Political
It looks like this year's BET Hip Hop Awards attendees will show their support for the Black Lives Matter movement during the show, according to photos on the network's website. T.I. also incorporates the message of the movement in his performance during the show.
It'll Honor A Hip Hop Legend
Snoop Dogg was honored with the "I Am Hip Hop" Award at this year's ceremony for all of his accomplishments during his decades in the industry. Kendrick Lamar presented Snoop with the award, and these two embracing on the BET Hip Hop Awards stage to show their respect for one another might just be the cutest thing ever.
Will all of these moments and so much more to see during the 2016 BET Hip Hop Awards, how could you miss them?
Images: BET (6)