The Sold-Out Illuminate Brushes Will Restock!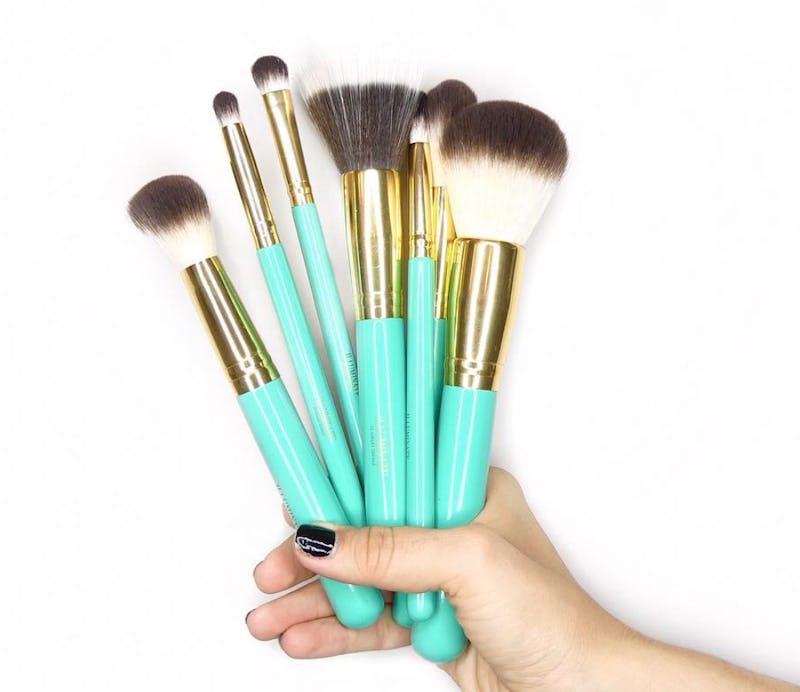 Did you miss out? Ashley Tisdale's Illuminate Cosmetics makeup brushes sold out upon launch and that's no surprise. The actor/singer/lifestyle guru's makeup brand is quietly beloved — that is, it doesn't have the same fanfare as, say, Kylie Cosmetics, but it has amassed quite a diehard following. The brushes are an example of why Tisdale's California-inspired products have earned customer loyalty.
From the unique, glossy, and seafoam green handles to the gold detailing to the brown and white ombre synthetic bristles to the extremely attractive $15 price for the eight-piece set, these makeup magic wands will brighten and prettify any vanity or bureau on which they are displayed or stored.
The Illuminate makeup brushes are designed to work with powders, creams, or liquids. If you totally fell in love with the ocean-inspired tools but weren't able to purchase them since they went so quickly, you are likely more than curious about a restock. When are the Ashley Tisdale Illuminate makeup brushes restocking?
Relax, because a fresh supply of the cruelty-free Illuminate brushes is on the way. According to a post on the brand's official Instagram, the Illuminate brush set should make an encore by the end of the month. The Illuminate team replied to customers who were asking when the restock would happen.
The brand posted and up close and personal shot of the tools at work.
Here is the screenshot of the comments, where the brand states that it is working to restock by the end of the month. So you have a few weeks to wait, but it'll be worth it.
Here's the sold-out status on the Illuminate site. You can sign up to be notified when the supply is replenished.
#SquadGoals.
No wonder these high-functioning brushes sold out so fast. They are adorable, and affordable. That's a winning combo.
Buff. Blend. Smudge. Line. Define. You can do all that and more with these brushes.
Images: Illuminate Cosmetics/Instagram (2); Courtesy of Illuminate Cosmetics (3)