17 Gifts For Guys Who Think They're James Bond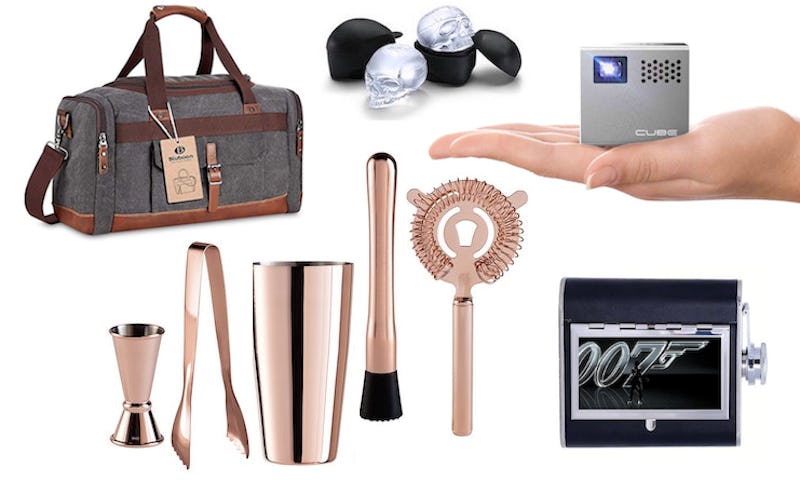 Just about every friend group, family, or dating record has at least one — the guy who pretty much thinks he's James Bond. For this man alone, we need the perfect gift for the stylish gentleman. Granted, he's not the easiest guy to shop for; his watch game is always on point, and he's perpetually up-to-date on the latest gadgets. This may be your dad, your best friend, your brother, or your boyfriend, and it may be actual 007-inspired Christmas gifts, or just the best gift ideas for fashion-forward men. Either way, a simple tie or grilling kit won't cut it when his birthday rolls around, but you can rest easy knowing that you're covered.
If this man had his own specific horoscope for his Bond-like personality, it would read something like this: "Loves being in the loop. Always a fan of food and drink — specifically of the alcoholic variety. Dresses smart and acts even smarter, and is always worthy of the most badass background music that accompanies him everywhere." Know a guy who fits the bill? These awesome gifts fit for a James Bond fan are sure to please him, no matter what the occasion happens to be.
1. This Stylish And Unique Cocktail Set
Oggi 5 Piece Copper Cocktail Set, $50, Amazon
Nothing's more in style than the copper look right now, and this Oggi 5-piece copper cocktail set is ideal for any professional or amateur bartender. All five pieces are made from durable stainless steel with a fashionable copper plating, so this James Bond man can entertain like a pro.
2. A Way To Keep Him Cool And On Schedule
LED Clock Fan, $14, Amazon
To keep him cool and productive at work, there's this LED clock fan. It plugs into the USB port on your laptop or device, and it can turn any which way with its flexible metal neck. When it's on, it displays the correct time in glowing LED lights that look like a floating hologram.
3. A Place To Hide All Of His Valuables In Plain Sight
Steel Dictionary Book Diversion Safe, $13, Amazon
This Steel Dictionary book diversion safe looks great on any shelf, but it's actually a fully functional solid steel case with an inconspicuous compartment inside. It comes with two keys, and reviewers say it's solid, well-made, and looks like a real book.
4. This Mini Projector For Watching Mission Debriefings (Or, You Know, Game Of Thrones)
RIF6 Mini 2-Inch Mobile Projector , $270, Amazon
This mini projector works with phones, laptops, tablets, and more (all HDMI devices) to show a 120-inch display of whatever you're currently watching. Comes with a charger, tripod, remote control, and all the connector cables.
5. This Multitasking Docking Staition
Quirky Converge Universal Docking Station, $48, Amazon
This awesome docking station allows all your electronics to be stored in one place — without being overcome with tangles wires. The gadgets face outwards, so you can easily check up on them for messages or updates.
6. These Themed Whiskey Stones
BarMe Stainless Steel Bullet Shaped Whiskey Stones, $20, Amazon
Nothing says James Bond quite like these BarMe stainless steel bullet shaped whiskey stones. They chill your drink without diluting it, like ice cubes would, and a few hours in the freezer means that your drink is cold in a matter of minutes. They're also durable, come with a sleek carrying bag, and are an awesome conversation starter.
7. These High-Tech But Comfortable Gloves
Aweek Bluetooth Talking Gloves, $12, Amazon
These high-tech Aweek bluetooth talking gloves let you make hands-free calls no matter where you are, and they're just in time for the cold winter months. They sync up to any smart device and they've got a built-in battery, microphone, and speaker, and you can charge them easily with a USB port.
8. These Dangerous Ice Skull Molds
Think Geek! Makes 2 Ice Skulls , $16, Amazon
Whether he's evading a bad guy or embarking on a particularly risky mission, danger seems to loom around every corner for this man. Today, it just happens to be cooling his drink.
9. The Gift Of A Luxurious Shave
Edwin Jagger Natural Shaving Soap, $10, Amazon
Not only is Edwin Jagger natural shaving soap free of parabens and most chemicals for the most luxuriously smooth shave ever, but it's made from primarily natural ingredients, and it smells incredible. It develops a rich creamy lather and softens the beard for a close shave, and reviewers say it'll be the only soap they buy from now on.
10. A Pen Fit For A Secret Agent
Carbon Fiber Ballpoint Pen Set, $20, Amazon
With a near five star rating, this Carbon Fiber ballpoint pen set is one of the classiest and most practical gifts you can get James Bond. These pens have an exceptional design that's lightweight but sturdy, and compact but attractive. The ink is non-toxic and eco-friendly, and they write smoothly and effortlessly every time. Plus, there's the luxurious gift box to tie up the whole look.
11. This James Bond Flask (That Also Holds Cigarettes)
James Bond 007 Custom Flask, $22, Amazon
Not only does this James Bond 007 custom flask fit right in your pocket alongside your favorite drink, but it's got a small pocket that can hold up to six cigarettes. The whole thing is made from stainless steel and leather for a fashionable and practical design, and it's an ode to any man who thinks he's James Bond.
12. A Speaker That's As Classic As He Is
Retro Classic Style Bluetooth Sound System, $74, Amazon
Few things say classically stylish like this retro classic style bluetooth sound system, which looks like an old school radio, but plays just as well as any modern speaker out there. It works wirelessly alongside any phone, computer, or tablet to give you crystal clear sound, and it can be used as an AM or FM radio, as well.
13. This Stylish Overnight Bag For Impromptu Missions
BLUBOON Overnight Bag Canvas Leather Bag, $47, Amazon
Whether it's used for work or pleasure, this BLUBOON canvas leather overnight bag is stylish, practical, durable, and lightweight — all the makings of a great men's bag. It's got a vintage look that's formed by a combination of high quality canvas and genuine leather, and reviewers love the double zippers, nine different pockets, and roomy interior.
14. This Charging Wallet, So He's Always Connected
Phone Charging Wallet, $30, Amazon
Make sure he's never again caught with a dead phone with this phone charging wallet. The wallet itself is made from genuine leather and has several pockets to hold everything from cash to cards, but the real selling point is the lithium ion battery that adds up to nine hours of battery life on your phone.
15. A Modern, Fashionable, And Practical Watch
Gearbest Bewell Wood Watch, $25, Amazon
Not only is this Gearbest Bewell wood watch particularly modern and fashionable-looking, but it's lightweight, comfortable, and made from all natural wood. It displays the date as well as the time, comes in your choice of five different colors, and reviewers can't stop raving: "This watch gets a lot of attention. I get complements on it every day.
16. This Classy Yet Modern Floating Globe
Lightahead Levitation Floating Globe, $29, Amazon
Nothing says "I'm worldly and high-tech" quite like this Lightahead levitation floating globe, which is suspended in midair and rotates 180 degrees. It looks incredible on a work desk or to tie together any room at home, and it makes a great father's day or Christmas gift for any stylish techie in your life.
17. An Gust-Proof Umbrella As Unflappable As His Suit
GustBuster Automatic Umbrella, $19, Amazon
When a man's in his best suit, rain can cramp his style real fast — unless he's got an umbrella that's as classy as the rest of his outfit. This GustBuster automatic umbrella has a curved hardwood handle and a double-reinforced lightning-resistant shaft. The best part? This thing is really sturdy and reliable in the wind and rain, and it keeps you dry, no matter what.
Images: Amazon (17)
Bustle may receive a portion of sales from products purchased from this article, which was created independently from Bustle's editorial and sales departments.