Tarte's Kissing Squad Will Give You A Perfect Pout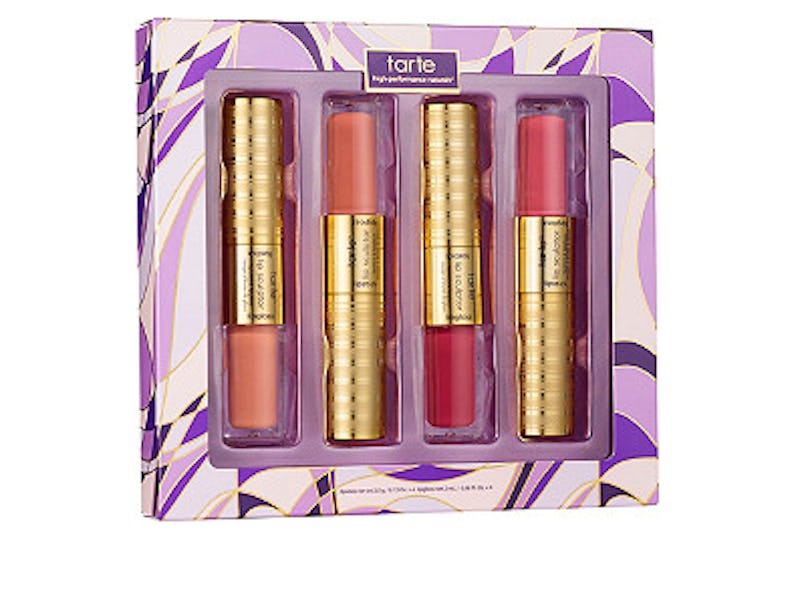 You can never start shopping for the holidays too early, if you ask me. I don't even know what my Halloween costume will be, but I've already gotten my Christmas wishlist completed, because priorities. If you're the same way, you need to find out where to buy Tarte Cosmetics' Kissing Squad Lip Sculptor Quad so you can check one more stocking stuffer off of your list.
This set contains four 2-in-1 lippies. Each one has a creamy lipstick and similarly colored gloss combo so you can get your lips prepped and ready for standing under the mistletoe. It's only $34, and this affordable price point only makes it all the more covetable. It's available to shop at Ulta, so be sure to tell Santa that he can go ahead and shop this product now. You know, just in case he needs to get a jumpstart on the Christmas preparations.
According to the brand's Instagram, this is a limited-edition product that'll likely only be around for the holiday season. Whether you're buying this for a beauty-obsessed friend or keeping it for yourself, this set will make the perfect gift this holiday season. Because a colorful, moisturized pout is a must during the cold winter months.
Ulta seems to be the only place where you can purchase these lippies, and that makes your holiday shopping even easier. One-stop shopping is the best.
With color combos like these, how could you resist making a purchase, you know?
Tarte Kissing Squad Lip Sculptor Quad, $34, Ulta Beauty
This quad has everything from nude to deep berry shades in the line-up. Your winter beauty routine's all set as long as you've got this waiting under the tree.
Image: Courtesy Ulta Beauty (1)