You Need To Try The Ribbon Eyeliner Trend ASAP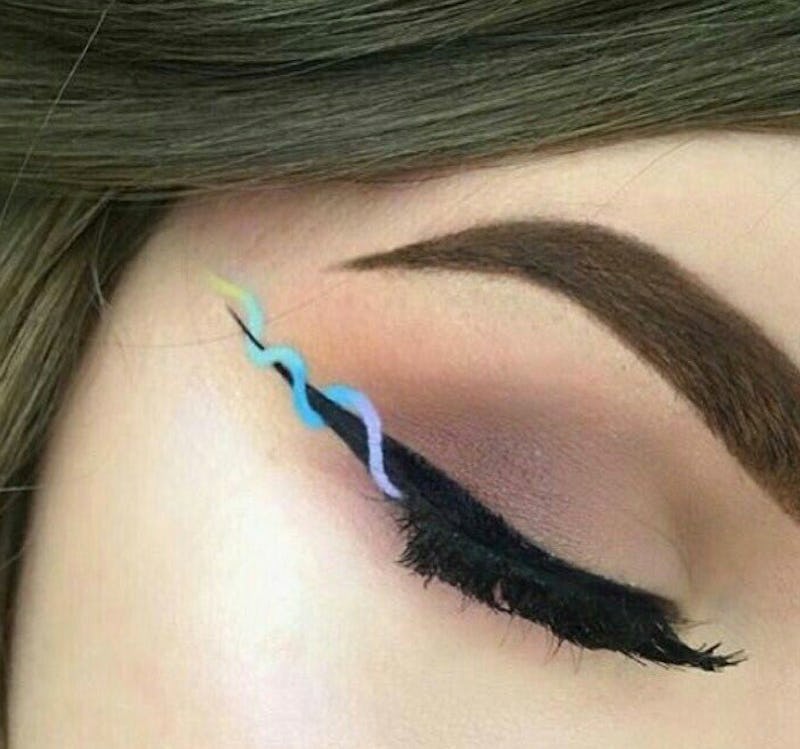 If you needed further proof that social media reigns supreme, just take a look at the makeup and beauty industry. We used to look exclusively to celebrities for the latest trends, but now influencers on Instagram and YouTube are setting the bar. If you've been noticing ribbon eyeliner as you scroll through your feeds, here's the lowdown on the colorful and cool makeup trend.
Eyeliner is back in a big way. Cat eyes and dramatic wings have been trendy since the beginning of time — Cleopatra rocked a cat eye using ancient kohl or black powder, and we saw the trend continue all the way through the '20s, '40s, and the '50s and '60s when Brigitte Bardot was the ultimate bae. Basically, the cat eye will always be cool. But now, Instagram is mixing it up and modernizing the classic with the new ribbon eyeliner — a simple cat eye with a colorful twist.
We've seen makeup artists and YouTube beauty vloggers layer a glitter liner over a classic cat eye, or use colorful liner instead of the traditional black. However, ribbon eyeliner takes it to the next level by weaving it in and out of a dramatic black wing. It's a playful look you might not want to rock in the office (who has that kind of time in the morning?!) but looks really cool for a night out.
So cool, right? Here's how one beauty vlogger nailed the look.
A great way to get this look without buying extra supplies is to use your liquid lipsticks and a small eyeliner brush. Ta da! Now you're rockin' a ribbon eyeliner.
Image: Polyvintage/Twitter, beauty2beat/Instagram, Taylor Rae Powers/Instagram, Olivia Will/Instagram