Gigi Hadid Is The Face Of Reebok's New Campaign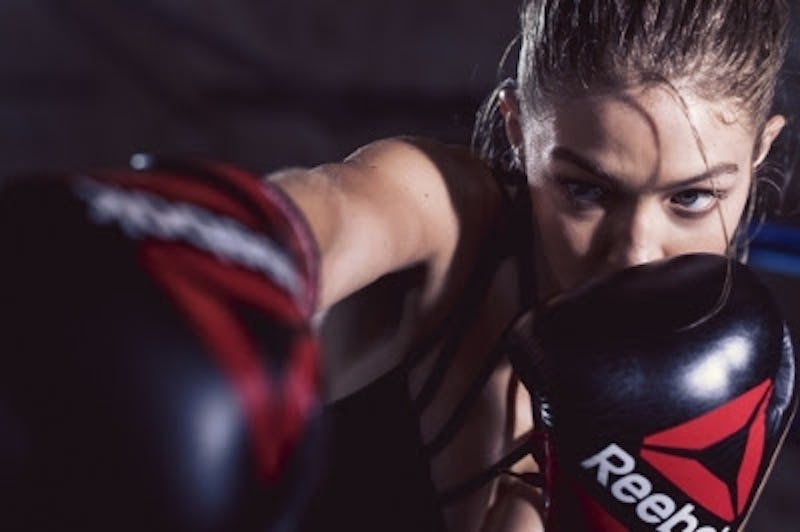 It's no secret: Gigi Hadid is one tough chick. We saw it in action earlier this month when she fought back after being attacked on the street (#yougogirl), and it came to light again on Tuesday when the supermodel was announced as the face of Reebok's #NeverPerfect campaign.
Through the campaign, Hadid and Reebok are working to challenge women to use physical fitness as an escape to drown out all of the negativity that surrounds them. Hadid has been outspoken in the past about the important role that exercise plays in her life. "Working out isn't only physical for me. It's mental," Hadid said in a statement from the brand. "It helps me escape the noise in my head. It's the only time my mind goes quiet." Considering how much she has going on on a daily basis (walking in fashion shows/designing clothing lines/dating the hottest former member of One Direction), it's no surprise that she needs to find an escape through fitness.
Hadid boxes at least four days a week at Gotham Gym in New York City (which, by the way, I tried last week and discovered is no joke), and is working with Reebok to show the mental, physical and social benefits of working out.
Hadid inherited the gig from badass ultimate fighter Ronda Roussey, who starred in the #NeverPerfect campaign's debut video back in July. Both of these tough, beautiful women used the campaign to show that there is no such thing as being "perfect" (even when you're Gigi Hadid) as a means of empowering women to be the best versions of themselves by embracing their own imperfections.
The most important takeaway from Reebok's newest collaboration is that perfection really isn't all it's cracked up to be. And, that you definitely shouldn't mess with Gigi Hadid in the boxing ring.
Images: Courtesy of Reebok